Richardson Looks to Become First Aussie to Win PBR Canada Title
By: Justin Felisko Tuesday, November 20, 2018 @ 4:27 PM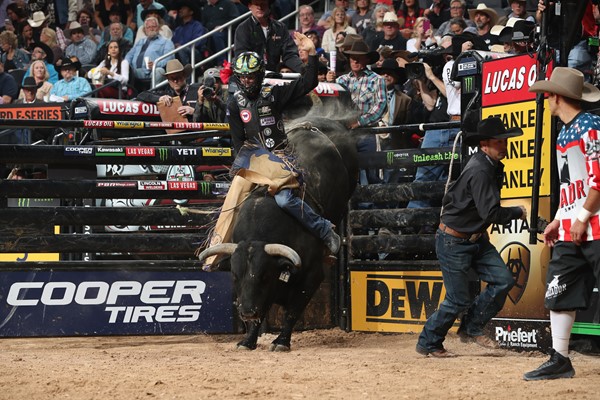 There was hail beginning to fall when the storm clouds in Edgerton, Alberta, busted open and unleashed a downpour of pure fury this past July.
Lachlan Richardson was getting ready to attempt to ride veteran Canadian bull Gretzky, and he could barely see his bull rope in front of him.
The arena was becoming a mud pit, and Richardson's rosin was quickly running off.
Somehow and some way Richardson was able to outmuscle Gretzky in the monsoon-like conditions for an 84-point ride.
The ride is far from Richardson's best, nor was his third-place finish at the PBR Canada Touring Pro Division event, but it is one of his favorites from 2018.
"It is probably one of my lower scores, but he is a big, ole muley bull that barely gets ridden," Richardson recalled. "It was raining so hard and I had no chaps. That was probably my toughest bull ride, in the conditions anyway."
The ride was one of 20 for Richardson in Canada this season, and the 26-year-old now returns to Canada in position to make history this weekend at the 2018 PBR Canada Finals on Friday and Saturday at the SaskTel Centre.
Richardson heads into the Finals atop the PBR Canada standings, 83.33 points ahead of No. 2 Cody Coverchuk.
If Richardson can hold off 20 riders and win the championship, he would become the first Australian-born bull rider to win the PBR Canada championship.
"That would be cool to go into someone else's country and take their buckle," Richardson said. "It is easier for me to be up there than to be in Australia to win an Australian title. That is the next best one at the moment."
Fans can watch the 2018 PBR Canada Finals on RidePass at 8:30 p.m. ET on Friday and Saturday.
The only other non-Canadian bull riders to win a PBR Canada championship are Stetson Lawrence (2014) and Beau Hill (2009).
Richardson, who is No. 10 in the PBR Australia standings, could have returned home to compete at the 2018 PBR Australia Finals, but he is going to chase a PBR Canada championship instead.
"I don't think I have a real shot like (PBR Australia No. 1) Aaron (Kleier)," Richardson said. "I also like the fact that you can get a spot into Calgary too."
The PBR Canada champion receives an invitation to compete at the Calgary Stampede.
Richardson has competed in at least a handful of Canadian events sparingly every season since 2012 because it is easier for him to go back-and-forth between the United States, where he competes on the Unleash The Beast, and Canada during the premier series summer break.
However, the Gresford, New South Wales, Australia, bull rider competed at a career-high 19 Canadian events in 2018.
Richardson made the most of his time in Canada as well.
The 26-year-old is a career-best 20-for-38 (52.63 percent) with two victories, 13 Top-5 finishes and 16 Top-10 finishes. The seven-year pro failed to earn points in only three events.
"I have always done good up there," Richardson said. "They are just cool bulls. I like the people up there. It is like home. I just hang out with good friends and ride bulls. There is a bunch of them in a row when there isn't many on in the states."
Richardson spent the majority of the summer hitting the Canadian bull riding trail with Lonnie West, Brock Radford, Cody Casper and Matt Triplett.
Radford said that Canadians welcome the addition of international flavor to their bull ridings.
"It is cool," he said. "It hypes up the competition. It is always good. We are pretty good in Canada. We normally have (Chase) Outlaw or a bunch of guys come up in the summer. That makes me and a bunch of those young guys that don't come to these (premier series) events step our game up.
"When those guys are here, you have to ride good."
Richardson heads into the SaskTel Centre on Friday night with a little bit of momentum. He went 1-for-2 (83 points on Salvage Title) at the Ontario, California, Velocity Tour event last weekend following his 2-for-4 showing at the 2018 PBR World Finals.
In Las Vegas, Richardson rode Black Rose for 87.25 points and Night Sweats for 88 points. He missed Championship Sunday because of a concussion.
"I feel good," Richardson said. "Night Sweats is a good bull and I had to fight the whole time. I felt confident. I got one down at the start of the week. I then had a few off days, but it is the same. It is just my mind. I can ride if I don't let those few buckoffs get in the way of things."
Richardson's 14th-place finish at the 2018 World Finals was the best of his career.
He also was able to do it with his uncle David Leake in attendance. Leake – a former bull rider – was a huge influence on Lachlan and his brother, Cliff's, careers and he had never been to the World Finals before.
"He was a huge influence on us," Richardson, who finished 2018 ranked No. 24 in the world standings, said. "He has told me every year he has wanted to go to the Finals. We just looked up to him. He was an old-school, tough cowboy."
Richardson now will turn his attention to the PBR Canada Finals.
Winning a championship in Canada was one thing he never talked about with his uncle when he was a kid growing up in the Land Down Under.
"I never really did think of that, no," Richardson said before laughing. "I don't know if anyone from a different country thinks of that."
Richardson certainly is now thinking about a Canadian gold buckle these days.
"I ain't going for second," Richardson said.