Radford's Bulldog Mentality Paying Dividends
By: Justin Felisko Monday, May 21, 2018 @ 6:05 PM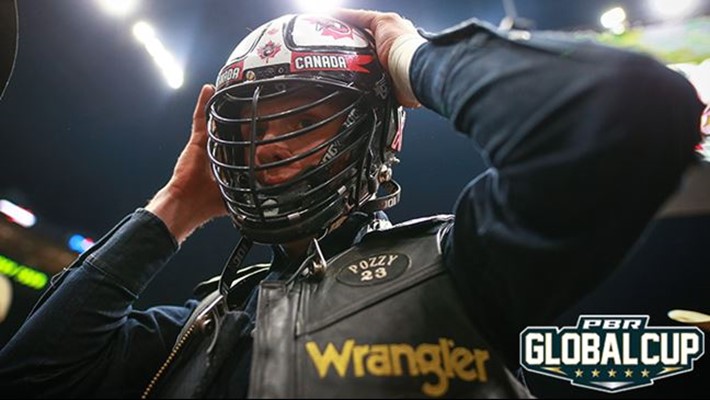 PUEBLO, Colo. – Brock Radford has had plenty of mentors from different backgrounds and scopes of the Western world throughout his journey to the PBR.
The third generation cowboy's father, Max, was a talented Australian saddle bronc rider and steer wrestler, while his mother, Bobbi June, was a barrel racer in Canada and is the daughter of two-time Canadian Pro Rodeo Association barrel racing champion Isabella Miller Haraga.
However, success does not come simply from bloodlines, and Radford has had to rely more so on guts and grit instead of finesse or natural skill during his rise to professional stardom.
"Right when I started, I knew I never had a lot of talent when I was young," Radford said. "I was always working and following the pact. I was always at the bottom and so it kind of humbled me when I was young and made me work harder. I was never that good. I was always struggling along and was always a step behind everybody else. That always motivated me.
"I always knew I could do it though."
The No. 1 bull rider in PBR Canada became accustomed to failures growing up, but he has never let those frustrations get in the way of his ultimate goal of riding on the PBR's premier tour and make a run at a World Championship.
Those early years were tough, Radford recalled.
Radford "hated" sheep riding before eventually falling in love with the sport once he attempted his first steer at 9 years old.
The little boy then started to build an interest in bull riding, and he was hooked on the sport by the time he was 14 years old attempting his first bull at 2006 Canadian Pro Rodeo champion Tanner Girletz's bull riding school.
2017 was arguably Radford's best professional season, but also his most- trying.
Radford went from not only missing out on the 2017 PBR World Finals, but he wound up losing the 2017 PBR Canada championship on the final day of the Canadian Finals last year.
RELATED: Radford vows to make 2018 World Finals
He finished 46th overall in the world standings.  
Radford, though, refused to let that loss crush him. It has fueled his rise back to not only the No. 1 ranking in the PBR Canada standings, but to a career-best No. 30 in the world standings.
The 22-year-old finished runner-up this past weekend to Marcos Gloria at the PBR Canada International Major Canadian Iron Cowboy, presented by Couche-Tarde, for a significant 190 world points.
The second-place finish pushed Radford (3-for-4) back inside the Top 35 for the first time since last September, and he is now sitting No. 30 in the world after beginning Quebec City 39th.
"It is just finding your mojo and getting your niche again and ride bulls," Radford said earlier this year after making his return to the PBR's premier series in Tacoma, Washington.
"I have made it here twice and I belong here. It is just getting here and not letting the big lights bother you."
Through the ups and downs of his career, Radford has reminded himself of some of the best advice he received from his father and Girletz.
"They said, 'The only thing you can control in bull riding is how hard you try,'" Radford said. "That is what I like to do every time. I try my ass off and let the rest take care of itself."
Radford is 20-for-45 (44.44 percent) at all levels of competition and is next slated to compete at the Swift Current, Saskatchewan, PBR Canada Touring Pro Division event on Saturday night.
The Canadian bulldog will also be a strong asset for Team Canada at the upcoming PBR Global Cup in Sydney, Australia, on June 9-10.
The Dewington, Alberta, native is the third highest-ranked Canadian in the world standings, and he will be representing Canada for a second consecutive year at the PBR Global Cup.
Radford went 1-for-2 at the inaugural Global Cup in Edmonton last year on his country's home soil.
Fans can watch the Sydney Global Cup exclusively on Ridepass beginning at 5 a.m. ET on June 9.
Radford's first trip to Australia earlier this year did not go as planned as he went only 3-for-10.
Regardless, Radford kept his head down and overcame his slow start to the 2018 season to put himself in control of his destiny now and potentially qualify for his first World Finals.
"It's where everyone wants to be," Radford said of qualifying for the World Finals. "It's another stepping stone in where I want to be Vegas. That is where I want to be at the end of the year and represent Canada.
"A World Championship is on my goals, but you have to get the little ones first," Radford said. "Get that gold ring first (for qualifying) for World Finals under my belt and then go on from there."