Radford Skipping CFR to Pursue World Finals Dream
By: Justin Felisko Monday, October 29, 2018 @ 4:20 PM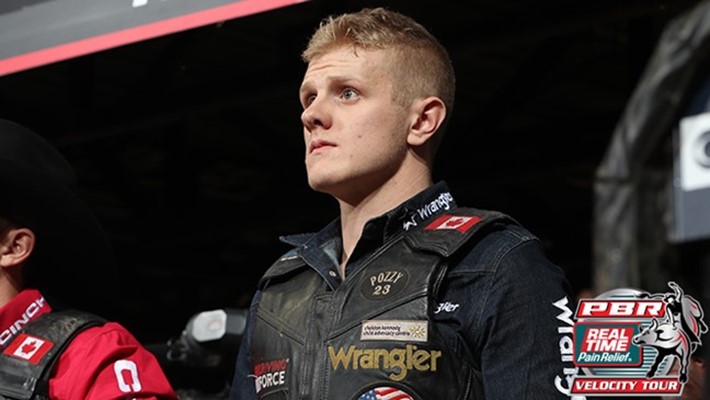 PUEBLO, Colo. – Brock Radford admits he was hemming and hawing about what to do for the past month.
Radford's season derailed when he tore his left ACL/MCL at a Canadian Pro Rodeo Association event this past August when he was attempting to get his qualifications up for the 2018 Canadian Finals Rodeo.
The injury came the day before the 25th PBR: Unleash The Beast resumed in Tulsa, Oklahoma, and it forced Radford to miss two months.
Radford has since dropped from No. 29 in the world standings to No. 38.
The 23-year-old had aspired to become the first bull rider to win the Canadian Professional Rodeo Association bull riding title and the PBR Canada championship in the same season.
However, Radford had placed one objective higher on his 2018 list of goals.
Radford has his heart and mind set on qualifying for his first PBR World Finals.
So as he debated over whether to commit to riding at the CFR, which begins on Tuesday in Red Deer and concludes on Saturday, or to ride at the 2018 Real Time Pain Relief Velocity Tour Finals on Friday and Saturday, good friend Lonnie West told him to quit being wishy-washy and to "focus."
"I am not ungrateful for it," Radford said. "I had the CFR made and I had some hard decisions to make. I was hemming and hawing and Lonnie was like, 'Man, our goal was World Finals.'
"World Finals is a big thing. Start of the year, I wanted to make the World Finals, so I am setting my priorities and sticking with them."
Therefore, Radford committed to his No. 1 goal in the largest of ways.
Radford withdrew from the CFR and is instead going to accept the PBR Canada invitation to the Velocity Tour Finals after Cody Coverchuk, the No. 2 rider in PBR Canada, turned down the invitation.
Coverchuk is ranked seventh in the CPRA standings and is opting to ride at the CFR this week.
PBR Canada No. 1 Lachlan Richardson was ineligible for the international invitation to the Velocity Finals because he is not a Canadian citizen.
Coverchuk's decision became a blessing for Radford, who has zero points in the Velocity Tour standings and would have not qualified.
"I am just focusing on getting myself to Vegas," Radford said. "It was a very, very difficult decision. Obviously, the CFR is a big thing in Canada and what not, but I set my goal to be against the best guys in the world and ride at the World Finals."
Radford is fifth in the CPRA standings, but the allure of finally earning his first World Finals qualification is too much to pass up on.
"I am right there for a title, but I just want that gold ring so bad," Radford said.
Every bull rider that qualifies for the World Finals for the first time receives a commemorative ring.
Radford will head into the Velocity Tour Finals on Friday with two paths to qualify for the World Finals.
The first is simply finish the season ranked inside the Top 35.
Radford trails No. 35 Chase Outlaw by only 52.5 points.
However, Radford may have an easier journey to the World Finals as an international wild card winner.
Radford is competing against international qualifiers Cliff Richardson (PBR Australia), Fernando Henrique Novais (PBR Brazil) and a TBD PBR Mexico invite for the international wild card.
The highest-finisher at the Velocity Finals among the four riders will qualify for the World Finals.
If any of the riders finish the season in the Top 35, then the runner-up at the Velocity Finals will earn the wild card spot for the World Finals.
Previous international wild card winners were Justin Paton (2015), Dener Barbosa (2016) and Jose Vitor Leme (2017).
"This is a shitty spot to be in, this bubble race, but it is fun," Radford said. "It makes you a better bull rider. You learn how to deal with this stuff. It will help you in the future deal with pressure situations."
Radford failed to crack the Top 35 this past weekend at the Real Time Pain Relief Velocity Tour event in Colorado Springs.
He rode Carnival Ride for 82 points in Round 1 before bucking off his re-ride option in Round 2 (Breakaway) in 3.64 seconds.
Radford had yet to ride two consecutive bulls since tearing his ACL until he rode Louisville Slugger for 77 points, consequently accept the re-ride.
He is 1-for-8 at all levels since returning to competition on Oct. 6. Radford is 37-for-93 (39.78 percent) at all levels of competition and was one of the hottest riders going in the summer before getting hurt.
Despite failing to earn any points, Radford felt he got some needed confidence in Colorado Springs.
Radford also views Colorado Springs event winner Jose Vitor Leme as reminder that his ACL will not hold him back.
Leme tore his left ACL in April and is still the No. 2 bull rider in the world.
"When I first did it, I figured I wrecked my season," Radford said. "But I look at Vitor Leme and (Derek) Kolbaba. There is a bunch of guys with the same deal. We will tough it out the rest of the year. I made some mistakes, and that was me compensating for my knee, running my knees up into them.
"Right now, it is just trusting my knee."