Radford Focused Despite Setback
By: Kacie Albert Monday, January 29, 2018 @ 3:08 PM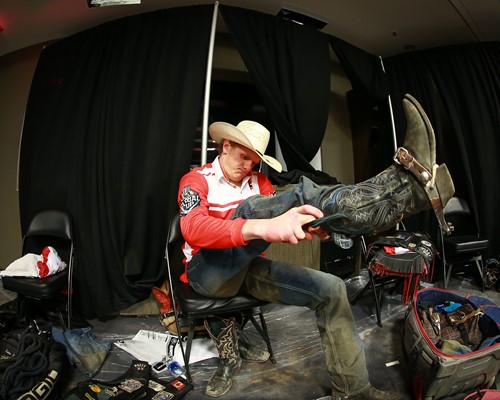 NEW YORK CITY – After making three appearances on the PBR's top series in September 2017, Brock Radford was fast to pick-up where he left off in 2018, earning an alternate invite to compete in both Chicago and Oklahoma City on the 25th PBR: Unleash The Beast.
His first event stateside after a three event push in Australia, Radford was shutout in Chicago, narrowly missing a qualified ride aboard both his Round 1 and Round 2 draws, Livin ' Large (6.9 seconds) and Call the Law (7.32 seconds), respectively.
RELATED: Radford Returns from Down Under
However, after a 5.57-second trip aboard Hot Time in the first round of the Oklahoma City event, Radford's season nearly came to a screeching halt during his dismount from his second bull, Bezerk.
"The doctors were pretty stunned when I showed them the video," Radford said.
"They thought I would have done my knee in for sure, but nope, I got lucky. If I had done my whole knee in that would have been a lot of work. So I'm lucky I dodged that. "
After bucking off the BMC Bucking Bulls/Jenkins Cattle Co. bull, Radford sprained his ride knee after he twisted upon landing.
"Four to six weeks for my PCL to heal up and be good to go. I'll be back for Red Deer."
"I wanted to be back to go for Anaheim, but I don't know. We'll talk to Brandon [Thome] and see what he thinks and if it's smart.
And for the eager rider while the injury has sidelined him for now, preventing him from competing at last weekend's Wrangler Long Live Cowboys Classic in Sacramento, California, he is optimistic for the season.
"I was into Sacramento [last] weekend and would probably be in for Anaheim," Radford said.
"I just needed to keep going. I was right there, knocking on the door."
While he has slipped slightly in the world standings, down to No. 76 from No. 71 where he was ranked heading into the Oklahoma City event, Radford is confident he will soon be back competing at the sport's top level.
"Oh yeah, it'll be good," he said optimistically.
"I'll get rolling again in these, get some confidence again, and ride some of these bulls. Get back up there and hammer them. "
One change awaiting Radford in Canada this season, is the change in points awarded at Monster Energy Tour (MET) events.
RELATED: PBR Announces Changes to Velocity Tour and International Cup Events Points System
With the season set to get underway March 24 in Calgary, riders who win an MET event will now earn 120 world points as opposed to 80 earned during the 2017 schedule of events.
RELATED: PBR Canada's Monster Energy Tour Returns to Calgary on March 24
For now though, Radford is focused on getting his knee back to full health.
"It's the start of the year, I'm not in no rush to wreck nothing. I'd like to go to Anaheim, but it's looking like Lethbridge will be my first PBR back."
Be sure to stay tuned to PBRCanada.com and follow the tour on Facebook (PBR Canada), Twitter (@PBRCanada), and Instagram (@PBRCanada) for the latest results.