Perseverance Pays Off for Coverchuk in Pursuit of Canadian Title
By: Ted Stovin Tuesday, November 27, 2018 @ 3:55 PM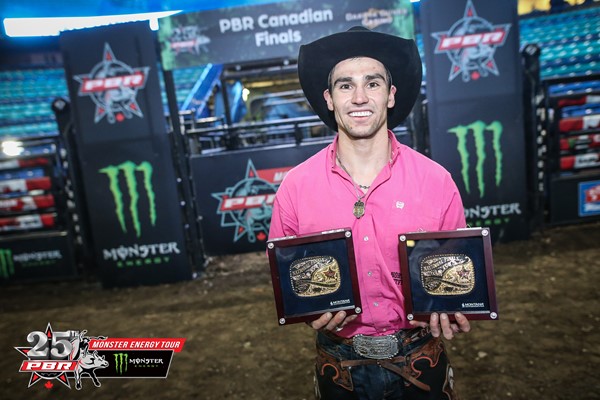 CALGARY, Alberta – The doors have been wide open for Cody Coverchuk the past three years to claim the PBR Canada Championship.
In 2016 he had multiple opportunities to move into the No. 1 spot in the PBR Canada standings. When the occasion arose, he bucked off, time after time, and finished the season No. 3 in the country.
The same held true in 2017 when he finished the year ranked No. 5, and for much of 2018 he ranked second.
However, this past weekend at the Sasktel Centre, competing at his fourth PBR Canadian Finals, Coverchuk finally claimed what he knew all along he could win.
RELATED: Coverchuk Crowned 2018 PBR Canada Champion
"To finally get it," Coverchuk said of the PBR Canada Championship. "It hasn't really all sunk in yet, but that's what the dream of every bull rider that ever starts riding bull is to become a champion, so it feels great."
This title is one his late father Bruce would be so very proud of.
"I tried to dedicate it to my Dad," Coverchuk said of his pursuit of the championship in 2017. "It didn't go as good as I would have liked, but to win this, he would be super proud. Every time I get on is for my Dad."
Looking back, the previous seasons have made him what he is today.
"Missed opportunities are what comes to mind," the Meadow Lake, Saskatchewan man said.
"Not capitalizing. When I was getting on that last bull I just thought, everything was out the window it was just me against the bull. That's when it goes over the best for myself is when I just don't think about nothing. The stats, and all that, just ride the bull."
That final bull he's speaking of is Homegrown, the one that helped etch his name into PBR Canada history.
"He's gotta be 2,200 pounds and I felt it on the end of my arm the whole time," Coverchuk laughed of the bovine athlete from the Eno family of Coronation, Alberta.
The score may not have been very magnificent at 86 points, but getting bulls rode is the key to winning at any level. In two evenings of competition, Coverchuk went 3-for-4 to win the Finals event title and Canadian Championship, concluding the year 954.99 points in front of No. 2 Brock Radford.
"I didn't know how it was gonna go, but I was happy for Brock," Coverchuk said, watching from the leader's chair as Radford did whatever it took to have a chance at the buckle as the final man out on the season. "He's gritted it out, his torn knee and all that, he definitely defied the odds. I know he's gonna come back next year stronger and better."
Radford and Coverchuk weren't the only to ride in the championship round, contenders Aaron Roy and Zane Lambert put the pressure on right off the bat with scores of 87.5 and 90 points respectively. Lachlan Richardson and Jared Parsonage were eliminated from the race once they were bucked off in the final round.
"I honestly didn't know how it was gonna play out, but then I was pretty nervous honestly," Coverchuk recalled. "I was looking at my hand and I was shaking, but then it all went away as soon as I climbed in the chute just like usual, back to business."
Back to business is right.
This season has by far been the 24-year-old's best to date. In Canadian Pro Rodeo competition, he won just shy of $60,000. Adding in PBR Canada earnings of over $30,000 and a touch of sponsorship should put him past the $100,000 mark on the year.
"Honestly I don't think I had too good of a seat the whole time, I was shuffling the whole time on the end of my arm," Coverchuk said of the final ride of the season to seal the pair of titles. "When I was getting on, Tim [Lipsett] said, 'I'm gonna get mad at you if you look out.' So I just kept gritting it out, kicking loose and trying my butt off, just like my dad would have liked."
Known to have streaky tendencies, Coverchuk did improve his riding percentage this year to 46.77% up from 33.33% in 2017 and 41.82% in 2016.
"I just tried to capitalize on more bulls," he said. "It seems like in the past years I let some bulls buck me off that I shouldn't buck off and this year I'm just trying to get my riding percentage up, always."
To Coverchuk, being the Canadian Champion has been something he's dreamed of for more than half his life.
"Since I was 11 years old I wanted to be the PBR Canadian Champion," he said. "To finally achieve that goal, it hasn't really all sunk in, but it feels great."
Next up is a second trip to the Calgary Stampede in July after double-qualifying through both the CPRA and PBR.
Now Coverchuk has his sights set on his next goal.
"The 2019 PBR World Finals," Coverchuk declared. "I'm focusing all my riding to go to the states and make the 2019 PBR World Finals."
After earning this title, there's no telling where this champ can go, but it will be exactly where he wants to be.