PBR Canada Launches 2018 Season with Touring Pro Division's Bridge City Chrysler/LA Towing PBR Challenge
By: Ted Stovin Friday, March 2, 2018 @ 8:00 AM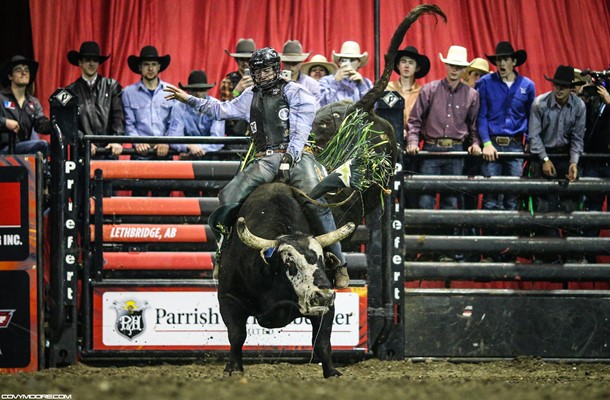 LETHBRIDGE, Alberta – In 2017, the competitive PBR Canada season began in Lethbridge, Alberta and concluded with the PBR Canada Finals in Saskatoon in October, part of the elite Monster Energy Tour.
And while action continued later that year in Canada, with Edmonton hosting one of the most intense bull ridings ever with the inaugural Global Cup at Rogers Place in November 11, the 2018 season is prepared to unfold just the same, bookended with stops in Lethbridge and Saskatoon.
After a near five month break, PBR Canada action will resume again this weekend, with Lethbridge hosting the first Touring Pro Division event of the season on March 2-3.
Last year at the Bridge City Chrysler/LA Towing PBR Challenge inside the Enmax Centre we witnessed one of the most emotional opening ceremonies in the history of our sport as we paid tribute to the one and only Ty Pozzobon.
The event went on to conclude with Okotoks' Jordan Hansen winning just the second event of his career, while also sweeping second compliments of his double entry.
RELATED: Hansen Owns Lethbridge
The now 24-year-old accomplished the feat by combining with Snap Backs and Minion Stuart for 86 and 89 points respectively, while also covering Mystery Soldier for 81.5 points and King Pin for 85.5 points in his second attempt.
While Hansen is not in this year's draw to defend his sweep, the roster is headlined by the likes of three-time PBR Canada Champion Aaron Roy, making his return to competition since breaking his femur during Round 1 of the 2016 PBR World Finals, reigning and two-time PBR Canada Champion Zane Lambert, and young guns Brock Radford and Lonnie West.
RELATED: Aaron Roy to Return in Lethbridge
Below, I outline my picks for this weekend's opening round.
RELATED: Click here for the complete Friday day sheet.
Aaron Roy vs. 301 Big Deal – How can I not go with Canada's richest bull rider to ever compete in the PBR? Doing some research for another story this week for PBRCanada.com on Aaron's return I learned that he's less than $25,000 from the million-dollar mark in career earnings in the PBR alone. Roy is No.35 on the all-time list which is also an incredible feat. With eight World Finals qualifications to his credit, there's no betting against this man. Roy is returning from a broken femur sustained at the PBR World Finals in Las Vegas from 2016. Big Deal from Cody Strandquist fits this story perfectly. When I asked Aaron about being that close to such a career milestone in the million dollars in career earnings he replied: "I didn't know I was." The bull is coming five this year-old that should fake right and go left. Strandquist said two rounds were won on the bull in Regina in the fall. Aaron hasn't been on a bull since the injury in November 2016. Last time Roy returned he won the PBR Canada Finals in 2014. For most, any of these things would be incredible hurdles, but for Aaron Roy? Big Deal.
Brock Radford vs. 005 Tykro Liquid Fire – Ridden 8 times in 50 outs according to ProBullStats.com, Liquid Fire is a two-time PBR World Finalist from the Wild Hoggs. Radford and the bull have faced each other twice before with the bull winning both times so far. The first bout came in Stavely, Alberta at the Glen Keeley Memorial in 2015, Liquid Fire was marked 45.5 points in a 1.06 second buckoff. The second was around this time last year where the bull score topped 46 points in a 2.68 second buckoff. Despite one rough trip at the PBR Global Cup in Edmonton, Liquid Fire wasn't ridden in 2017. At eight years old he's a veteran on the bull side but with how rank Brock rode last year these two could win the round.
Zane Lambert vs. 216 Big Shot – The only bull I can think of that gets rode more to win more money on that Big Shot is another Skori Bull we will see in the Championship Round in Minion Stuart. Zane has to be pumped for this match, ridden 14 times in 21 outs is something a guy doesn't see very often on the stats. As our reigning PBR Canada Champion, this is the bull a guy like Zane makes look easy where a newer guy might get bucked off. Lambert called his shot to win the title last year on Crooked Nose, I'm calling an 85 for these two on Friday night.
Cole Young vs. 51 Smash – Speaking of bulls that have been ridden more than not, Smash, also from the Skori's comes in having been ridden 8 times in 15 outs. For a bucking bull I'm totally alright with this, bull riding is already tough enough at this level, it's alright to have a nice bull here and there. I think these two have danced before but I'm not remembering where. Cole will be pleased to have this one though and should check in around 84 points.
Lonnie West vs. 0-458 Carlier Cartel – At No.51 in the World Standings, Lonnie is the top ranked Canadian bull rider in the draw in Lethbridge. Carlier Cartel from the X6 Ranch is a direct son of Wrangler's Rock Star from Braithwaite Ranches. An ABBI Canada Classic bull this year, he didn't have a great futurity season in 2016 but that doesn't matter much since he's a bucker now. In December of 2017 the little black bull went right, and Jake Gardner took him down for an 87. Today, Lonnie is 100 points out of the Top 35 and 60 points here could get him on the elite tour for the first time.
Justin Lloyd vs. -316 Bourbon Oak – The first time I remember seeing this Vold Rodeo bull was at the Cluny PBR in July in the Championship Round against World Champion Mike Lee. In his six recorded outs last season, two men were successful in their attempts. Justin has taken most of the winter off and will be fresh and ready to take a shot at the Canadian Title. Bourbon Oak is a bull he needs to ride more than not if he wants to do that.
Select tickets are still available for Friday and Saturday, March 2-3, via the Enmax Centre box office and online.
Be sure to stay tuned to PBRCanada.com and follow the tour on Facebook (PBR Canada), Twitter (@PBRCanada), and Instagram (@PBRCanada) for the latest results.