PBR 25th: Unleash the Beast Series Preview – Chicago
By: Kacie Albert Friday, January 12, 2018 @ 12:46 PM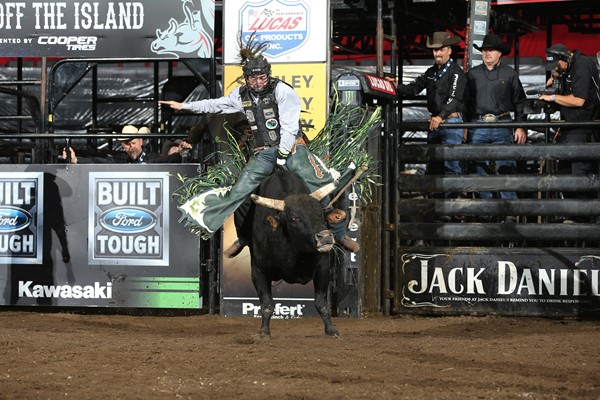 CHICAGO – With seven Canadians set to ride at stateside PBR events this weekend, the roster of Canucks competing on the elite 25th PBR: Unleash the Beast Series will feature two new faces as Okotoks, Alberta's Jordan Hansen and De Winton, Alberta's Brock Radford are set to ride in the Chicago Invitational as alternates.
In 2017, 24-year-old Hansen rode at four events on the premier series, with his career-best finish coming in Uniondale, New York, where he was fifth after going 2-for-3.
RELATED: Hansen Looks Forward to 2018 on Heels of Historic Season
His first season competing at the highest level with the PBR concluded with the surging Canadian star just narrowly missing out on his first trip to the World Finals, ranked No. 41 in the world.
In Round 1 Hansen has drawn Torres Brothers Bucking Bulls' Slinger.
RELATED: Click here for the Saturday day sheet.
The bovine athlete last bucked at the PBR elite tour event in October 2017 in Raleigh, North Carolina where Emilio Resende rode him for 85.75 points. His only other premier series out came the month prior in Uniondale, New York, where he dispatched Joao Ricardo Vieira at the 3.07-second mark.
For Radford, when he climbs atop his first round draw it will mark his first event in North America after a five week, three event trip to Australia.
RELATED: Radford Returns from Down Under
The 22-year-old made his elite tour debut last September in Springfield, Missouri, riding in two additional events before the season's end.
His career-best finish came in Uniondale, New York, where despite battling a severe stomach virus that led him to doctor out of the Championship Round,  Radford went a perfect 2-for-2 to finish 12th.
Radford will take fellow Canadian Tanner Byrne's place in the draw, and will face Livin' Large from Chad Berger's pen of 26 on hand for the event.
The last rider to attempt the bull was fellow Canadian Buttar who earned a re-ride during Round 4 of the 2017 PBR World Finals.
Buttar heads into the Chicago event as the top finishing Canadian from the Monster Energy Buck Off at the Garden in New York City.
His 13th place effort inside "The World's Most Famous Arena," was backed by his second place finish in the event's opening round after he rode GOOD RIDE'S Jailhouse Jr. for 87.25 points.
Like Byrne, Buttar will face one of reigning Stock Contractor of the Year Berger's bulls, Acting Crazy.
The remaining five Canadians set to ride this weekend will all compete at the RVT's Portland Classic in Portland, Oregon on January 13th.
Those riders and their first round draws are:
Lonnie West vs. Knocken Around (Corey & Lange Pro Rodeo)
Coy Robbins vs. Have Faith (Kelley Bowcutt)
Justin Lloyd vs. Lost and Found (Corey & Lange Pro Rodeo)
Dayton Johnston vs. Hunky Dorie (Corey & Lange Pro Rodeo)
Among the group, 2017 PBR Canada Rookie of the Year Robbins heads to the City of Roses after making his return to PBR competition at the National Western Stock Show. Robbins has been sidelined the last several months recovering from an injury sustained at the inaugural Global Cup in November.
RELATED: Coy Robbins Down But Not Out
Robbins finished 16th in Denver, backed by a fifth place effort in the first round where he covered Compact for 84.5 points. 
Much like Robbins, the Portland event will be Lloyd's first PBR event since November's Global Cup.
The 25th PBR: Unleash the Beast Series Chicago Invitational gets underway with Round 1 on Saturday, January 13th at 6:45 p.m. CT, followed by Round 2 and the Championship Round on Sunday, January 13th at 1:45 p.m. CT.
CBS Sports Network will broadcast Round 1 on Saturday, January 13 at 8:00 p.m. ET and all the action from Championship Sunday, with coverage of Round 2 and the Championship Round, on Sunday, January 14 at 8:00 p.m. ET.
Fans will also be able to watch the action in its entirety at PBR.com/ondemand. Action from Round 1 will be viewable starting at 8:00 a.m. ET on Sunday, January 14. Round 2 and the Championship Round can be seen starting at 8:00 a.m. ET on Monday, January 15.
The one-day Real Time Pain Relief Velocity Tour Portland Classic starts Saturday, January 13th at 7:00 p.m. PT.
Be sure to stay tuned to PBRCanada.com and follow the tour on Facebook (PBR Canada), Twitter (@PBRCanada), and Instagram (@PBRCanada) for the latest results.