Parsonage Seeks First PBR Canada Title on Heels of Selection to Team Canada
By: Kacie Albert Wednesday, November 14, 2018 @ 12:48 PM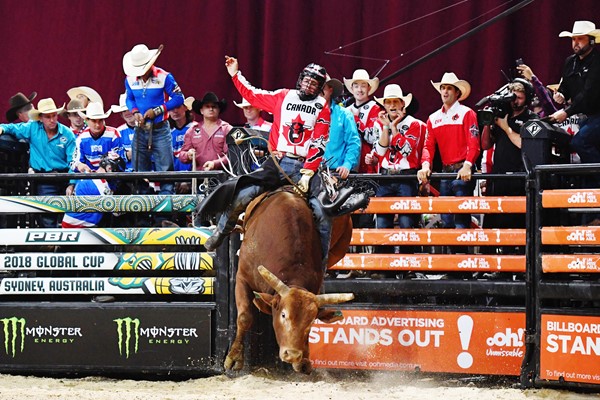 NEW YORK CITY – With more than 2,200 national points available at the 2018 PBR Canada Finals, anyone can contend for the title. However, Mr. Consistent, Jared Parsonage will make the journey to Saskatoon as one of the top contenders for this season's title, No. 4 in the nation and 460 points behind the top spot in the rankings.
"I'm not going to either of these events without the intentions of being the Canadian Champion," Parsonage declared prior to the start of the Canadian Finals Rodeo.
While Parsonage won't become the first rider to win both the CPRA (Canadian Pro Rodeo Association) and PBR Canada title in the same season this year, after finishing fourth in the CPRA's year-end standings, he's well positioned to become the tenth different rider in PBR history to win the league's title.
He got the 2018 season off to a hot start, winning the second event of the year in TeePee Creek, Alberta.
RELATED: Parsonage Credits Consistency for Win in TeePee Creek
"I made good rides, and that's what a guy is supposed to do is ride them, and it worked out, "Parsonage said of winning the event via an 84-point trip on Ray's Last Jump, followed by an 87-point ride on OLS Tubs Anika's Pet in the championship round.
"Just try and stay on, get good scores is the name of the game. The guy with the most scores is probably going to win the most money, so I just like to keep it simple like that."
He returned to the winner's circle just two months later, victorious at the Clunie-Cooper Memorial PBR in Prince Albert. After recording six additional Top 10 efforts, including two more victories on the Touring Pro Division, Parsonage earned his first Canadian Monster Energy Tour event win after going 2-for-2 in Abbotsford.  
The win earned him 550 Canadian points, propelling him from No. 7 to No. 4 in the national standings.
RELATED: Parsonage Wins First Monster Energy Tour Event in Abbotsford
"It's good to win these, I've won lots of events this year but it's all been the regular Touring Pros," Parsonage said from the locker room in the British Columbia City.
"I think this is the fifth event I've won this year but the last four have been regular Touring Pros so the points aren't as big. If I were to win at the right places like this it would make a big difference so these are better to win at."
Throughout the 17 PBR events the Maple Creek, Saskatchewan-native has entered, not including the final regular season event of the year this past weekend in Yorkton, Saskatchewan, Parsonage has gone 22-for-39 to hold an impressive 56.41% riding average across all levels of PBR competition.
"That's been my goal I'd say, for the greater part of my career, is going with consistency so I don't plan on changing that now," Parsonage declared.
And while the PBR Canada Finals are his immediate focus, forward looking, Parsonage will return to Team Canada for the first-ever Global Cup to be held on U.S. soil in Arlington, Texas on Feb. 9-10, 2019 at AT&T Stadium.
RELATED: Parsonage Added to Team Canada for First-Ever PBR Global Cup USA
"It's cool," Parsonage said. "I was surprised when I got the phone call, I was sitting there in a meeting [At CFR] and my phone rang and it was Aaron [Roy]. I thought nothing of it, whatever I ignored him, then he called me again and I ignored it, and so I texted him, and he texted me back and said that, so that was pretty exciting.
"I was surprised, and it's really exciting, I was pretty honored to get the chance to be picked. On top of it all to be able to represent your country, and be picked by a guy like Aaron and to be one of the guys that are standing up [for Canada], like in Australia that was everything that I ever imagined it would."
Not riding at the first-ever Global Cup in Edmonton, Parsonage was selected to the contingent that rode for the Maple Leaf in Sydney, going a stellar 3-for-3 to help the nation to its second consecutive third-place finish.
RELATED: Team Canada Gets Huge Uptick from Parsonage
"It was a big honor, a good experience, and I thought Canada rode bulls as good as anyone there. "
When the event bucks into AT&T Stadium it will come just one year after the PBR set a record for best attended single-day event in league history, packing the Home of the Dallas Cowboys with more than 46,000 fans present for the 2017 Iron Cowboy.
"That's neat, that's neat stuff," Parsonage said. "I went to school at the college right there by Fort Worth so I went, I've been to like THE AMERICAN and stuff in that building, and it's quite a site to see, and it will be quite the site when you're standing on the ground looking up at it.
"There's really no way to even explain something like that building other than just when you have 40,000 people under a roof it's nuts."
The PBR Monster Energy Canadian Finals, presented by Mac's/Circle K and Dakota Dunes Casino, get underway on Nov. 23 at 7:30 p.m. CST with Round 1 and Round 2. Tickets are still available at Ticketmaster.ca.