Parsonage Honored to Represent Team Canada Ahead of Debut on Sport's Top International Stage
By: Kacie Albert Saturday, March 31, 2018 @ 9:00 AM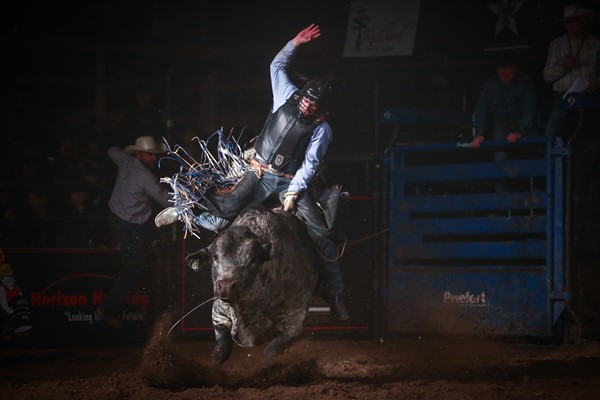 NEW YORK CITY – With the second leg of PBR's inaugural Global Cup set to takeover Sydney, Australia, and Qudos Bank Arena on June 9-10, Aaron Roy, returning to coach Team Canada, has finalized the roster of seven Canucks set to represent the Maple Leaf.
Preparing to head down under, joining already qualified Dakota Buttar, Jordan Hansen and Brock Radford, are Tanner Byrne, Zane Lambert, Lonnie West, Jared Parsonage and alternate Justin Lloyd.
RELATED: Roy Honored to Coach Team Canada at PBR Global Cup
Of the five new additions to the roster, Parsonage will be the lone newbie set to dawn the Canadian jersey come June.
"It's a huge honor to be representing Canada," the 25-year-old said. "To get picked for the team, that's a whole neat aspect of it."
"A format to ride as a team and not ride against everyone, we're all together riding, it's going to be really exciting. It's going to be a lot of fun to pull for your buddies the whole time and try to put together big scores against all the other countries on one of the world's biggest stages in front of a lot of people over there.
"So it's a pretty huge honor and looking forward to it come June."
Parsonage's selection to the team comes to the surprise of few, namely Hansen who was a staunch advocate for the Maple Creek, Saskatchewan when asked his thoughts on who should complete the contingent.
"The main reason why I say Jared is he was hurt for you know, how much of the year last year, but you look at his stats and I think he rode over 70% of his bulls at PBR events," Hansen said in March.
Not far off from Parsonage's stat, he went 17-for-25 in 2017, covering 68% of his draws en route to claiming the event titles in Nipawin, Saskatchewan and Stavely, Alberta, in addition to logging eight Top 10 finishes.
RELATED: Hansen Ready to Ride for Team Canada at Global Cup
"And this year, shoot, he hasn't really fallen off too many bulls. He's a guy with a little more experience too. I can't see any reason why he shouldn't be going.
"He might not dress them up like a lot of guys, but when it comes to a stage like what it will be in Australia and from what it looks like those Australian bulls aren't the easiest ones going either. So if we just get guys to get scores and I think that's going to be a big game changer for us."
Thus far in 2018, Parsonage is 4-for-8, with an event win already added to his resume, victorious at the second PBR Canada Touring Pro Division event of the 2018 season. 
RELATED: Consistency Key for Parsonage
And Parsonage's consistency will be key for the Canadian squad since they will travel abroad with just eight men, including an alternate, after holding the home-field advantage as the hosts of the inaugural event this past November in Edmonton, Alberta
"I think we've got a really good chance," Parsonage said of Team Canada. "We've got a bunch of really, really talented bull riders, a lot of guys who are super consistent, ride a lot of bulls.
"And when it comes down to it, that's the secret, as many bulls as you can ride, and I think we're going to stand as good a chance as anyone else, I don't see why we won't."
At the first-ever Global Cup, Canada finished third on their home soil, going 10-for-22.
RELATED: Team Canada Third at Inaugural PBR Global Cup
Led by West, who went 2-for-3, the nation fell 188.25 points and two qualified rides short of defending their home dirt, despite the qualified rides added by Lambert, Radford and Byrne, all returning in Australia.
One of the elements of competition that most excites the fifth year PBR rider is the rarely seen team format in the sport of bull riding.
"For sure it's good," he said. "It adds a little bit different aspect to bull riding for the fans and everything. And it's fun as a rider to have the opportunity to ride on a team and compete against other guys, not just by yourself, but as a team.
"You're cheering for your buddies, trying to put together as many scores as you can and just get as many points as possible. It's just a whole different way of doing it, and it's a lot of fun."
Much like it will be his first time riding on the sport's grandest international stage, the June excursion will also mark Parsonage's first trip to Australia.
"Looking forward to it, it'll be a cool experience to go over there," Parsonage added. "I heard lots about it, I've got lots of friends from over there, so it'll be neat to actually go over and see it."
Be sure to stay tuned to PBRCanada.com and follow the tour on Facebook (PBR Canada), Twitter (@PBRCanada), and Instagram (@PBRCanada) for the latest results.