Parsonage Delivers Dramatic End to Three Days of Action at Ranchman's
By: Kacie Albert Friday, July 6, 2018 @ 4:26 PM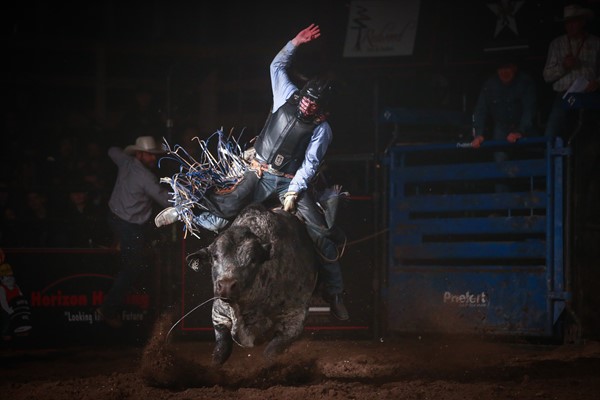 KELOWNA, British Columbia – Jared Parsonage is known by many as one of the most consistent riders in Canada.
While that consistency is normally his ability to make the 8-second whistle, in Calgary, Alberta, Thursday night, it was his tendency to earn a re-ride.
"Good thing for good friends," Parsonage quipped after earning three re-rides in the Championship Round of the Sunbelt Rentals Ranchman's PBR Bullbustin' in support of the Sheldon Kennedy Child Advocacy Centre, presented by Alstar. "They did all the hard work, hung my rope and everything, I just had to ride bulls. It is what it is. You're in the mode riding bulls, get at 'er."
While his Round 1 out went smoothly, marked 81.5 points on Vold Rodeo's Overcooked the drama began to unfurl following his 77-point trip on the outfit's California Eyes which earned him an optional re-ride.
"Guys like Jared here, there is no option on a re-ride," Canadian legend Scott Schiffner said from the back of the bucking chutes in Calgary. "He's here to win first, he's loose and cool right now. He's warmed up. He's got two under his belt, mind as well make it three to win first."
With the win front and center in his mind, Parsonage gave event organizer Cody Snyder the nod to accept the re-ride. Awaiting the Maple Creek, Saskatchewan cowboy was his third Vold Rodeo bull of the night, Hollow Point.
 "A red brockle faced whirling dervish," announcer Joe Braniff said of the bovine athlete. "This bull is absolutely amazing. He'll turn back on a dime and give you the change." The admiration for the bull's athleticism was echoed by Braniff's partner on the mic Brett Gardner, adding, "This bull is going to test you."
While Parsonage appeared poised to reach the 8-second buzzer, Hollow Point lost his footing around the five-second mark, guaranteeing Parsonage his second re-ride and fourth bull of the night.
"They say the third time's the charm," Braniff joked with the crowd. "We're going to see if it does tonight."
The adage, however, did not hold true.
Drawing deep into the re-ride pen and getting Pass It On, the Vold Rodeo bull also lost his footing, sending Parsonage to the back of the bucking chutes for a fifth time that evening.
"You don't, and I don't think there's any way you can," Parsonage said of how one could prepare for a night like the one he faced. "You don't expect to go into the short round and get three re-rides. It is kind of like holy crap, what's going on here?
"Cody [Snyder] kept asking, what's the next re-ride and I was like quit jinxing it, quit asking."
With his third re-ride awaiting him in the chutes, Parsonage knew he needed a score of 81.5 points on his latest draw, Memphis, to unseat event leader Lachlan Richardson who was the only rider to have covered two bulls that night.  
"This bull loves to play to the crowd," Braniff commented on the Outlaw Buckers bull who had been ridden just three times in his twelve prior career outs.
As the sold-out crowd hurried to their feet, Parsonage grabbed a swig of water before climbing atop the bull.
What happened next was nothing short of electrifying.
The capacity crowd at the Ranchman's event cheered Parsonage on to an 83-point score, catapulting him to his league-best third Touring Pro Division event win of the season.
RELATED: Parsonage Victorious at Final Night of Ranchman's PBR BullBustin'
"He used to buck a little harder when he was younger, but he's gotten a little trickier," Parsonage said of his fifth, and final draw. "He's go this little welly at the end. He was a handful, but I figured there wouldn't be a re-ride with that one."
For all his efforts, Parsonage left Calgary with a paycheck for $4,284.00 CAD and 60 world points.
"You just had to keep trying them. And I figured I'd tried this hard and had to get on four, mind as well let them pound your head into the ground trying if it comes to it."
Parsonage also gained 230 points towards the Canadian national standings where he ranked No. 7 prior to the event. His solid ranking in the Top 10 is due large in part to the two event wins he earned earlier in the season in Teepee Creek, Alberta and Prince Albert, Saskatchewan.
RELATED: Consistency Key for Parsonage on Heels of Win in Teepee Creek
"Every time you win it's important, it's huge," Parsonage detailed of his latest win. "I had a bad first two nights here, I didn't ride very good at all. A guy has to just take it as is and if you're a good bull rider you can tell yourself that, and it's going to come around. You just keep getting on them, stay focused and it will all work out in the end."
Looking forward Parsonage, who is also currently the No.1 rider in the CPRA standings, has ambitious goals for season's end.
"Vegas and the World Finals is definitely a goal," Parsonage said. "And who says you can't be a PBR Canada Champion and a Pro Rodeo Canada Champion at the same time?
"It is definitely a thought that crosses my mind, and if you're going to ride bulls you mind as well try and be the best, so I'm going to say I want to be a Canadian Champ in both for sure."
Amidst the dramatic storyline that Parsonage created, the reigning PBR Canada Event of the Year earned more than $50,000 in support of the Sheldon Kennedy Child Advocacy Centre.
"Real good, it's a great event," Parsonage added of the atmosphere. "Cody adds lots of money every day. He's got a little bonus for us which really makes it great for the bull riders. They do a great job – the incentive, the crowd, the charity, the foundation, everything. It's a great cause."
Fans can relive all the action from each of the three nights of the Ranchman's PBR BullBustin' on RidePass.
Be sure to stay tuned to PBRCanada.com and follow the tour on Facebook (PBR Canada), Twitter (@PBRCanada), and Instagram (@PBRCanada) for the latest results.