Onwards and Upwards: PBR Undergoing Explosive Global Growth
By: Kacie Albert Thursday, December 13, 2018 @ 5:56 PM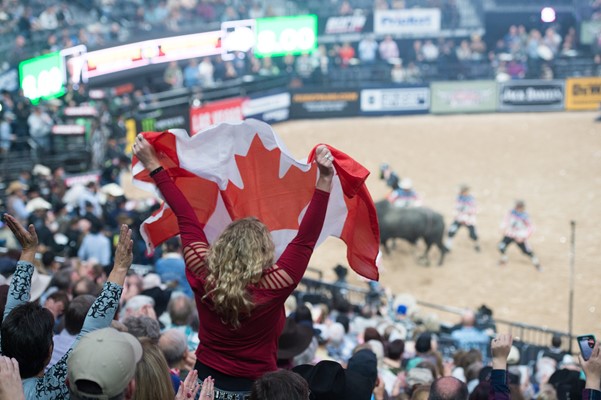 NEW YORK CITY - When most fans think of the PBR, they immediately point to the 26-plus elite Unleash The Beast events held annually in the United States showcasing the world's Top 35 riders and rankest bucking bulls. However, if you look at any one of those event's draw, you will see riders hailing from a diverse group of nations including Australia, Brazil, Canada, Mexico, New Zealand and Paraguay.  
While this may be the most commonly thought-of tour, a large portion of the PBR's 200-plus annual events are held abroad, in Australia, Brazil, Canada and Mexico, where the likes of reigning World Champion Kaique Pacheco (Itatiba, Brazil), seven-time World Finals qualifier Lachlan Richardson (Gresford, New South Wales, Australia), two-time Glen Keeley Award winner Dakota Buttar (Kindersley, Saskatchewan) and two-time Mexican Champion Juan Carlos Contreras (Huichapan, Hidalgo, Mexico) got their starts.
"It really comes down to the uniqueness of the sport itself," PBR Senior Vice President of Event Marketing Dave Cordovano explained of the sport's global appeal. "Fans are attracted the extreme nature and danger of the sport, but then are captivated with the genuine character of the athletes and community which supports it. " 
Recently, the sport's universal appeal has allowed the international divisions to reach new heights.
For Australia, this season they debuted a world-first, purpose-built, mobile stadium. The stadium, which brings fans closer to the action than ever before and also features a custom-built mega screen to take the audience behind the scenes, was constructed in response to the Australian's demand for the sport, yet lack of infrastructure to host the events in select cities and states.
"It is an absolutely amazing opportunity to reach fans that would otherwise never be able to experience PBR," Cordovano said. "Australia does not have arenas and venues in every town and city like we do in the U.S.  Our portable stadium allows us to bring PBR to them and experience it in an exciting and intimate environment with the first-class setup."
The 2018 season, which also featured Monster Energy joining as the title sponsor for the nation's premier tour, offered an Australian-record $1.1 million purse cumulatively across all events throughout the season.
"One of PBR's founding goals was to create a sport where riders would be able compete and make a career out of bull riding," Cordovano said. "The support of our incredible sponsors and fans makes this a reality.  Without them we would not be able to increase prize money and opportunities available to our athletes."
The laundry list of highlights for the Australian property, however, aren't limited to those milestones, but also includes a new partnership with the WCRA (World Champions Rodeo Alliance), launch of the Rising Star program, a mentorship and development for up and coming riders, and ABBI Australian Heritage, in addition to the expansion of events into the state of Victoria.
Next season, however, Cordovano plans to take the Australian office to even further heights.
"We will aggressively pursue expansion opportunities into Western Australia, New Zealand and Tasmania," he explained. "PBR Australia also plays a key role into all Asia and middle east opportunities."
When one turns their focus next to Brazil, it comes with little surprise that the nation which claims seven of the Top 10 riders in the world standings at the conclusion of 2018, including World Champion Pacheco, also experienced incredible growth.
Among the highlights were the partnership forged with leading sports and entertainment company IMM, which boasts experience working alongside major brands including Cirque du Soleil, Rio Open, São Paulo Fashion Week, UFC and Taste of São Paulo.
As part of the multi-year partnership, IMM will work with PBR to create new events, including a proprietary tour for the Brazilian market which will award world qualifying points and serve as a stepping stone for PBR's elite tour in the U.S. The first of those events took place on Dec. 1 in Goiania.
"Our partnership with IMM is going to provide an immediate and impactful boost to our presence in Brazil," Cordovano said. "Their marketing, sponsorship and event capabilities combined with our knowledge and expertise of the sport will allow us to launch a new tour of events in arenas across the country, providing fans with a PBR experience similar to what they would find in the U.S."
With a litany of other business developments that could be listed, however, the achievement residents of the South American nation are most likely the most proud of is Pacheco's 2018 PBR World Championship. He is the sixth different Brazilian to win the world, with those riders earning a collective 10 titles, and first since Silvano Alves won his third title in 2014.
"Having Kaique bring another World Championship back to Brazil is a major coup for the country and our efforts to grow the brand there," Cordovano said. "It is such an amazing story, what these incredible athletes overcome and how they produce results on a world stage, that allows us to bring more attention to both fans and corporate partners."
And Pacheco's win could not have come at a better time for Brazilian fans, with PBR's newly launched OTT platform RidePass producing a dedicated broadcast in Portuguese, featuring a talent team anchored by three-time World Champion Adriano Moraes, that documented every step of Pacheco's march to the title in Las Vegas.
"Being able to provide fans quality content through RidePass will be instrumental to continued growth within our existing territories and expansion into other countries," Cordovano said of the new doors RidePass can open internationally. "Like never before, fans can see and embrace everything PBR is doing globally, and with custom native language options being launched, we will be able to expose and educate new fans to our incredible sport."
Turning one's focus thousands of miles north to Canada, you don't have to look far beyond the nation's premier series' season-launch event in Calgary, which made history as the first ticketed event in the Nutrien Western Event Centre to sell out, to see that division is also on an explosive upwards trajectory.
Expanding to nine events in 2018 after staging just six in 2017, with 11 planned for 2019, the Monster Energy Tour has been instrumental in the sport's growth in the Great White North. Joining the Calgary event, the tour also sold out its debut event in Halifax and welcomed a record crowd for its two-day Canadian Finals in Saskatoon.
With the Monster Energy Tour the star of the programming slate, PBR Canada also inked an unprecedented 32-week television deal with TSN, bringing viewers action from additional tours including the premier Unleash The Beast and Global Cup.
"The credit for this goes to our dedicated staff who have worked tirelessly to grow and expand the sport over the past few years," Cordovano said of the milestones achieved in 2018. "From the production and presentation of the events to the competition by our athletes, everything has improved and provided fans a world-class experience."
But Cordovano believes the tour is capable of even greater success.
"We want to focus on continued expansion of the Monster Energy Tour and further integration into our U.S. operations," he said. "Doing so will allow us to expand our licensing and sponsorship platforms to provide partners with increase benefits and opportunities across both borders."
Rounding out the slate of nations where PBR holds events, Cordovano is also pleased with the path of the Mexican business.
"Mexico has provided a unique set of challenges for us over the years," he explained. "Today we have a solid partnership in place with Modelo Del Centro and we are working more closely together to increase events and sponsorship within the territory. 
"We are confident that our new strategy will produce positive results across the board."
A new cornerstone of the league's international expansion efforts is the Global Cup, which will make its third stop in Feb. 2019 in the United States after previously visiting Edmonton, Alberta, Canada, and Sydney, Australia.
"After experiencing both events live, I can say that not only were both events very successful but the format and competition made for one of the most exciting events I have ever experienced and were exactly what we could hope for," Cordovano said of the newly launched event. "It will only continue to grow and get better at each stop from here."
The Global Cup uniquely transforms an individual sport into one where riders are competing for national pride, unifying as seven-man teams that represent their home nations.
At the first stop in Edmonton, Team USA outlasted Team Brazil and hometown favorites Team Canada to win the first leg of the inaugural event, while Team Brazil narrowly edged Team Australia by 0.75 points to upset the home team at the latest edition of the event in Sydney.
"If you look across all of sport globally, no competition resonates more than playing for national pride," Cordovano said. 
"Whether it's the Olympics, FIFA World Cup, golf's Ryder Cup or The Ashes in cricket, nothing brings a fan base together more to get behind their home country athletes. PBR's Global Cup does this for the sport of bull riding and it will be a pillar in the continued growth and exposure of our brand."
Looking to 2019 and beyond, Cordovano believes that the PBR has the potential to expand into nations in which it has yet to stage an event.
"We have unique inquiries from different territories almost every week wanting us to bring PBR events to them," he said. "We have also conducted preliminary research on opportunities in China, Europe and the Middle East. 
"In each case the biggest challenge we face is the importation of PBR quality bulls, establishing suitable year-long housing and care and resolving the transportation logistics.  Both China and Europe would be the frontrunners for further expansion."