No.8 – Robbins Wins Rookie of the Year
By: Ted Stovin Monday, February 26, 2018 @ 8:57 PM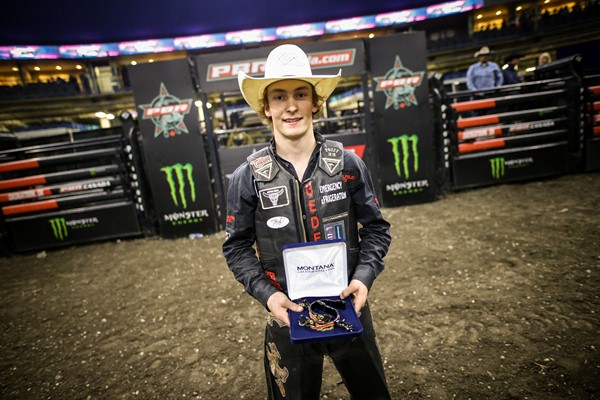 CALGARY – Less than 30 days remain before the launch of the 2018 PBR Canada Monster Energy Tour. Before we begin year three in Calgary, Alberta on March 24, we look back to the Top 10 moments from the 2017 season.
Coming in at the No.8 spot is 2017 PBR Canada Rookie of the Year, Coy Robbins.
Robbins, of Camrose, Alberta, secured the title over Dayton Johnston after riding Pozzy Time from Wild Hoggs Bucking Bulls for 81 points in Round 2 of the PBR Canada Finals in Saskatoon this past October.
The 18-year-old tied for fifth overall at the event to earn $965.82, 310 Canadian points and 12.5 world points.
He concluded his first PBR Canada season No. 20 in the national standings, going 2-for-3 in Saskatoon after riding Grey Eyes from the Vold/Prescott firm for 86.5 points in the event's first round.
Robbins made his PBR debut, at July's Touring Pro Division (TPD) event in Kinsella, Alberta, where he tied for sixth, after going 1-for-3, making his first qualified ride aboard Regulator for 81.5 points.
Collectively, Robbins went 8-for-17 in his first PBR Canada season for an impressive riding percentage of 47.05%.
The rookie caught the eye of three-time PBR Canada Champion Aaron Roy at an ABBI Canada event in Lloydminster, Saskatchewan in July.
"He was there and that is when he first cranked out," Roy recalled. "He got on by far the rankest bull there and he tried him pretty good and come off. He came up to me and asked for help right after. I helped him out and since then he has taken off. I keep seeing him improve. I saw him ride at the PBR Canada Finals and he rode outstanding.
"He just has all the try in the world. He wants to go somewhere and he wants to win first every time. Pretty much I have had in my head he is on the team since I had seen him."
Following his breakout performance at the Canadian Finals, Robbins continued his surge in Edmonton, Alberta, for the inaugural Global Cup. There he quickly caught the attention of Team Australia head coach Adriano Moraes on the back of the bucking chutes as he tried to fight to the 8-second mark on Pound The Alarm during the Monster Energy Team Canada Qualifier.
Robbins began his 2018 campaign in Fort Worth, Texas the first week of January but went 0-for-2. In the first two months he earned one qualified ride in six events and 10 outs.
Unfortunately for Robbins, this season he plans to not compete at any PBR Canada events after yet another injury. This time he had his left arm stepped on causing a shoulder dislocation and broken humorous.
"I'm going to take a year off so that I will be 120% healthy in all aspects and so I don't have further problems with my shoulder popping out," Robbins said today via text message. "It's going to be a long hard road of recovery, and it's going to be eating at me to get on, but I feel it will be the best for pro longing my career hopefully."
As Aaron Roy predicted at the inaugural PBR Global Cup, look for Robbins to make his debut at the sport's highest level in 2019.
RELATED: Robbins Prepared to Represent Canada at PBR Global Cup
Stay tuned this week for the fourth entry in the countdown, No.7.
Biggest Moments of the 2017 Monster Energy Tour Countdown
Robbins Wins Rookie of the Year
PBR Canada's Monster Energy Tour begins its third season on March 24th, 2018 starting at 7:00pm at the Agrium Western Events Centre on Stampede Park in Calgary, Alberta. Tickets are on sale now at Ticketmaster.com
Be sure to stay tuned to PBRCanada.com and follow the tour on Facebook (PBR Canada), Twitter (@PBRCanada), and Instagram (@PBRCanada) for the latest results.