No.5 Cody Coverchuk
By: Kacie Albert Wednesday, February 21, 2018 @ 11:01 AM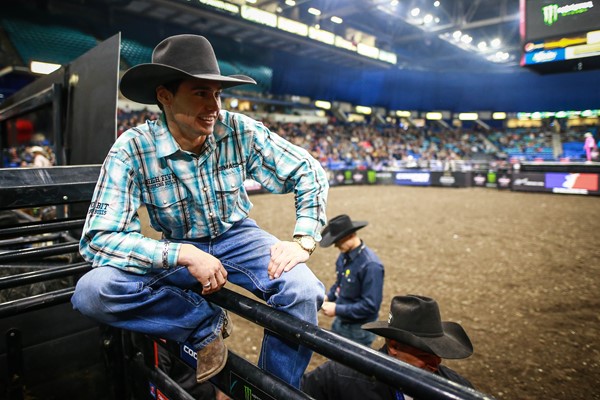 SASKATOON, Saskatchewan – With PBR Canada's season on the horizon, with the Touring Pro Division (TPD) launching March 2-3 in Lethbridge, Alberta, followed by the Monster Energy Tour on March 24 in Calgary, Alberta, we look back at the Top 5 riders from last year's national standings, all anticipated to challenge for this year's PBR Canada National Championship.
First, is No. 5 Cody Coverchuk, who since making his PBR debut in 2013 has been a consistent force in the race to be named PBR Canada Champion, concluding the 2017 season 1,567.5 points behind champion Zane Lambert.
After a stellar start to the season, highlighted by two event wins in the month of July propelling him to the top of the PBR Canada standings for a brief period of time, Coverchuk hit a rough period going 3-for-18 in the eleven events he entered between August and the end of the season.
RELATED: Coverchuk Wins at Ranchman's Bullbustin'
"It was a year of lots of peaks and valleys," Coverchuk said." As far as the PBR went, it didn't go as I wanted it to."
"I didn't ride as many bulls as I would like to, obviously, I want to ride every one of them, but it was pretty mediocre. I didn't win as many events, but this year I've got a whole new mindset. I'm just going to ride each bull for what it is."
RELATED: Coverchuk Earns Second July Win With Victory in Czar
"At the end of the year, like the last four years, I come so close to winning PBR Canada, or in the running to win PBR Canada, and then I choke at the end of the year. So this year I'm just going to throw the thought of it all away and just ride bulls."
"It doesn't matter what place you're in, if you're 100 in the world or first in the world, that's kind of my new mentality going in."
Since competing at the inaugural Global Cup event in Edmonton, Alberta, in November, Coverchuk has competed sparingly, in only two events. 
"Just working man, running pipeline for Arnett & Burgess," Coverchuk told PBR Canada's Ted Stovin.
"Honestly it was just stepping away from the sport for a few months. So I'll do that for the next month or so and then get back to my real job, bull riding."
Last season, Coverchuk competed in memory of his father who passed away in December 2016, giving him added motivation to win the title.
"I wanted it all so bad," Coverchuk reflected.
"Then when I'm getting on I'm thinking about how bad I want it, and I'm tensing up and letting bulls buck me off that I shouldn't buck off. Bull riding, it's something. "
RELATED: Coverchuk Dedicates Pursuit of Canadian Title to Late Father
And this season, Coverchuk will once again have an added motivator to propel him to the title, but this year a happy moment, set to welcome a son with girlfriend Teigan in July.
"That's kind of changed my mentality on life," Coverchuk said of his young, and growing family. 
"What I need to do, I need to provide for a family now, so I think moving forward that will help me. Now I'm kind of settling down, saving money to buy a house and all that stuff."
The first PBR event on Coverchuk's slate is the first Touring Pro Division stop of the season in Lethbridge, Alberta on March 2-3, where he will also be celebrating his 24th birthday on the first. 
Then, he will turn his attention to the nationally-televised Monster Energy Tour launching on March 24th in Calgary, Alberta for its third season.
"I love the Monster Energy Tour," Coverchuck said.
"It just seems to me, for myself, it's kind of like the [25th PBR: Unleash The Beast] atmosphere and everything."
"The riders are better, there's a whole new point system, it's 120 points if you win one of those now, so that makes a world of difference. All a guy needs to do is get a win and place a few times, and you'll jump in the standings, so that's awesome. "
Be sure to stay tuned to PBRCanada.com and follow the tour on Facebook (PBR Canada), Twitter (@PBRCanada), and Instagram (@PBRCanada) for the latest results.