No.3 Edgar Durazo
By: Ted Stovin Wednesday, March 7, 2018 @ 9:45 AM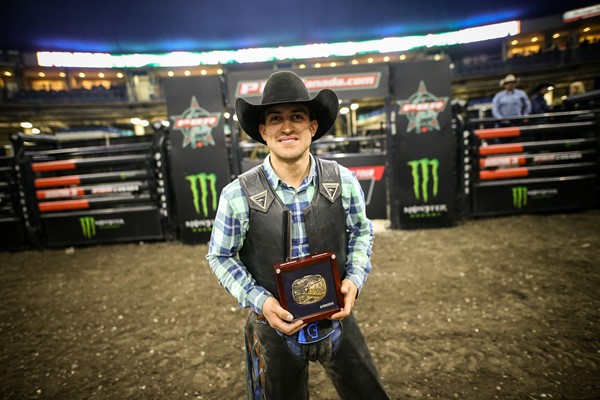 CALGARY – While PBR Canada's Touring Pro Division's 2018 season has officially begun, holding its first event of the season last weekend Lethbridge, Alberta, the elite Monster Energy Tour is gearing up for its first event on March 24 in Calgary, Alberta.
In anticipation of the tour returning with its first event in nearly six months, we look back at the Top 5 riders from the 2017 PBR Canada standings, all once again contenders for this year's PBR Canada title.
Concluding last season ranked No. 3 in the standings was surging Mexican rider Edgar Durazo, who had a career-best year in 2017 finishing No.57 in the overarching PBR World Standings. In Canada, a strong finish, capped by splitting the win at the PBR Canada Finals, led him to his bronze finish in the national standings, trailing Canadian Champion Zane Lambert by 746.67 points.
Inside Saskatoon's SaskTel Centre this past October for the Canadian Finals, Durazo first rode Vold Rodeo/Prescott's Heaven's Basement for 85.5 points to tie for fourth in Round 1.
In the Championship Round, Durazo rode Two Big Bucking Bulls' Herf for 88 points to take first place in the season-ending round and match Lambert's total of 173.5 points on two bulls.
Collectively, the finish in Saskatoon earned Durazo 1,362.5 Canadian points and $3,838.53, leading him to end the season having earned nearly $17,000 at PBR Canada events. The stellar season in Canada came on the heels of a year, 2016, where Durazo was unranked in the nation. In Saskatoon alone, the bull rider from Mexico rose from No.10 to No.3 in the Canadian standings.
RELATED: No.10 – Edgar Durazo Splits PBR Canada Finals Event Title
Competing at his first Canadian event of the year on the Touring Pro Division in Lethbridge, where he was seventh, Durazo cumulatively rode at 18 events, going 22-for-45 to record 6 Top-5 and 15 Top-10 finishes.
Since October's PBR Canada Finals, the final Monster Energy Tour stop of 2017, Durazo has gone on to reach numerous additional career milestones.
In November, Durazo led Team Mexico to a fifth-place finish at the inaugural PBR Global Cup in Edmonton, Alberta. There he went 2-for-4 to finish seventh in the individual event rankings highlighted by an 86.75 on Chad Berger/Julie Rosen/Clay Struve/Silent Seven's South Texas Gangster in the bonus round.
On January 13, Durazo won the first Real Time Pain Relief Velocity Tour event of his career, victorious in Portland, Oregon. A week later, he made his debut at the 25th PBR: Unleash The Beast event in Oklahoma City.
"As a kid, you always wanted to be like your dad," Edgar said last year in an interview with PBR.com's Justin Felisko prior to the Global Cup. "Since I can remember, I wanted to be a bull rider. We watched the National Finals every year at home. My dad rode bulls. I wanted to be like my dad."
While the inaugural PBR Global Cup was not something that was on Durazo's radar when he was that young boy growing up two hours south of the United States border, he knew his father would have been proud of his performance inside Rogers Place.
His father, Felipe, passed away in the summer of 2016 from cancer.
"I am pretty sure he is pretty proud," Durazo said. "My family is my support. I have a lot of family, friends and a lot of people down in our country supporting me."
"Representing your own country is the best feeling," Durazo said at the Global Cup. "It feels so good. I am just ready to go and it is good to be a part of this."
Durazo was first getting on sheep as early as 3 years old on his family's ranch. His grandfather raised beef cattle and sold them to the United States, while his uncle was a talented bronc rider in Mexico.
Durazo eventually attempted steers and then graduated to his first bull at 15 years old.
In 2010, Durazo earned a rodeo scholarship to Southwest Texas College in Uvalde, Texas, after winning multiple rodeos in Mexico. That same year he made his PBR debut at a San Antonio Touring Pro Division event.
Durazo then returned to Mexico for a year before a friend convinced him to try rodeoing in Canada seeing as he was struggling to get proper documentation to ride in the United States.
"When I was younger, I was just traveling from Mexico to the U.S. and everything was good until they said you have to switch your visas and the papers and stuff," Durazo said. "(The government) slow you down. Canada makes it easier, and I have my visas, and I keep going, but that was one of the hardest parts. With all of the big shows and big competitions (in the United States), it sure is easier and you get here and (PBR) make it easier for you."
Durazo found a ranch to work on in Canada training horses and shoeing calves in an effort to continue his rodeo career.
He competed in various rodeos and bull ridings throughout the Calgary region and won the 2014 World Professional Bull Riding Championship in Canada.
"I always wanted to try it and I started going to bull ridings out there. I like it. Then I got married and my wife liked the life up there.
He and his future wife, Karla, decided to stay in Canada and now live in High River, Alberta, which is about 45 minutes south of Calgary but are working on a move to Arizona currently.
Now he is focused on taking the next step in his career to make his childhood dream of competing in the PBR full time a reality.
"I have always said I want to be there one day," Durazo said. "I want to be at the top level. I am working on it."
Durazo is currently No. 45 in the PBR world standings and he would be Rookie of the Year eligible if he can earn a seeded spot on The 25th PBR: Unleash The Beast.
 "Anything can happen," Durazo said. "Anybody can win. We are all there for the same thing. We are all there for the same thing. We are all there to have fun and ride bulls and do our best. We are all prepared to ride any bulls and anybody can win."
In Lethbridge at the first PBR Canada event of 2018, Durazo bucked off Vold Rodeo/Prescott's Cross Check and was knocked unconscious. While he left the arena under his own power, he was removed from competition on Saturday but looks to return in Calgary later this month.
PBR Canada's Monster Energy Tour begins its third season on March 24th, 2018 starting at 7:00pm at the Agrium Western Events Centre on Stampede Park in Calgary, Alberta. Tickets are on sale now at Ticketmaster.com  
Be sure to stay tuned to PBRCanada.com and follow the tour on Facebook (PBR Canada), Twitter (@PBRCanada), and Instagram (@PBRCanada) for the latest results.