No. 4 Lonnie West
By: Kacie Albert Friday, March 2, 2018 @ 10:14 AM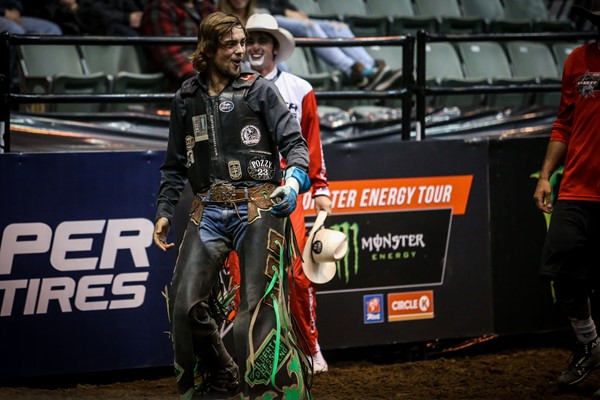 NEW YORK CITY – For 22-year-old Lonnie West, the 2017 season was a banner year, highlighted by the Cadogan, Alberta-native earning the first PBR event win of his career and finishing No. 4 in the Canadian national standings.
"Besting," West said when he learned of his finish last season. "I'm going to try and beat that this year, I'm gunning for No.1. I'm riding the best I have, so there's no reason I can't be there."
"I don't know if I'm superstitious or what, but I really hate checking standings," West elaborated. "It's just something I don't do, I feel like it will jinx a guy. So I never have, probably since I was a junior bull rider when things started clicking, I just quit checking the standings."
"And dad told us from a young age, 'Don't check standings, it doesn't do you any good. It just makes you think more,' so now I never check them. "
"Even after I got hurt this last summer, coming back, it didn't do me any good to check where I was at. So I didn't even know I was No. 4, that's pretty sweet."
West's 2017 PBR Canada season began on the Touring Pro Division in Lethbridge, Alberta where he finished 3rd and 14th, compliments of his double entry.
After steadily climbing the standings the subsequent two months after 2nd and 3rd place efforts in Teepee Creek, Alberta and Marwayne, Alberta, respectively, West's season came to a screeching halt in June at the Grand Prairie Stompede, a Canadian Pro Rodeo Association (CPRA) event when he broke his foot.
Taking two months to recover, West returned with a vengeance in August at the Elnora, Alberta Touring Pro Division stop, finishing fifth, catching a hot streak soon after when the Monster Energy Tour turned West for a three-event push.
RELATED: Contending Again – West Returns in Elnora
At the tour's first event back following a four month break, West was second in Winnipeg, Manitoba, winning the first event of his young career the following weekend in Abbotsford, British Columbia.
RELATED: Mentor's Guide West to First Win in Abbotsford
Propelled from No. 14 to No.5 in the Canadian national standings compliments of the two Top-5 efforts, West concluded the fourth season of his career ranked No. 4 in the standings after he was seventh in Saskatoon, Saskatchewan for the PBR Canada Finals.
"That means a lot to me actually, because like I said, I got hurt," West said of his overall finish.
"So to be able to just go in the fall and get that close, that's a pretty big accomplishment to me. If I could have went the whole year, who knows where I could have ended up."
"The way I was riding last year, I think I could have took things to a lot higher level if I would have stayed healthy. I had a really good strong end to the season."
"Last season was my biggest season I'd ever had, and I missed the entire summer. I got hurt, it was pretty bad being out for three months, but I was pretty thankful for ending up in the No. 4 spot."
"I did a lot of winning in the fall, and when I could ride I made things happen, so I was very pleased with how the season went."
Capping the 2017 calendar year, West competed as a member of Team Canada at the inaugural PBR Global Cup after winning the Canadian Qualifier.
RELATED: West Wins Canadian Qualifier Ahead of Inaugural PBR Global Cup
Adding two qualified rides to the nation's total, helping to propel them to a third place finish, West didn't take much time to rest following the five-nation event, travelling to New Town, North Dakota the very next weekend to get a jump start on the 2018 season on the Real Time Pain Relief Velocity Tour.
"We didn't really stop after Global Cup," West said.
"A couple of us pretty much stayed busy every weekend. We took a couple of weekends off in mid-January, but we really haven't had a break. I've been just rolling with the success I had ever since I come back and things have been going really good."
"Hopefully we can keep going from that last season and then just step it up a little bit for this season."
And continue the momentum he did, winning the New Town, North Dakota event.
RELATED: West's Winning Ways Continue with Victory in New Town
Since, West has entered eight additional Real Time Pain Relief Velocity Tour and Touring Pro Division events in the United States as he awaited the launch of the 2018 PBR Canada season, adding three additional Top-10 finishes to his total.
Collectively in 2018, West has gone 6-for-16, earning 90 world points. He is currently ranked No. 51 in the world, 100 points behind No. 35 Aaron Kleier and the threshold to earn a berth onto the elite 25th PBR: Unleash The Beast.
RELATED: Lonnie Leads West Brothers Into 2018
While he has already started working towards achieving them, West has set high goals for himself this season.
"My goals are a little different this year," he explained.
"Last year I wanted to make the World Finals and the PBR Canada Finals while still making the CFR, but this year my priority is, and it's going to be a long shot, but I want to win the world, the PBR World Finals, so I'm going to go everything I can to get there, and then I can go from there once I'm at the Finals."
"So I'm going to try and hit as many rodeos as I can, but I'm not going to go to a rodeo over a PBR, because I need to get to the World Finals, that's my main goal this year. I've got to do whatever I can to get there."
Part of that plan is entering as many PBR events as possible.
"We just entered on today for Fresno, California and that's the weekend after Teepee Creek," West said.
"So when everyone else is taking a break after Teepee Creek, we'll be going back down south to try and get more points, cover more ground."
And West won't be alone in his mission, joined by travelling partner and longtime friend Brock Radford.
"It's nice to be able to hit events when you're rolling with a guy that has the same mindset and the same goals, because then everything else works. It should be a good year, I'm excited for it."
 "Brock's been by my side, we've been rolling together ever since, well actually the first steer riding school I ever went to I met Brock before I ever rodeoed at all."
"And he's got the same mindset as me, he's got the same goals as me, so we're perfect. We're going to be the Steve Woolsey and Wesley Silcox of the new age, rolling together. "
"It's going to be a busy year for us," he continued.
"It seems like every year gets better and every year gets busier, so I'm really excited for what this year brings. Main goal this year is stay healthy and qualify for everything."
Much like last season, West's competitive year at PBR Canada events will once again begin in Lethbridge, drawing X6 Ranch Bucking Cattle's Carlier Cartel in Round 1 of the Bridge City Chrysler/LA Towing PBR Challenge.
RELATED: Click here for Friday's complete day sheet.
"I'm stoked for Lethbridge," West said.
"That's one of the sweetest bull ridings of the year, we pack that place."
"That's what really gave me a jump last year, Jordan won first and second, and I won third. So it gives a guy a big chance to get a lot of points, as opposed to just a one day bull riding, and you can win a lot of money there too."
"That's a nice thing about being able to hit these Canadian events, is you can gain a lot of points up here, and they'll count towards the world standings. So I'm really excited for Lethbridge.
For this weekend specifically, West has one plan – win.
"I'm planning on winning Lethbridge and that will bump me up quite a bit of points," West declared. 
"I know I'm close, so it shouldn't take a whole bunch. Heck, there's no reason I don't think I can't win, and I think I'm riding really good, and they always have a good pen of bulls there. "
The Bridge City Chrysler/LA Towing PBR Challenge gets underway tonight, Friday, March 2, at 7:30 p.m. MT at the Enmax Centre and concludes tomorrow, Saturday, March 3, at 7:30 p.m. MT.
Be sure to stay tuned to PBRCanada.com and follow the tour on Facebook (PBR Canada), Twitter (@PBRCanada), and Instagram (@PBRCanada) for the latest results.