No. 2 Brock Radford
By: Kacie Albert Thursday, March 15, 2018 @ 1:50 PM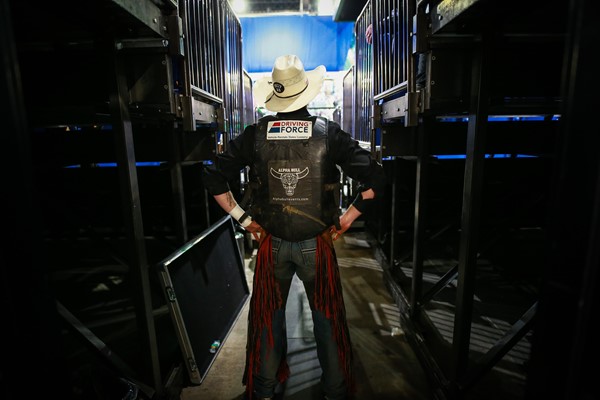 NEW YORK CITY – If left to describe Brock Radford's 2017 season with just one word, without hesitation, that would be historic.
In late-July, the 22-year-old went on an unprecedented, three-week hot streak, winning each of the four PBR Canada Touring Pro Division events he entered. Collectively, Radford netted $18,445.85 CAD, 1,340 Canadian points and 271.33 world points.
Before his streak began, Radford was ranked No. 11 in the PBR Canada national standings, hundreds of points removed from the top position.
However, his four event titles earned him 1,340 Canadian points, propelling him to the top of the PBR Canada standings.
Radford also rocketed to No. 36 in the world, and after a fourth place finish at the Glen Keeley Memorial Bull Riding, cracked into the Top 35 and earned a highly coveted berth onto the PBR's elite series in Springfield, Missouri.
RELATED: Radford Makes Elite Tour Debut in Springfield
Following his debut, Radford competed at two additional elite tour events, Austin, Texas, and Uniondale, New York, and three PBR Canada events before travelling to Saskatoon, Saskatchewan and the SaskTel Centre as the No. 1 ranked rider in Canada, the top contender for the national title and spot at the Real Time Pain Relief Velocity Tour Finals.
RELATED: Radford Poised to Win First Canadian Title
The 2017 Canadian Finals, however, did not go as Radford planned. Despite winning Round 1 via an 87.5-point trip aboard Minion Stuart, Radford went 0-for-2 on the final night, surpassed by Zane Lambert for the title.
RELATED: Radford Wins Round 1 of 2017 PBR Canada Finals
"There's lots of guys who have Canadian titles that have been bridesmaids quite a few times," Radford said. "Like Zane told me he's been second three times. And yeah, I stubbed my toe, I should have rode a couple more bulls."
In addition to being surpassed for the Canadian title, Radford also lost his attempt to qualify for the 2017 PBR World Finals via the Real Time Pain Relief Velocity Tour Finals, an event he has dreamed of competing at since he was a kid.
RELATED: Radford Out for 'Blood' After Missing PBR World Finals
"It's the biggest fire for me ever," Radford said of narrowly missing out on actualizing his dream last season, concluding 2017 ranked No. 46 in the world.
With the 2018 season well underway, Radford currently fins himself ranked No. 69 in the world and No. 1 in Canada, a status he credits to his 2017 season.
"I am [ranked No. 1] now because of that, because now I want it so bad," Radford said.
"To be that close and come up second, Zane's a good friend, I was happy to watch him win it too, but this year I'm going to keep the same game plan, win one at a time, ride each bull if I can and look for that No. 1 at the end of the year this year, finish strong.
"This year, it's a different mentality. Every bull counts towards a Canadian title, you've got to remember that.
"There's bulls that I let go early in the season last year that I should ride in my sleep. So it's just taking it one bull at a time, and using every bull to your advantage. You do your job and you'll come out on top."
After competing as a member of Team Canada at the inaugural Global Cup in Edmonton on Nov. 9-11, contributing two rides to the nation's third place effort, Radford was quick to get to work on the 2018 standings, travelling to Australia for a three event push.
Radford earned 20 points before the calendar year even read 2018, backed by a fourth place finishing at the nation's Iron Cowboy in Townsville, Queensland.
RELATED: Radford Returns from Down Under
Just a month after his return, Radford then had the opportunity to compete at the 25th PBR: Unleash The Beast events in Chicago and Oklahoma City, but was unable to record a qualified ride in either city, despite coming close in Chicago taking both of his draws to 6.9 seconds or more.
However, when the PBR Canada season got underway on March 2-3 in Lethbridge, Alberta, the home province rider was back to his winning ways finishing third. The following weekend he was second in Teepee Creek, launching him to the top of the Canadian national standings, where he now leads No. 2 Jared Parsonage by 80.84 points.
With the 2018 season still young, Radford is set on what he wants to have achieved come this time next year.
"I want to make the World Finals this year, for sure," Radford said. "That was another thing last year that I should have finished on stronger. That I want to finish this year, making the World Finals, I came pretty close last year and just kind of petered off at the end. It's a marathon not a race, so I want to this year increase my consistency, see where that puts me at the end."
And while Radford is working to get back onto the elite tour, he says, "a Canadian title is the first priority for sure."
"I think this year there's going to be five or six guys that are going to be running and gunning for it that can. It'll be changing hands, it'll be good."
Also on the horizon for Radford is a trip to Sydney, Australia for the second Global Cup on June 9-10, alongside returning coach Aaron Roy and already-named teammates Dakota Buttar and Jordan Hansen.
RELATED: PBR Announces Qualifiers and Coaches for Second Global Cup Event
"I'm looking forward to the Global Cup in Sydney, I'll go to Australia for Team Canada, and I can't wait for that.
"I think we'll have an awesome team to head overseas with and I'm sure we'll do some damage. It'll be fun to go over and get some sun for a little bit, then come home and we're right back in it.
PBR Canada's Monster Energy Tour begins its third season on March 24th, 2018 starting at 7:00pm at the Agrium Western Events Centre on Stampede Park in Calgary, Alberta. Tickets are on sale now at Ticketmaster.com  
Be sure to stay tuned to PBRCanada.com and follow the tour on Facebook (PBR Canada), Twitter (@PBRCanada), and Instagram (@PBRCanada) for the latest results.