No. 1 Zane Lambert
By: Kacie Albert Tuesday, March 20, 2018 @ 10:20 AM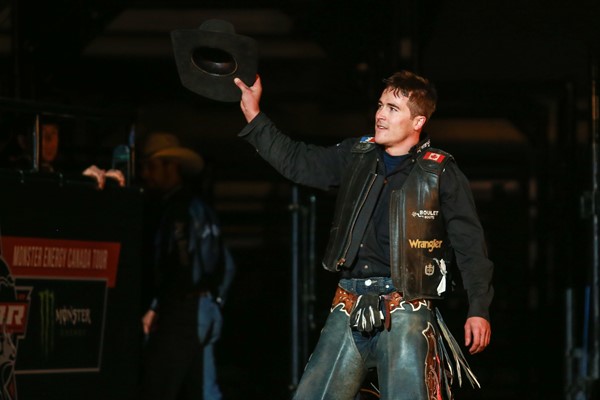 NEW YORK CITY – When the 2017 PBR Canada season came to a close last October in Saskatoon, Saskatchewan, the history books read much differently than they did at the start of the year, with Zane Lambert further cementing himself as one of the nation's most successful riders.
Overcoming a more than 500-point deficit on the last day of the season, Lambert rode his way to not only his second consecutive PBR Canada Finals event win, but also title of 2017 PBR Canada Champion.
RELATED: Lambert Makes History with Second National Title
In winning his second national title, first victorious in 2013, Lambert joined Aaron Roy (2008, 2010 and 2012) as just the second rider to hold multiple Canadian titles. Further adding to his historic season, Lambert is the only rider to win the Canadian Finals in multiple seasons, let alone back-to-back years.
"It feels really cool," Lambert said moments after winning the title in one of the tightest races in PBR Canada history.
"It was pretty special and just trying that much harder makes it that much sweeter to win. It feels great and I'm super excited."
With the 2018 season already underway, Lambert plans to continue his winning momentum this season, with clear goals that would further etch his name in the record books.
"Goals are to win another [Canadian] title, and just to ride real good," Lambert said.  "Put something in the record books that people will remember, and maybe actually go down as one of the best someday."
RELATED: Forecasting Another Championship Run
"And I think I'd like another ring from the World Finals. Before I'm done it would be cool to make the World Finals another time, so that is a goal there and we'll see if it's a reality come August. "
Despite PBR Canada's season not beginning until March, Lambert got an early jump on his push for points, riding at the Oakland, California, and Denver, Colorado Real Time Pain Relief Velocity Tour events in January. Adding an eighth place finish to his resume at the 2018 National Western Stock Show, the 31-year-old has stayed north of the Lower 48 since, returning to action with the launch of the Canadian Touring Pro Division season on March 2 in Lethbridge, Alberta.
"I'm just taking it one bull at a time and enjoying riding bulls," Lambert said of his competitive approach to events this year. "If I do that, we might put our self in another position to win another one and that's the goal for sure; but we're one bull at a time.
"There's lots of bulls to line up, and try to stay consistent all year"
Thus far in Canada, the reigning Champion is 4-for-6 with his best finish to date in Teepee Creek where he was third after covering City Limits and Oklahoma Blues for matching 84-point scores.
"I think coming off last year's win, and then this year, I think I've still got some momentum coming," Lambert said. "I feel like I'm still riding good off that momentum. And coming into this year, use it for good things; keep doing what I was doing."
Heading into this Saturday's season-launch event for the Monster Energy Tour in Calgary, Lambert is ranked No. 6 in the Canadian national standings, 200.84 points behind No. 1 Brock Radford.
"Yeah, really excited," Lambert said of the upcoming Monster Energy Tour season. "Pretty excited about kicking off this year and starting it early, and getting some momentum early, and trying to use that at these bigger events to get ahead.
"We're looking for really cool things here in Canada. We're having some major events, the first Monster event coming up in Calgary and I'm pretty excited to get that rolling.
New this season, a deviation from 2017, the schedule of events will play out much differently. In 2017 an intense summer slate of Touring Pro Division events was bookended by several Monster Energy Tour events. This season, however, riders, including Lambert, will face the bulk of the premier series events early in the season.
"Last year we kind of had a bunch in the spring and then we had a really good run at the end. I got injured mid-summer and had to play catchup at the end, so to have big events at the end of the year, that's kind of when I got my momentum going and that helped to catch-up to the guys that I was out all summer."
RELATED: Contending Again - Lambert Makes Mid-Season Return from Injury
"So it just sets the season up different," Lambert further elaborated of the changing structure of the schedule. "Looking at it right now, we're having all those events early, there's nothing scheduled in the fall, so you've got to get your points early it looks like this year.
"Maybe if we can get this one right, and all the PBRs in the spring, will give me the boost to maybe get to another World Finals, which would be cool too. So these points early could get you on tour by the end of summer, so getting some points up and early is going to be key for this year I think. "
In order to accomplish these long term goals, Lambert is laser focused on the present. 
"Right now it's taking care of business and doing what I've got to do each bull at a time, and just bringing that consistency."
"And that's my real goal is to just be consistent all year, ride and try to get as many 90s as I can on the board and ride the ones that they say you can't ride; be the best that I can be."
PBR Canada's Monster Energy Tour begins its third season on March 24th, 2018 starting at 7:00pm at the Agrium Western Events Centre on Stampede Park in Calgary, Alberta. Tickets are on sale now at Ticketmaster.com  
Be sure to stay tuned to PBRCanada.com and follow the tour on Facebook (PBR Canada), Twitter (@PBRCanada), and Instagram (@PBRCanada) for the latest results.