Morning Line – Prince Albert – Day 1
By: Ted Stovin Thursday, May 3, 2018 @ 7:43 PM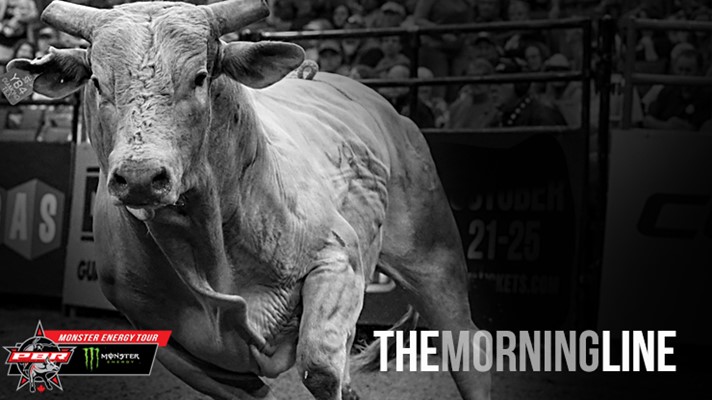 PRINCE ALBERT, Saskatchewan -- This weekend marks the seventh edition of the Clunie-Cooper Memorial PBR at the Art Hauser Centre. 
On June 30, 2011 a plane carrying Max Clunie, Danny Mantyka, Cam Cooper and Wade Cooper went down 200 kilometers north of La Ronge, Saskatchewan. This event, now in its 13th year, serves in their honor.
I can remember the drive that night between Williams Lake and Merritt, British Columbia and the exact moment Tanner Byrne found out Max had passed away. Tanner, Ty Pozzobon and myself were on our way back to Ty's families' house with his parents Luke and Leanne in another vehicle.
I'd never seen Tanner in such bad shape before and wished the best for him the next morning when he flew to Saskatoon from Kamloops on the first flight home.
At the time I didn't know Max Clunie, and I hadn't met his family - Dad, Rusty; Mom, Sharon; nor sisters, Allie, and Meghan. Meghan and Tanner had been together since high school and were married in 2014.
Since, I've been fortunate to come to know Tanner, his family, and the Clunie's. I've heard tons about Max, worn his sticker on my hat and had the opportunity to learn more about him over the years.
From a tragic event that took place almost seven years ago, Rusty and his family have done nothing but support the rodeo and bull riding communities and their local community in Prince Albert. 
The Max Clunie Ring of Honor is now given away each year in conjunction with the PBR and touted as one of the most prestigious awards one can win in our sport in Canada. Not only does this event mean a lot to the city of Prince Albert and its people, but the bull riding community as a whole. As the 2012 and 2015 PBR Canada Event of the Year, there's more to this one than simply bull riding. Come and check it out this weekend and you'll see what I mean.
As far as the bull riding goes, here's a look at a few of the matchups for the evening and my take. Prince Albert features an ABBI Canada Classic Event, the second of 2018, which is why you see the likes of Happy Camper and Buck Nasty in the first round of competition.
RELATED: Click here for the full Friday day sheet. 
Garrett Green vs. 465 Happy Camper - With only nine recorded outs, Happy Camper is still a new bull on the block. To date there has been one qualified ride, 87 points in Round 3 of the 2017 PBR World Finals in Las Vegas by Brazil's Dener Barbosa. With no rides in Canada, this Two Bit Bucking Bull was the ABBI Canada Classic Champion for 2017 at just three years-old. Four this year, he can still win a pile both in Canada and abroad. Green has drawn deep in this first round on a bull that goes away from his hand too. I don't like to bet against the guys, but I'm a fan of this bull. Like I said with Jake Gardner in Calgary, Garrett, prove me wrong.
Zane Lambert vs. L10 Paint The Town – As the reigning PBR Canada Champion, Lambert sits an early No. 2 in the PBR Canada Standings so far this year. He, however, trails No. 1 Brock Radford by almost 500 points. With Radford in Las Vegas this week along with Dakota Buttar and Tanner Byrne, Lambert could make up some big ground before the start of the Monster Energy Tour which begins next Saturday in Ottawa, Ontario. Paint the Town from the Skori's has two outs on record, one ride and one buckoff, both in Lethbridge nearly two months ago now. There, Cody Coverchuk was 81 points on this bull. Zane won't win the round but he will get back to the Championship Round where he will get his chance to connect for the win.
Lonnie West vs. 495 Violent Gentleman – I had to ask the Foley Bucking Bulls CEO James Foley about this bovine and he said: "Lonnie will ride him. I'm guessing 82-84 points." He said a few other things too but I left those out. With the last elite level event taking place this weekend, Lonnie is eyeing a Canadian title and a Top 35 ranking come August when the tour returns. Watch out for this guy after his first taste of the big leagues.
RELATED: West Staking His Claim at the Top
Riley Blankenship vs. 481 Buck Nasty – With one ride in six attempts dating back to September of 2017, Buck Nasty was the 2017 ABBI Canada Reserve Classic Champion, runner up to Happy Camper. Wyatt Gleeson was the first rider to cover the bull, leading him to the win Marwayne. I think Riley could be the next to get it done. Either way, this matchup between the superstar bulls for the ABBI Classic adds another level of excitement to the competition.
Wacey Finkbeiner vs. 439 The Silence – Wacey has been on a heater as of late at lower level events with two wins in a row. The Silence has was ridden in his one recorded out so far. That was by Zane Lambert for 86 points in Calgary in March on his way to a third-place finish. This Vold bull is red with big horns on him that has a bit of a different bucking style and movement on his front feet which looked really cool with Zane. It doesn't look like it would be as easy to ride away from a guy's hand though.
Aaron Roy vs. 621 Wicked Dreams – I still think it's wild to see A-a-ron back, but it's pretty dam cool. Wicked Dreams hasn't been ridden yet in four outs but one was a fouled and on the other the guy didn't nod. Hopefully we see a clean out here regardless. In his last out the Vold bull put up 43 points against Cody Coverchuk in Calgary. With the number of events on tap this month I expect we see the old Aaron back pretty soon.
Jordan Hansen vs. 410 Catch My Drift - Originally from Saskatchewan, this bull from the K Rose Ranch, now owned by Two Bit Bucking Bulls actually placed at the Prince Albert ABBI Canada Futurity in 2016.
RELATED: High 420 Wins Prince Albert, SK ABBI
Ridden once in three outs so far in PBR competition, this four-year-old has some serious air time and was in both Championship Rounds producing two buckoffs in Lethbridge. Hansen is one of the best we have though in Canada, I'm betting on the cowboy here.
Action for the third Touring Pro Division event of the 2018 season at the Clunie-Cooper Memorial PBR starts at 7:30pm both Friday, May 4 and Saturday, May 5 at the Art Hauser Centre. Tickets are available at the door, the Prince Albert Raiders box office or RaidersHockey.com
Be sure to stay tuned to PBRCanada.com and follow the tour on Facebook (PBR Canada), Twitter (@PBRCanada), and Instagram (@PBRCanada) for the latest results.