Midnight Rain Wows in Elite Tour Debut
By: Kacie Albert Thursday, April 26, 2018 @ 11:23 AM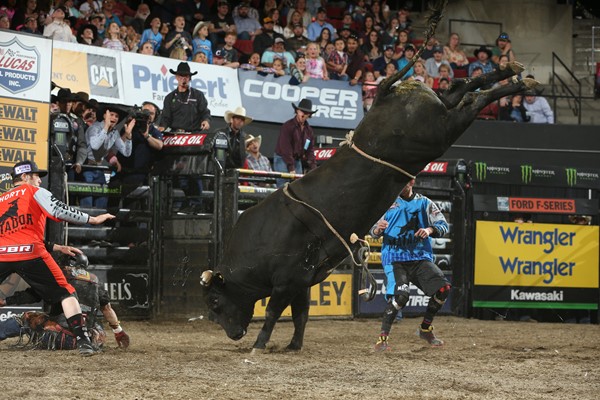 NEW YORK CITY – Last weekend, for the first time this year, the bull power for the elite 25th PBR: Unleash The Beast stop included a Canadian flare, with both Lindsey Carlier of X6 Ranch, and Nansen Vold, of Vold Rodeo, traveling stateside for the Stanley Performance In Action Invitational, presented by Cooper Tires.
With the Canadian duo collectively supplying 10 bulls, none of their bovine athletes had more than 10 outs on their resume, with each's trip in Round 1 set to be their elite tour debut.
And disappoint, they did not.
After an impressive 5.79-second buckoff of Rubens Barbosa to earn the highest bull score on Friday night, at 43.75 points, Carlier's Midnight Rain earned a second trip, selected to buck in the Championship Round.
The lone Canadian bull in the draw for the event's final round, Midnight Rain's performance only improved.
Once again recording the second best marks of the round, Midnight Rain wowed the record setting crowd inside Rimrock Auto Arena when he sent Keyshawn Whitehorse to the dirt in 3.96 seconds to earn a bull score of 44.5 points. His bull score was beat only by Frequent Flyer and Heartbreak Kid, both earning 44.75 points for their buckoffs of Junio Quaresima and Tye Chandler respectively. The marks are  career-high for the bovine athlete, now unridden in six outs.
"He had a really good out in the long go," X6's Lindsey Carlier said. "And we were lucky enough to get him back in the short go, and he had a really outstanding trip.
"That's pretty amazing, pretty outstanding," he added knowing that Midnight Rain's score in the Championship Round was the second best overall at the event, excluding those scores from the 15/15 Bucking Battle, again trailing just Frequent Flyer and Heartbreak Kid.
"It just goes to show we're breeding quality bulls."
The X6 Ranch pen also included Pennywise, Muddy Water and Carlier Cartel.
Pennywise added two buckoffs to his resume in the Magic City, first dispatching veteran rider Valdiron de Oliveira in 3.79 seconds during Round 1, followed by a 5.8-second buckoff of Derek Kolbaba in Round 2. His buckoff of world title contender earned Pennywise a new career-high bull score, marked 42.75 points for his performance.
After a stumble in Round 1 earned then-world No. 1 Ramon de Lima a re-ride, Muddy Water returned in Round 2 to face Cody Heffernan. Making easy work of the Australian rider, Muddy Water bucked off Heffernan at the 2.24-second mark, scoring 41.75 points.
"Muddy Water kind of had a bad start the first night," Carlier recalled. "He turned back and kind of stumbled, but Cody brought him back Sunday in the long go and he had a good out there."
In 11 outs, Muddy Water has now been ridden just once, by Dayton Johnston for 84 points during his debut in Prince Albert, Saskatoon last May.
Completing the pen from X6 Ranch, Carlier Cartel earned a bull score of 41.5 points when Ueberson Duarte took him to 7.69 seconds in Round 1.
"It's pretty special to be able to ranch raise them and then go to the elite bull ridings, go to a [25th PBR: Unleash The Beast,]" Carlier said of his unridden pen in Billings. "It's a pretty big honor just to go, and to have your bulls do good is even better. It's pretty special. "
The event was Carlier's third on the elite tour, past supplying bulls in Sioux Falls, South Dakota and for Last Cowboy Standing in Las Vegas during the 2017 season.
"Our goal is to get a pen put together and be able to go to the [Unleash The Beast]s.
"It's a real good start here to get your bulls used to going to bull ridings, Monster Energys and/or Touring Pros, but if they're really good, you've got to be able to take them to the next level so you can get the top riders to get on, and at the [Unleash The Beast]s they're all elite guys, which makes the difference. "
Three-time and reigning PBR Canada Stock Contractor of the year Vold took six bull stateside, with his pen headlined by the efforts of BAMF, marked 43.5 points, a new career-best, for his 3.8-second buckoff of Brennon Eldred in Round 1.
The bovine athlete's four-out buckoff streak, however, came to an end when Cody Nance made the 8 for 78 points.
White Tie and All Access also earned two trips in Billings. Much like BAMF, White Tie first recorded a buckoff in Round 1, unseating Luke Bradley in 5.71 seconds and marked 40.75 points, he was covered by his Round 2 foe, Oliveira for 79.25 points.
Improving round-to-round, All Access earned a 41.25-point score against Stetson Lawrence, who lasted just 3.22 second, which he followed with a 42.5-point trip for besting Lima in 4.21 seconds. The bovine athlete is currently unridden in three outs.
Drawing Vold's Devour, surging Brazilian Kaique Pacheco became the first rider in six outs to make the 8 on the bovine athlete when he covered him for 84.25 points in Round 1.
In his debut, Twisted was marked an impressive 42.5 points for his 3.04-secodn buckoff of Cristiano Figueredo.
Completing Vold's pen, Papa's Rockstar scored 42.25 points for bucking off Fernando Henrique Novais in 1.62 seconds.
The elite 25th PBR: Unleash The Beast next travels to Columbus, Ohio on April 28-29 for the Columbus Invitational, presented by Cooper Tires.
PBR Canada competition resumes on May 4-5 in Prince Albert, Saskatchewan with the Touring Pro Division's Clunie-Cooper Memorial PBR.
Be sure to stay tuned to PBRCanada.com and follow the tour on Facebook (PBR Canada), Twitter (@PBRCanada), and Instagram (@PBRCanada) for the latest results.