Lonnie West to Make Elite Tour Debut in Billings
By: Kacie Albert Thursday, April 19, 2018 @ 1:23 PM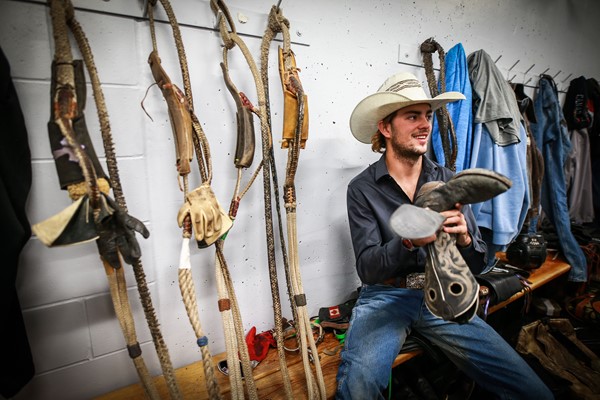 NEW YORK CITY – As the longest running event in the history of PBR's elite tour, the Billings, Montana stop has been host to many career milestones for countless riders.  
This weekend will be no different, with 14 riders prepared to make their 25th PBR: Unleash The Beast debut, including Cadogan, Alberta's Lonnie West.
"I'm so fricking pumped," West said. "That was one of my biggest goals ever, was to make the Unleash The Beasts, so I couldn't have been more excited.
"It's a guy's main shot to get on tour, you win that you end up seeding yourself for the season. "
West heads to the Magic City ranked No. 67 in the world, 215.83 points behind No. 35 Brady Oleson and a permanent spot on tour. He will be one of 60 riders competing in Round 1, split across Friday and Saturday.
RELATED: PBR Announces Special Competition Format for Billings
With the event also including a 15/15 Bucking Battle, PBR's Competition Committee altered the format to help protect riders who could be attempting as many as five bulls in three days. Following Round 1, the Top 30 will advance to Sunday's Round 2, which will be followed by the Championship Round featuring the Top 15 riders on two bulls.
"It gives us a good chance," West said of the new format. "You can win 120 points for winning a round, and you've got two rounds and then the short round, and then the average.
"My main goal this year is to make World Finals, and as long as it ain't too late, win the world. I've got to make things count here, do whatever it takes," West added.  "I'm pretty pumped about it."
The 22-year-old will ride as part of Group A on Friday night, facing off against D&H Cattle Co/Bob & Jeri Adams' Udder Lover.
RELATED: Click here for the complete Friday day sheet.
"We're all going to draw good bulls, the nice thing about that, like all those events, you don't have to usually worry about what you're getting on," West said of the bull pens at 25th PBR: Unleash The Beast events.  "You have one job. All you've got to do is stay on your bull and you're going to be getting paid. "
According to ProBullStats.com, in 53 attempts, Udder Lover has been ridden just nine times.
While Trey Benton made the 8 aboard the bovine athlete during Round 3 of the 2017 National Finals Rodeo, Udder Lover was last covered at a PBR event by Stormy Wing when he was ridden for 88.75 points during Round 2 in September 2017 in Colorado Springs, Colorado.
While this will mark the first time West will face off against the bull, it won't be the first time a Canadian has drawn him during their elite tour debut. When Brock Radford made his Unleash The Beast debut last season in Springfield, Missouri, Udder Lover sent him to the dirt in 1.93 seconds during Round 2.
"Hopefully I can stick them, I'm feeling good," West said.
RELATED: Lonnie West Looks Back on Stellar 2017, With Sights Set High in 2018
After an electric start to the 2018 season, which West began immediately following the inaugural Global Cup in Edmonton, Alberta, the young-gun has been mired in a slump.
While West won his first event of the year, capturing the first Real Time Pain Relief Velocity Tour win of his career in New Town, South Dakota, he has gone 4-for-20 since at 13 events.
RELATED: West Wins First Real Time Pain Relief Velocity Tour Event in New Town
Nevertheless, West is eager for his debut.
"To have a shot like this, I'm so pumped.
"I can't wait. Me and Brock are just heading down, I think Jesse Byrne might jump in with us too actually. Should be a good wave of Canadians down there now."
West will be one of five Canadian riders competing this weekend, joined by Dakota Buttar, Tanner Byrne, Radford and Zane Lambert.
The bull pen will also have a Canadian feel, with Nansen Vold (Vold Rodeo) and Lindsey Carlier (X6 Ranch) both making the journey stateside.
"It'll be a good old Canadian get together."
The Stanley Performance In Action Invitational, presented by Cooper Tires, gets underway with Round 1 Group A on Friday, April 20 at 7:45 p.m. MT. On Saturday, April 21 at 7:45 p.m. MT, fans will watch on as the remaining riders in the draw compete in Round 1 Group B and the Top 15 riders in the world compete in the fifth 15.15 Bucking Battle of the season. The event will conclude on April 22 at 1:45 p.m. MT with Round 2 and the Championship Round.
CBS Sports will air the fifth 15/15 Bucking Battle of the season at 2:00 p.m. ET on Sunday, April 22. CBS Sports Network will televise Round 1 Group A LIVE on Friday, April 20 at 10:00 p.m. ET, followed by Round 1 Group B LIVE on Saturday, April 21 at 10:00 p.m. The network will then air LIVE all the action from Championship Sunday, including Round 2 and the Championship Round, starting at 4:00 p.m. ET on Sunday, April 22.
Fans will be able to watch the action in its entirety, live, via PBR's new streaming digital platform RidePass. The stream for the three-day event will begin on Friday, April 20 at 9:45 p.m. ET, Saturday, April 21 at 9:45 p.m. ET, and Sunday, April 22 at 3:45 p.m. ET. On-demand replays will be available at 8:00 a.m. ET the next day at www.ridepass.com. The service can be found at www.ridepass.com, and in the Apple App and Google Play stores under the listing of RidePass.
Be sure to stay tuned to PBRCanada.com and follow the tour on Facebook (PBR Canada), Twitter (@PBRCanada), and Instagram (@PBRCanada) for the latest results.