Lloyd Delivers Clutch Performance for Team Canada
By: Ted Stovin Wednesday, June 13, 2018 @ 12:56 PM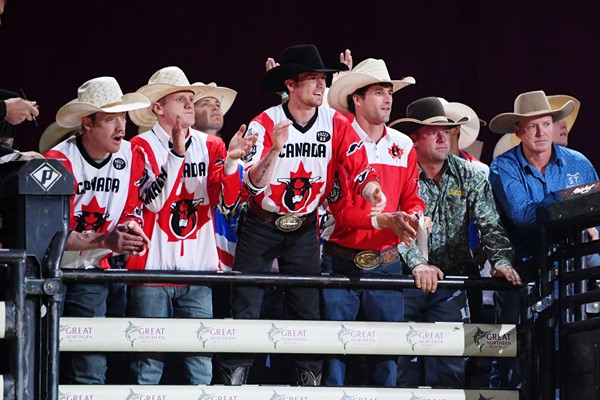 CALGARY, Alberta – Justin Lloyd made the journey to Australia not knowing if he would ride a bull for Team Canada at the PBR Global Cup.
After departing from Edmonton on Monday, June 4, he met the remainder of the team in Vancouver for the 15-hour flight to Sydney where his destiny was unknown.
"The trip was great. There were things that I was appreciative of after the fact," Lloyd explained. "Understanding how you deal with jet lag, it was good that we got there a few days in advance to figure that out and get caught back up on sleep. It was a great a few days with the team to just spend time together and have fun."
Even if he didn't ride, being a part of the team was a huge accomplishment.
"Going there, it's a great honour to be a part of the team and that you got picked to go," Lloyd said.
Lloyd entered the first day of competition as Team Canada's alternate as picked by coach and three-time PBR Canada Champion Aaron Roy.
"I lost my voice the first night pretty much," Lloyd recalled. "Doing all that screaming and yelling and we were just so pumped up for our team and our boys."
Team Canada, consisting of Brock Radford, Lonnie West, Tanner Byrne, Dakota Buttar, Jared Parsonage, Zane Lambert, Wacey Finkbeiner and Lloyd, went a combined 13-for-18 in Australia to finish third.
RELATED: Team Canada rides to Third Place at Global Cup in Sydney
"I know that we rode well enough to win for sure," Lloyd said. "The scores weren't quite there but we had 12 and even though the lower scores, they were still admirable bull rides, they were not simple bulls to get by that's for sure."
Canada finished a mere 19.75 points back of first place, even holding the lead for parts of the final night.
"Average out on 12 scores and you're under a point and a half. Probably a point in the quarter per ride. That's the difference, right?" Lloyd detailed. "We were confident that we're going to make more than 12 rides. We knew that those lower scores were just going to fall off at the end of the average anyway."

"I'm not sure how many rides the Aussies made, if they made more than 12 or how many, but it promoted making the better bull ride for it," Lloyd explained. "It's our job to figure out a way to work around that format as precisely as possible. And I think we did that, with what were given, we did the very best that we could do.
"There are so many good things that our guys did. The way we were rolling and just the momentum that we would carry from one bull ride to the next, it's a new aspect of bull riding that I think is really going to catch on."
After Finkbeiner sustained a concussion on Saturday, Lloyd joined the draw Sunday.
It was decided that the Tisdale, Saskatchewan-man would face a bull named Gravel Rash who dispatched Team USA's Cody Nance the night prior at the 4.31-second mark.
Seizing the opportunity, Lloyd made the 8 for a score of 81.25 points.
"Being able to capitalize on that ride after that bull bucked off Team USA the night before, it was the only bull before the short round that they bucked off of. So that was kind of sitting there in my mind too," Lloyd said. "We're good enough and we can compete with these guys and I really wanted to make that bull ride to prove that point."
Team Canada did prove a point, finishing ahead of the power-house Team USA who failed to defend their title earned last November in Edmonton, Alberta.
"I didn't really know what it was going to be like until when we had that realization that we competed at that level," Lloyd said. "I'm just grateful for it, [there's] just a lot of gratitude in my mind."
Lloyd was also a member of Team Canada for the inaugural Global Cup in Edmonton.
"It was different," Loyd said of Sydney. "Just having the smaller group and I feel as though all the guys were riding a really, really good. It was just the confidence was so high. I think in Edmonton it was a different experience. We had a very young group of guys and the experience there was like we really got to show and everything what potential we have.
"We have a great group of young guys to build on top of it. It's two different experiences. I don't think one is better than the other. It's something that we can learn from."
Learn, build and grow to potentially take back home soil at the next Global Cup event.
"It just affirmed what we already knew," Lloyd said. "We knew that we can compete with these guys, but it just affirmed it and now we know it. We knew it and everybody else knows it too."