Lambert's Prestigious Win Places Him in Familiar Territory
By: Kacie Albert Friday, September 14, 2018 @ 10:58 AM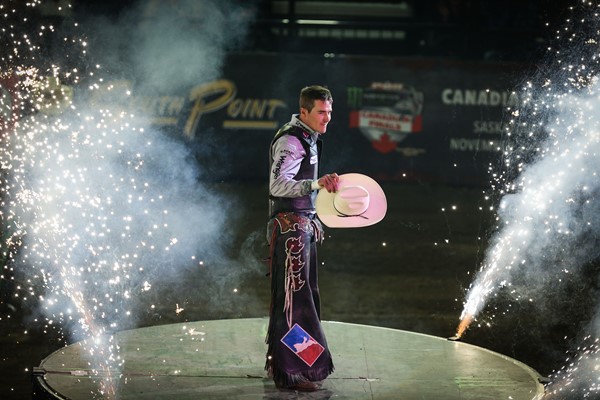 NEW YORK CITY – With the 2018 PBR Canada season more than halfway complete, reigning national champion Zane Lambert finds himself in familiar territory that he sat last season prior to his march towards the Canadian title.
For the second consecutive year, the 32-year-old rode his way to the Glen Keeley Memorial Bull Riding event title positioning himself solidly in the Top 10 of the Canadian standings as both the Touring Pro Division and Monster Energy Tour begin the final slate of events prior to the 2018 PBR Canada Finals in Saskatoon on Nov. 23-24.
RELATED: Reigning Canadian Champion Lambert Victorious at Glen Keeley Memorial Bull Riding
"Yeah that was pretty cool to be able to win the Glen Keeley Memorial Bull Riding," Lambert said. "It's always one of the ones that's the best of the year. The contractors bring their best bulls and it's just one of the buildings where you always see high scoring rides.
"Over the past 10 years I've seen them be 90 probably at least 10 times in that arena, going back to when they rode Slash there twice. Just lots of history in that arena. "
Lambert began the night with an 87-point trip on Catch My Drift, entering the championship round second in the aggregate.
"The first bull was good, he was better than I expected and had a good day and he fit me good," Lambert said of his first round draw. "Thor [Hoefer II] rode him in Calgary the first time we rode him, but we bucked him in Lethbridge and he was the high-marked bull there for the two days we were in Lethbridge and kind of an up-and-comer we were watching for.
"He is a great bull, he's only four years old. He's getting bigger and stronger as he goes so just another great bull that Josh [Berezay] raised."
In the final round, the 32-year-old sealed the win when he made the 8 on Happy Camper for 90.5 points. The 90-point score was Lambert's first since March 2013 when he was marked 90 points on Big Valley Black in Lethbridge, Alberta.
"Yeah, that's one of the bulls we were looking for all year," Lambert said of Two Bit Bucking Bulls' Happy Camper.  "We were watching him and he's a great solid bull that Two Bit has raised, he's a great animal and he's lasting too.
"We've rode him twice and he just gets harder and better the next trip," Lambert added of the bull Jared Parsonage covered for 88 points earlier this season to win the Prince Albert Touring Pro. "Kind of a cool bull to have the opportunity to get on him there"
For his efforts Lambert earned $4,971, 320 Canadian and 60 world points.
 "I drew really good, both bulls I got on there to win it were Josh Berezay's bulls," Lambert continued. "It ended up being the right ones, the right stock contractor, because he brought two really great bulls.
"Just pretty happy to get on both of his good bulls there. I think that was the big deciding factor on how I won it was because I drew good."
While Lambert didn't split the win this season like he did with Parsonage last, the win left him in similar standing as it did in 2017.
RELATED: Lambert and Parsonage Split Win at 2017 Glen Keeley Memorial Bull Riding
In 2017, he departed Stavely Arena the No. 4-ranked rider in Canada, 902.1 points behind Radford, who was also the nation's No. 1 following the event.
This season, when he departed the Stavely, Alberta venue, he had risen to No. 6 in the national standings, and trailed then Canadian No. 1 Brock Radford, currently sidelined with a knee injury, by 963.34 points.
With Lambert catching a hot streak following the 2017 event, propelling him to his second national title, he could be poised to replicate that success and tie Aaron Roy with three titles come season's end.
"It's tough, I know I put myself in a good position again, I'm going to try to go for it, get as many points here and get a little momentum going," Lambert detailed. "Last year, at the end of the year, we had some more Monster Energy Tours to kind of finish the year off which helped me gain up that ground a lot faster, this year we've only got two Monster Energy events plus the finals."
With, "lots of opportunities to do good," still on the table according to Lambert, he also has another life milestone on the horizon, with him and wife Stacey set to welcome their first baby in the fall. 
"We're going to try, but a healthy baby is a number one for us," Lambert said. "I want to be here for that, so we'll see it I end up making it out to Abbotsford and be able to do what I did last year. I sure hope so, and just put myself in striking distance for when Saskatoon does come around and I could get that title.
"That would be awesome. That would be my third and that would definitely be special, so just try to finish up the year the best I can and ride solid and let the rest take care of itself. Just ride my bulls jump for jump and we'll be alright."