Kolbaba Looking to Repeat in Quebec City
By: Justin Felisko Wednesday, May 16, 2018 @ 3:22 PM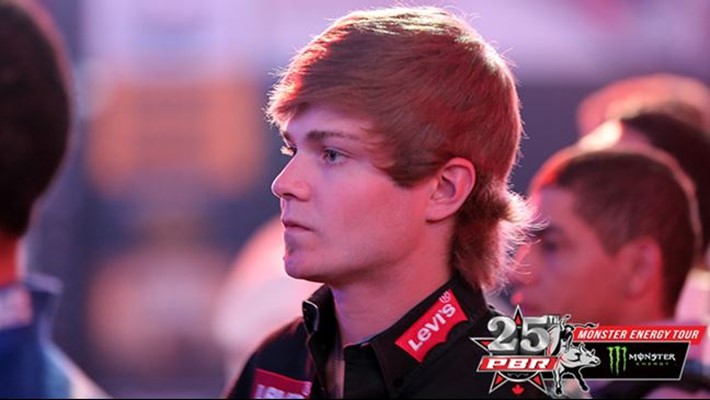 PUEBLO, Colo. – Derek Kolbaba did not get surgery on his torn right ACL primarily because he knows he is within a window to make a run at a World Championship.
The 2017 runner-up to World Champion Jess Lockwood, though, has yet to have the kind of results since returning to competition four weeks ago that he needs to win the 2018 gold buckle.
Kolbaba has yet to reach the 8 seconds in eight attempts and concluded the first half of the 25th PBR: Unleash The Beast 20th in the world standings. He is 2,060 points behind world leader Kaique Pacheco.
The 20-year-old knows he has to turn things around quickly, and he won't be waiting for the second half to resume in August to make that happen.
Kolbaba instead is heading north of the border for the Monster Energy Tour Canadian Iron Cowboy, presented locally by Couche-Tard, on Saturday night.
It was only a year ago that Kolbaba won the inaugural PBR International Major for 300 world points to get himself within 1,000 points of world leader Eduardo Aparecido.
The win was ultimately the beginning of his true his push for the 2017 world title.
"Three hundred points is pretty substantial," Kolbaba said. "Money is good. There ain't nothing else going on that weekend. I don't feel like I should be sitting at home. We need to keep it going and try and do what we did last year."
Kolbaba went on to earn a PBR-best 430 total points last summer. He ultimately finished only 447.5 points behind Lockwood in the final world standings.
"It gave me a lot of confidence," Kolbaba added. "Like I said, those points really helped. If you can grab some wins like that during the summer, it helps you roll into the second half feeling good and finishing off the season."
This year's event will be a different format than the one Kolbaba won last year by going 3-for-3 with rides aboard Funky Junk (89.5 points), Time Bomb (87.5 points) and Pneu Dart's Doomsday (88.5 points).
Kolbaba will be competing against 19 others in Round 1. The Top 8 riders (based on score or buckoff time) then advance to an Iron Cowboy-inspired, bracket-style event.
The champion will walk away with 370 points toward the world standings. The breakdown is as follows: 300 to the champion, 120 to the runner up, 40 to the final two, 20 for the final four, and 10 to the eight riders that advanced out of Round 1.
Kolbaba won over $27,000 dollars last year, and this year's event has over 43,000 USD added.
Lockwood finished third in Quebec last year, and he too is returning to the capital city.
He knows there is great money and points available to be had.
"Why wouldn't you go?" Lockwood said. You would be stupid not to. It can make your whole summer. It was a dang good bull riding. I went last year and that is where I turned it all around."
Also tentatively scheduled to ride in Quebec City is three-time World Champion Silvano Alves, No. 12 Fabiano Vieira, No. 13 Dakota Buttar, No. 21 Tanner Byrne and No. 29 Marco Eguchi.
The champion will have faced four bulls in a span of 2 to 3 hours on Saturday night at the Videotron Centre.
That may be an issue for Kolbaba's knee, but in Las Vegas two weeks ago he said the knee was improving.
"My knee feels good," Kolbaba said. "Every time I seem to nod my head, things seem to be going better. This week I feel good and my knee feels good. I am just excited to go get a ride under my belt and remind myself I still can do it."
Kolbaba is hopeful to get things back on track before he heads to Sydney, Australia, for the next edition of the PBR Global Cup on June 9-10 at Qudos Bank Arena.
He has lasted more than 4 seconds only twice since tearing his knee ligaments riding Bottoms Up in North Little Rock, Arkansas.
"I wouldn't say tentative with it, but I would say my head wasn't right to where at this level you have to have it all," he admitted. "Everything has to be 100 percent. You can't let little things mess up your mental game. I have never been on the back of one where I thought, 'Holy shit my knee hurts.' I never felt like this brace prevents me from feeling or anything like that. At the end of the day, I just need to get my shit right.
"Now we are just getting that much better and am looking forward for things to start clicking."
Be sure to stay tuned to PBRCanada.com and follow the tour on Facebook (PBR Canada), Twitter (@PBRCanada), and Instagram (@PBRCanada).