Johnston Revels as PBR World No. 1 in Early 2019 Standings
By: Ted Stovin Tuesday, November 13, 2018 @ 12:14 PM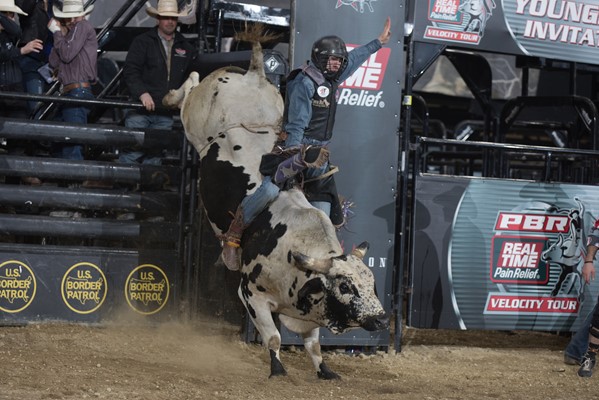 CALGARY, Alberta – This past weekend in Yorkton, Saskatchewan at the first ever Yorkton Grain Millers Harvest Showdown, presented by New Holland, a Canadian bull rider made history.

It might not go down in the record books, but Dayton Johnston became the first Canadian bull rider ever to hold down the No. 1 spot in the PBR's World Standings.
"I guess it feels pretty good, but obviously it doesn't mean much right now," Johnston said. "You gotta keep er goin'. Right now, it feels good but I gotta keep my foot on the pedal, get the scores on the board and then it'll mean something when it comes down to being in Vegas and being No. 1 in the World."
Being No. 1 may not mean a ton after one event, but a hot streak over the next couple weeks could propel the 22-year-old to the PBR's elite level in a few short months.
"It doesn't mean absolutely nothing, but to me right now I'm not trying to let it take control of anything. I'm just trying to do my job," Johnston said. "That's 100% my goal is to be on the UTB Tour."
RELATED: Johnston Wins Final Regular Season Event in Yorkton
Between now and next season when the world standings begin shaping the rider list at the premier series events, there are numerous events both in Canada and the United States, including this weekend's Velocity Tour stop in New Town, North Dakota and the upcoming PBR Canada Finals on Nov. 23-24 in Saskatoon, Saskatchewan.
"I'm with Riley Gangon, he's a rookie this year. We both entered New Town and we both got in," Johnston said. "We are just still kinda hanging out in Yorkton. We are going to meet up with a buddy, Weston Hartman in Bismarck and hang out there for the week.
"It was eight hours home and only six hours to Bismarck and then it's only another two hours to New Town. It saves us a little time and money I think."
Managing time and money is an important lesson and task for any bull rider to learn. Johnston has successfully ridden for a full season now without working another job during the week. Now, he's exclusively focused on living his dream and working towards the next goal.
"That's still my game plan. I'm still not working, just helping out Dad at home when I'm around, not when I'm hanging out for a week in Bismarck," he laughed. "But it's pretty slow around home anyways right now, so Dad didn't mind if I hung out for a week."
With the win in Yorkton, Johnston moved into the Top 10 in the PBR Canada Standings. There in east-central Saskatchewan he met up with a couple familiar foes.
"I was really excited to have Dylan's Devil from the Wild Hoggs in the long round," Johnston elaborated. "I've seen him a couple times and he's had some really good trips with some good guys.
"It looked like he was going to be right around there to the right, just looking at videos but he ended up going out one and coming back left, away from my hand. I got him rode and it felt really good."
The score was 84 points, a half-point out of the money in Round 1, but earned him a second bovine athlete in the championship round.
"Then going into the short round I would have been happy to get on any of the bulls there, but [I] ended up with Blow Me Away," Johnston said of the Vold Rodeo bucker. "I've wanted that big sucker for quite a while and made it work too."
The second-year pro didn't just ride the big paint, horned bull. He made him look easy.
"I don't know, I just did my job I guess," Johnston humbly recalled.
On the second night in Yorkton Blow Me Away dispatched Montana's Luke Gee in short order, flipping him right upside down in a downright nasty buckoff. In 15 recorded outs, Blow Me Away has only been ridden one other time, by Jordan Hansen for 87 points at this summer's Calgary Stampede.
There's not much of a sweet spot on that bull.
"Well he is kinda tricky," Johnston admitted. "I know for me anyways he really wanted me to the outside. It was a battle staying in the middle of him. He was really trying to get me to the outside. But [I] just stayed loose and kept getting my elbow down and staying in the middle of him."
When the clock hit 8 seconds, Johnston made a good get off and walked away, scoring an identical 87 points leading the crowd to erupt in raucous applause.
"They were great in Yorkton" Johnston said of the fans. "It's always big, especially when you can get a crowd like that at the first one and have them support it. Obviously, it adds another event for us to go to throughout the year. The more events you can have the better it's gonna get.
"They were electric in there and I mean, you can't ask for anything more than that."
Yorkton's Touring Pro Division event win was the second of Johnston's career. He looks to add another title next weekend at the SaskTel Centre.
"That's also a goal of mine is to be a Canadian Champ," Johnston said. "Now, seeing the points and everything and how far a guy is back and still having a chance, that's unreal. Definitely gotta come to PBR Canada Finals with my hammer cocked and get some bulls rode and, let it take its place from there. Do my job."