Jesse Byrne Returns Home for Glen Keeley Memorial
By: Ted Stovin Thursday, September 6, 2018 @ 2:09 PM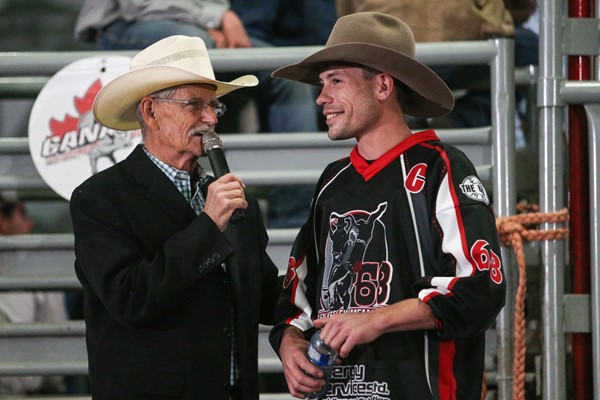 STAVELY, Alberta – There is only one event on Canadian soil that Jesse Byrne will fight bulls at this season – Stavely's Glen Keeley Memorial Bull Riding.
Less than an hour from his Okotoks home, the Canadian Touring Pro Division event holds a special place in the bullfighter's heart.
"It's pretty cool to walk back into this building. I've got a lot of memories that come rolling in when we step foot in here," Byrne said of the annual event held inside Stavely arena.

"It truly is an honor to be here at an event with Glen's name on it. I grew up watching him ride bulls as my dad was bullfighting and he was always one of my heroes and I looked up to him. The way handled himself inside and outside the arena, he was just a guy I wanted to be like and really, when I look back, I couldn't think of a better role model."
"Just the lessons that can still be taken it's that gritty, no-givin' up, always givin' it your all," he continued.  "And taking it all in, I always noticed how Glen would be the same person inside and outside the arena and he made time for kids like me and it was inspiring."
As one of the greatest Canadian bull riders in history, it could be said that he helped inspire Byrne to become the best in the business.
"Jesse Byrne, in my book, may be the best I've seen in my time," fellow bullfighter Shorty Gorham told PBR.com's Keith Ryan Cartwright in 2013.
RELATED: The Sky's The Limit
PBR co-founder Cody Lambert echoed those same sentiments to Cartwright.
"I've said before that Rob Smets is the best I've ever seen," Lambert reflected. "But it took me 20 years of watching him and him to slow down a little bit and change what he did. I always knew how tough he was, but it took me 20 years before I thought he was that great. I always knew he was one of the all-time greats, and I always thought of him as one of the all-time greats and towards the end of his career I thought he was the best there ever was.
"Jesse is just getting to his prime and I think of him that way. It's scary how good he is. He's Bushwacker good."
Gorham added, "Greatness takes time, but at his age and the stage of his career, I would say, he's set up to be the best ever."
Byrne was the first and remains the only Canadian to be selected to work the PBR World Finals, looking for his 11th selection this November. Byrne's father, Ryan, was selected to work the National Finals Rodeo (NFR) on three separate occasions.
"This will be the one and only Canadian stop for me so it's cool to be back working in Canada and I just couldn't think of a better reason to be doing that," Byrne said. "I just looked up to Glen so much and the whole family, the Keeley family has been a friend of the Byrne family for as long as I can ever remember. I got my first horse from [Glen's parents] John and Donna Keeley. I just have so many memories of being out on the ranch and just being a cowboy and having fun."
RELATED: 8 Seconds with Jesse Byrne
As the leader of all Canadian bullfighters, Byrne, with the help of his yearly school, is now setting up the next generation. The likes of who included his two counterparts in Stavely, and former school attendees, Chase Keeley and Greg Loring Jr. 
"It's tough to beat, especially getting to fight it with a couple guys you look up to and have learned a lot from," said Keeley, in his second appearance at his uncle Glen's event.
Keeley, 22, is in only his second season of fighting bulls for the PBR.
"I was there last year," Chase said of the school. "This was my first PBR last year and I've been able to fight a few and work my way up and feel like this year I deserved to be here. It's pretty cool, you can't beat honoring your uncle. That's the guy that inspired me to start in the sport. I've even got his gear bag here that he won."
Keeley was only four when his uncle Glen passed away in March of 2000.
"The night before he left for Albuquerque me and my sister stayed at his house there and spent the night with him," Keeley recalled. "I've got lots of memories with him, some of my earliest memories are of him."
For Loring, this marks his sixth appearance in Stavely as he looks to earn a second bid to the PBR Canada Finals this November in Saskatoon.
"It was six years ago Justin [Keeley], him and [Ty Pozzobon] were the only two that give me a shot to be a PBR bullfighter and it's been awesome," Loring said. "I never knew Glen, but I think with all of us he was our hero and we all looked up to him. It means a lot.
"Like Chase mentioned again, the two guys that I really look up to, Jesse, he pretty much paved the way for us. I went to his school for four years and to be able to stand here and fight bulls with him is pretty cool."
Heading back to Stavely to fight with two of his protégés and to honor Glen was an easy choice for Byrne.
"When Justin [Keeley] called me, I didn't even bother to figure out the financial side of what it was going to be like, I just said, 'Yes, I'll be there.'"