Injury Update - Robbins Plans for 2019 Return
By: Kacie Albert Wednesday, April 4, 2018 @ 1:05 PM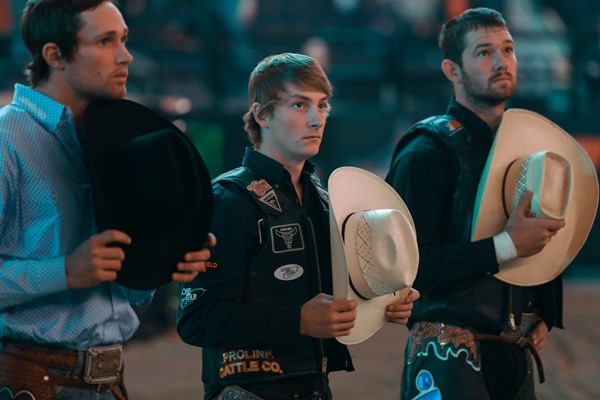 NEW YORK CITY – For Coy Robbins his first year at PBR events was nothing short of exciting.
Among the many notable moments, highlights for the Camrose, Alberta-native included being crowned the 2017 PBR Canada Rookie of the Year and earning a spot on Team Canada for the inaugural Global Cup in Edmonton, Alberta.
RELATED: Robbins Wins 2017 PBR Canada Rookie of the Year
His impressive performance both during the regular season, where he went 8-for-17 (47.05%), and at November's Global Cup, led greats such as three-time PBR Canada Champion Aaron Roy and three-time PBR World Champion Adriano Moraes to take note of the surging young-guns potential.
"He just has all the try in the world," Roy said in July at the ABBI Canada event in Lloydminster, Saskatchewan. "He wants to go somewhere and he wants to win first every time. Pretty much I have had in my head he is on the team since I had seen him."
RELATED: Robbins Prepared to Represent Canada at Global Cup
In November, Moraes added, "That kid has heart. How old is he? That kid is going to be really good."
Electrified by the Global Cup, Robbins' push to continue his momentum was briefly put on pause after he was knocked unconscious by Whiskey Hand during the event's first bonus round.
RELATED: Down but not Out, Robbins Eagerly Awaits Return
Returning to action in January for the Touring Pro Division stop in Fort Worth, Texas, where he subsequently mounted a five event push in the United States, Robbins once again finds himself sidelined, this time for the remainder of the 2018 season.
RELATED: Robbins Sets Signs on Qualifying for Elite Tour with First Stateside Push
Riding in Red Deer, Alberta at the Canadian Professional Rodeo Association's (CPRA) Rebel Energy Services Bull Riding, the 18-year-old broke his humerus and dislocated his shoulder during his dismount from Girletz Rodeo's Wild Child, who he rode for 85.5 points to win the round.
"I rode the bull, I think I was 85.5 or something, and then was waiting for him to jump out of it," Robbins recalled. "He was spinning into my hand, and was waiting for him to jump out of it, I had my wrap pulled, and my hand just blew out of the rope."
"So I just checked out over my left shoulder, and it was going to be a good get off by the looks of things, and I just must have caught his hip funny and he kind of threw me in the air. I was headed head first into the ground, so I guess naturally you put your hands down right?"
"And I put my right hand down right in front of me and my left one kind of back a little bit and then the bull just stepped on the back of my shoulder blade and just snapped it, broke it and dislocated it."
Robbins underwent surgery the following day and has been diligently following his rehab schedule since.
"I never did anything really with it up until probably Wednesday last week," Robbins said of his injured arm. "I got out of the sling, for good, and could start moving it and stuff."
Despite the progress, Robins does not want to rush his return, looking to 2019 to make his return to competition.
"I don't want to rush it, you know, and then have it happen again," he said. "So I'll take 10 months off until I start getting on again, which will be December."
"I'm young enough, and I'd rather take a year off the start of my career, then five years or so off the end of it."
And his return is planned for none other than the event which derailed his 2018 campaign.
 "And then Red Deer, where it happened, will probably be my first event back."
Robbins was one of the more than 2,600 fans who packed the Nutrien Western Event Centre on March 24 for the season-launch Monster Energy Tour event, but is unsure of how he plans to fill his free-time for the remainder of the season.
"I don't know what I'm going to do, but I'll have to find something because I'm already bored," Robbins said jokingly. "Once I can start moving my shoulder, and what not, I'll probably find some sort of job or buy some more cattle or something, something to keep me busy."
"But I'll be busy, like Brandon [Thome] there today said I'll be able to start working out probably for sure in the next couple of months. So first time I'll ever step foot in a gym I guess, and start eating probably a lot healthier, we'll just have to play it by ear because I'm not really too sure on what I'm going to do."
While he is unsure of what will generally occupy his time, fans will still most likely be able to seen him in the crowds, with Robbins adding, "I'll go to some events with the boys, just to be there and what not, it won't be bad."
Be sure to stay tuned to PBRCanada.com and follow the tour on Facebook (PBR Canada), Twitter (@PBRCanada), and Instagram (@PBRCanada) for the latest results.