Injury Notebook: Byrne Out a Few Weeks with Ankle Injury
By: Justin Felisko Tuesday, September 11, 2018 @ 6:32 PM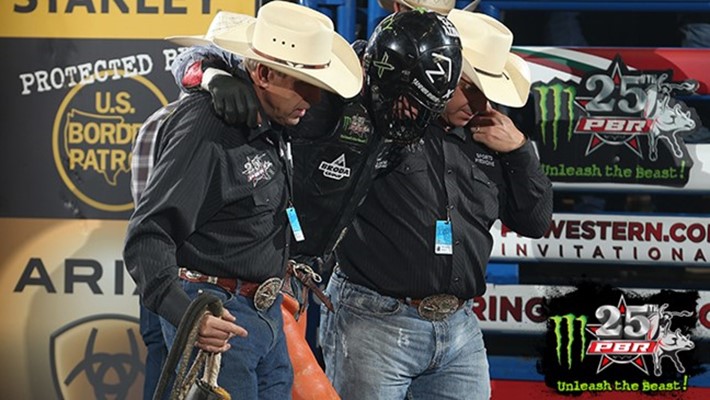 2015 PBR Canada champion Tanner Byrne expects to be out a few weeks after injuring his right ankle (peroneal tendon injury) this past weekend in Springfield, Missouri, at the PFIWestern.com Invitational, presented by Bass Pro Shops.
Byrne said X-rays on Monday confirmed he broke no bones in his ankle or foot after bucking off Wired Child (2.07 seconds) in Round 3 of the 25thPBR: Unleash The Beast event.
The 26-year-old now plans to rest for a few weeks until some of the swelling in his right ankle goes down.
"According to Tandy (Freeman), the tendon needs (to be) fixed, but I can do that later down the road," Byrne said. "Plan of action is stay off it, ice it, get feeling better and walking on it normal. Then build a brace to get me rolling."
Byrne is currently 20th in the PBR world standings and in relatively good shape of qualifying for his fourth PBR World Finals. Byrne failed to qualify for the 2017 World Finals after a torn groin limited him to only five premier series events and 20 events overall.
The 26-year-old is 13-for-36 (28.26 percent) with a victory (St. Louis) and two sixth-place finishes on the 25th PBR: Unleash The Beast.
Byrne was coming off his second-best showing of the season following his 155-point effort at the Music City Knockout in Nashville.
His victory in St. Louis was the third of his career, which is the most in PBR history by a Canadian rider on the premier series.
Byrne also bruised his right thigh in Round 1 in Springfield when he was kicked by The King during his 4.18-second buckoff.