Home Soil Crowd Elevates Buttar to New Career Highs
By: Kacie Albert Thursday, July 5, 2018 @ 8:28 AM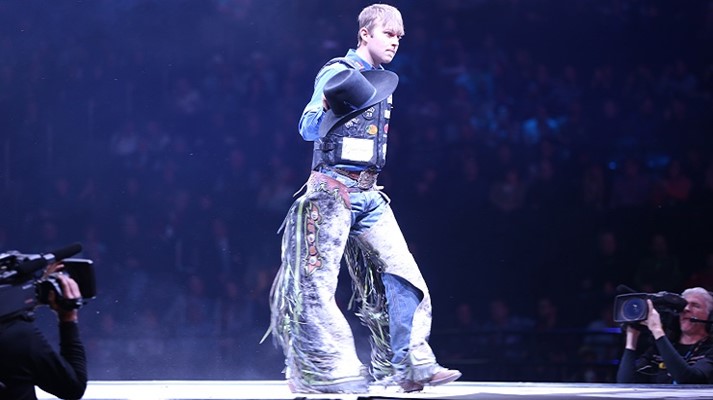 NEW YORK CITY – For Dakota Buttar, competing on his home soil is a rarity these days.
As the top-ranked Canadian in the world standings, currently No. 13, the 25-year-old spends most of his weekends stateside, riding on the elite 25th PBR: Unleash The Beast.
However, while Canadian fans have seen his name on just four draws this season, the 2017 Glen Keeley Award Winner made the most of his latest outing in Calgary, Alberta, capturing his first event title of the season at the Ranchman's PBR BullBustin' in support of Canadian Mental Health Calgary, presented by Victory Lab.
RELATED: Buttar Wins Second Night of Ranchman's PBR BullBustin'
"It's been a long time since I've been riding at home, it's good to be home," Buttar said moments after being crowned the winner at one of the most iconic events on the PBR Canada calendar.
"It's pretty fun," Buttar said further of the event. "I came and watched the last couple years, but it's not the same sitting there watching. It's so fun when the crowd gets into it. They got me fired up and I don't usually get fired up."
Buttar began the event riding Outlaw Buckers Rodeo Corp.'s Southern Trespass for 84.5 points in Round 1.
"He was a pretty nice bull," the Kindersley, Saskatchewan-native reflected. "He kind of had me beat around the corner too, he kind of hop, skipped, sent me to the outside and then I caught up to him and he felt good. He was a nice bull, away from my hand."
While he briefly held the event lead, Buttar entered the final round tied for third. What happened next, was nothing short of momentous for the surging Canadian.
In the Championship Round Buttar drew another bovine athlete from the Outlaw Buckers Rodeo Corp., Brahma Boots Chrome, a foe whom he'd faced in April 2016 at the Delburne, Alberta Touring Pro Division stop where he was sent to the dirt at the 5.6-second mark.
Not only did Buttar reverse his fortunes, but did so in career-best fashion, making the 8 on the bull for 90 points. The ride was the first 90-point effort on Canadian soil during the 2018 season, and second of Buttar's career.
RELATED: Buttar Picks Up First 90-Point Ride to Finish Second in Columbus
"You got him back in a big way," announcer Brett Gardner said after the out. "What an incredible Champion."
"Feels pretty dang good," Buttar said further of the ride. "I got on him a couple of years ago and when he had that suck back he kind of, today he rocked me to the outside, and that's what he did the first time, and I couldn't catchup to him and he just planted me on my head.
"My first 90 was into my hand and this one was away so it was kind of feeling good, I got one going either way."
This go around, while the bull again got Buttar to the outside after sucking back, the fifth-year pro was able to counteract his moves, to which he largely credits a recent change in his bull rope.
"I did some work to my Brazilian rope, the handle was really loose in it, and I was struggling with bulls away from my hand, I was just getting twisted out and everything. So I made the handle pretty hard, and taped it down and it seems to be helping.
"My wrist hasn't hurt for the last handful of bulls I've got on since I done it, so I think that might have been the issue before, and I feel a lot better on bulls away from my hand now since I've done that adjustment to it.
The change, which Buttar made during the second day of the recent Global Cup in Sydney, Australia, is the second adjustment he has made to his bull rope in the past year. Last September, after tearing a ligament (UCL) in his riding elbow in the first half of the season in Tacoma he transitioned to a Brazilian rope.  
RELATED: Bull Rope Switch Helping Buttar with Elbow Injury
"The rope I was using before, the handle was getting real loose and after I'd get off a bull if he went away from my hand I couldn't, my fingers would just clench up and I couldn't straighten them for probably 10 minutes after," Buttar detailed of the latest adjustment which came at the advice of several riders including Cody Nance. "They would do that on every single bull away from my hand. So I hardened it up, and since I've done that it's helped a lot and my wrist doesn't hurt today."
After taking a two week break following the Global Cup, the Ranchman's PBR BullBustin' have allowed Buttar to test his updated rope.
"I haven't been anywhere since Australia," Buttar said. "So I had like a good two weeks off. It was something that I was looking forward to that I've never really had a summer break, and this year I actually got to take one. It's nice to just hang out at home, and go fishing or go to the river or whatever."
In past seasons, the time Buttar took of this year would normally have been filled with a crammed schedule of rodeos.
"I still love rodeos," he explained. "They're a lot of fun, but like this year, I've already been on like 60 bulls. When I was rodeoing, I would get on that in a year. I still like rodeoing, but my body needs a break, needs time to heal, there's still a lot of bulls to be rode this year. There's still a pretty busy schedule ahead of me. "
While the Ranchman's events are just three of several he'll enter this summer, they have extra significance for Buttar after he was unable to compete at them the past two seasons.
"I've entered it twice, and I've gotten hurt in Ponoka the last two years and had to turn out," he said.
On the first night of the three days of events, Buttar recorded on 82.5-point trip on Punch My Ticket, however sidelined himself after having a rough dismount.
"I had just a nice bull and went to get off and I kind of didn't get off good at all," Buttar said. "There's a lot more bulls to ride in my career I hope, and one bull off one night isn't going to hurt me, so it's better to be safe than sorry.
"I went and talked to [Sports Medicine] for a little bit and they basically said the same thing, you don't want to risk it, tomorrow's a new day, see how you feel. And by the time I got some sleep that night and drank lots of water I felt fine and I feel fine today."
And Buttar must have been feeling more than fine, earning a pay check for $4,972.50 CAD for his win.  
He also netted 60 world points closing the gap on No. 12 Fabiano Vieira who he now trails by 27.5 points in the world standings.
With all eyes on Buttar's flawless performance, the sold-out crowd also raised more than $30,000 in support of Canadian Mental Health Calgary.
"It's a lot of fun to support such a great cause with our friends and fellow bull riders," Buttar said. "It's hard to explain, it makes that ride so much more worth it. "
Despite this being Buttar's first appearance at the slate of Calgary events, fans can expect to see him return in the years to come.  
"It's definitely a special place. I don't want to miss this one anymore."
Fans can relive all the action from last night's event on demand on RidePass.
The three-day slate of events concludes tonight with the Sunbelt Rentals Ranchman's PBR BullBustin' in support of the Sheldon Kennedy Child Advocacy Centre, presented by Alstar at 7:00 p.m. MT. Fans can watch all the action LIVE on RidePass.
Be sure to stay tuned to PBRCanada.com and follow the tour on Facebook (PBR Canada), Twitter (@PBRCanada), and Instagram (@PBRCanada) for the latest results.