Happy Camper's Dominance Continues in Ottawa
By: Ted Stovin Thursday, May 17, 2018 @ 2:21 PM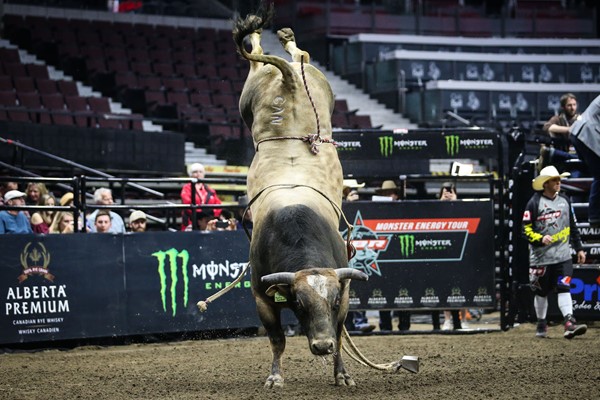 CALGARY, Alberta – There have been six PBR Canada Events so far in 2018.
Of those six events, a 1,300-pound bucking bull by the name of Happy Camper has been to four.
At those four events, there has been only one name at the top of the judge sheets when the last gate is cracked.
That name? You guessed it – Happy Camper.
"I was actually just putting down some of his stuff and boy, that bull has accomplished a lot in his young career," said Josh Berezay of Two Bit Bucking Bulls. "I've got a list and I add to it all the time. When he does something, I just write out that sentence below and man, he's getting a list that little feller."
So far, that list includes at least three ABBI Canada Classic Event titles, the 2017 ABBI Canada Classic Champion title, appearance at the 2017 PBR World Finals, and numerous Bull of the Event titles.
The 2018 season, and list additions, began in Lethbridge, Alberta on March 2. On the first of the two day event, local rider Dayton Johnston drew the bovine athlete in the Championship Round. The Milk River cowboy would be in the dirt in 2.7 seconds while Happy chalked up a bull score of 44.5 points. On Day 2, Happy Camper's out was the marquee match-up, facing off against reigning PBR Canada Champion Zane Lambert. The time would be longer on Saturday night at 5.7 seconds, but the score remained the same for the bovine athlete at 44.5 points.
Two nights, two outs, two buckoffs, both ranked as tops on the night.
He next bucked during the 2018 Monster Energy Tour season launch event in Calgary, the day after his fourth birthday, just two-and-a-half hours north of the Magrath headquarters of the Two Bit Ranch.
Due to the ABBI Canada Classic competition rules, Happy Camper bucked in the first round, drawn by Jake Gardner. In front of a historic, sold-out crowd at the Nutrien Western Event Centre, Happy Camper earned a bull score of 87.5 points from the ABBI judges propelling him to first place and taking home a paycheck for $3,712.50.
Five weeks later his next trip came during the Friday night round at the Clunie-Cooper Memorial PBR in Prince Albert against Lethbridge event winner Garrett Green. Happy Camper again bested the rider, and earned another ABBI Canada Classic win, this time marked 88.5 points to earn $4,125.
On the second night, however, Happy's five out buckoff streak came to an end when Jared Parsonage covered him for 88 points in the Championship Round to win the Touring Pro Division stop. It marked just the second time he had been ridden, with the lone other rider to make the 8 being Dener Barbosa during Round 3 of the 2017 PBR World Finals.
"I think that bull is better when he has to work. I thought the second night that was a fist fight to me. Those two really went at it," Berezay talked of the battle in which propelled Parsonage to the win.  
"If Jared would have rode him a little better he probably would have been 90," Berezay added. "They were both fighting, I talked to Jared after and we figured that was so close the bull still thinks he won."
Prior to the Championship Round both Berezay and Parsonage approved of the draw.
"It was good," Josh said. "We were both excited when he had that bull and for him to get by him, I love to see a good bull ride too."
Having started his career spinning to the left every time, Happy Camper changed things up that weekend during his first out.
"The best part about that too is that the night before when he won that title, he did something that none of us have ever seen. He turned back to the right," Josh said. "He maybe left there not the cleanest so he had to make a decision about what he was going to do. When you see a bull that's thinking like that, it's impressive. He switched it up and he didn't really miss a beat."
The latest of Happy Camper's accomplishments includes winning a YETI Cooler, and Montana Silversmiths buckle, as the top bull in Ottawa this past weekend during the second stop of the premier Monster Energy Tour.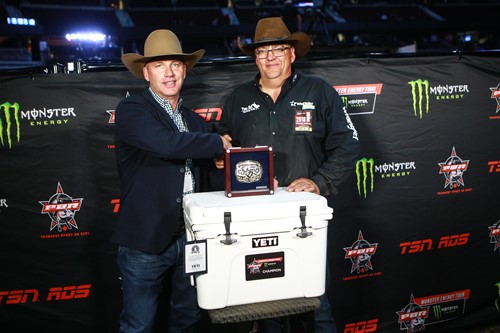 PBR Canada's Jason Davidson presents Josh Berezay a YETI Cooler and Montana Silversmiths Buckle for Happy Camper's win in Ottawa. Photo by Covy Moore/CovyMoore.com
"That's a heck of a trip to go down there," Josh said. "It's a lot but he seems to handle it. He was pretty rank there that night."
Berezay hasn't taken bulls to Eastern Canada before, but he's making the most of it.
"I really enjoyed myself there," Berezay said. "I thought it went off good and it was a great event. The people are friendly and everywhere we seemed to go they were excited about it.
"That means there's a future."
Berezay's wife Tamara, and daughters Nevada and Montana sat at home waiting anxiously for the news. 
"It's a hell of a trip for him; I think I'm still on the mom page," said Tamara. "I'm still worried about him on the road but it's pretty exciting for us. We were in Stavely and everybody here is wondering what's going on and how it is out there."
Different again with this trip was the lack of video since Tamara, Nevada and Montana are usually the camera crew. With the new announcement of coverage on TSN, there's lots to look forward to.
"We're excited about it and everyone's asking: 'When it's going to be on TV?" Berezay said.
It's not only about him and the girls however.
"Our family and friends they are so important to us because they are such a big part of what we do and we're so thankful for them," Berezay said. "If it wasn't for them, we wouldn't be able to do the things we are able to do. From people and going and doing our chores and helping us, for them to be able to see that it's great for them to be able to be part of it and to see that everybody's hard work is paying off."
"Seeing that little bull from Magrath, Alberta is bucking on National TV, that's pretty dam cool," Berezay said.
"We just love him. We're proud of him," Montana said.