Happy Camper Begins Second PBR Season with Win in Calgary
By: Ted Stovin Monday, April 2, 2018 @ 6:00 AM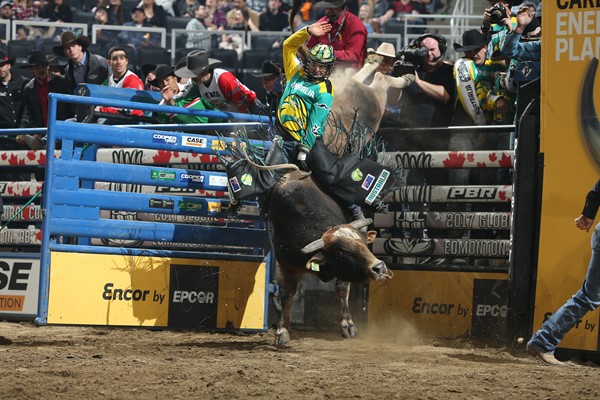 CALGARY – For the stock contractors of the PBR, bulls are part of their families.
Treated like pets, some of these bovine athletes become accustomed to being pet, stood beside or even sat on.
One of these beloved animal athletes is Happy Camper, who part of the Berezay family consisting of Josh and Tamara, along with their daughters Nevada and Montana, not to mention the rest of the Two Bit Nation.
And he's making them all incredibly proud.
"It's just part of our family, it's hard to explain that I guess," said Josh Berezay. 
"The first time we bucked that bull he was special in the yard as a calf and I never thought he'd be a great futurity calf, but I knew he'd be a great bucking bull and he's proven me right," he added, talking of Happy Camper.
In 2017, Happy Camper not only won the ABBI Canada Classic title as the best three or four-year-old bucking bull in the country, but he was also selected for the most prestigious event in the sport, the PBR World Finals.
"It was something special for him to win as a three-year-old. We're pretty proud of that and the year he's had," Berezay said of the Classic title and World Finals nod. "The bull, he's ranked No. 1 in Canada and I think in the PBR in the last six months he's in the Top 10. Like if you look at ProBullStats and it says 'PBR Last Six Months,' that's the biggest names in the world right there and I think he's sitting 10 or 11."
Error loading Partial View script (file: ~/Views/MacroPartials/RichtextEmbedVideo.cshtml)
Adding to the sweetness of the success, Berezay has seen the bull go from his backyard to bucking on the world's most elite stage.
"Well that's the thing, we've got video on that bull from the first time we ever bucked him, so to watch the progression has been pretty spectacular," Berezay said. "He's sitting No. 10 with SweetPro's Bruiser as No. 1, Pearl Harbor No.2, Big Dutch, Magic Train, Frequent Flyer, Cochise, Old Fort Days, Bad Beagle, Shownuff and Happy Camper. That's the top PBR bulls in the past six months."
Happy Camper has reached this elite rank allowing only one qualified ride in nine recorded outs so far. Last weekend, during the first event of the 2018 Monster Energy Tour in Calgary, he won the first ABBI Canada Classic event of the season with a score of 87.5 points to earn $3,712.50.
Error loading Partial View script (file: ~/Views/MacroPartials/RichtextEmbedVideo.cshtml)
"He's a lot more mature bull this year," Berezay said. "He's probably put on 300 pounds, 350 pounds since the 2017 season. He can throw a little more power that way, that's for sure. And he's getting smarter, with every trip he's kind of starting to feel those guys."
"I see in that trip to me," Berezay said of Happy's latest work in Calgary. "You know it's almost like he hesitated a little bit just to rock him in there and then brought the power."
With no events on tap in April, next up for this superstar bull is his first trip across Canada.  
"He's going East," Berezay said of the four Monster Energy Tour events from Ottawa, Ontario to Moncton, New Brunswick between May 12 and June 2. "The only way I think that bull can become the bucking bull of Canada is he's got to go prove he is, so either he goes out and proves to everyone that's where he belongs, or you leave him at home and say how great he is without bucking him."
In 2012, the Berezay's, Two Bit Bucking Bulls, earned the PBR Canada Bucking Bull of the Finals title with Bucking Fantastic, with Happy Camper poised to potentially be their first bull to earn the honor of PBR Canada Bull of the Year.
"He's really laid back and that's what's always made him so special," Berezay said. "He's just a real laid-back bull and that's hard to find for a young bull. But I think some of that goes to we're starting to handle these bulls because of the ABBI events and competitions. They learn at a younger age what they're here to do."
Speaking of his age, Happy Camper was one of only a handful of three-year-old bulls at the 2017 PBR World Finals, ridden in Round 3 by Dener Barbosa for 87 points.
"For a young bull to be able to handle them kind of guys and make it there, that's pretty impressive," Berezay said.  
Coming into his four-year-old year he's still eligible for another ABBI Canada Classic Championship.
"I'm getting some interest out of the states on him and I know everybody thinks I've got him priced too high, but I mean the bull's got a chance to win $20,000 up here this year. So what's that worth?" Berezay said.
"I darn sure think that's where he belongs, but I also, it's hard to let him go because there's some things I'd like to accomplish here with him. I'd like to see him at the [Calgary] Stampede, I'd like to see him win Bull of the Year, and possibly go down there as a five-year-old, where he can really shine. I think he's going to be a bull that stands up for a long time."
Happy Camper's dad, Pedro, came from the late Ty Pozzobon and the Quartieri family of New Mexico.
"I bred with him for three years," Berezay said. "He was what I upped the game with on our side I guess. He's a Rooster grandson I believe. That stuff never really meant much to me, I like the Harry Vold philosophy and that's take my best and put it with my best and hope for the best. His grand sire was Snake Bite and his pedigree goes back to White Sport Coat and Rooster, so he's got some breeding behind him."
And on his mother's side, Happy goes back to some of the first Carlyle cows the Berezay's ever bought from Tyler Thomson.
"I think it comes a lot from the dam side," Berezay said. "We spent 15 years building the cow herd I believe in, it seems to be working, so we'll keep doing what we're doing. I mean those cows are really starting to produce. I've got a bull calf that's out of her and Buck Wild, so I mean, I think she's a producer and there's a bunch of them there."
There is a ton of thankless work in the bucking bull business, but Berezay loves it.
"I take care of them, I hand feed, I don't have no hired men, I do everything myself," Berezay said. "I watch them from the time they hit the ground, I'm the guy that puts the tag in their ear, and then you watch them and you buck them and you pick the ones that you think are good enough to go and hope for the best, I guess. You put a lot of time into them, there's basically three years that you put into that animal before you really know what they are."
However, the best ones make it all worth-while, especially Happy Camper.
"He likes the game," Berezay said. "It's something we do as a family so everybody there has been part of that bull's life since the day he was born. So it's pretty exciting for all of us to watch that."
PBR Canada's Monster Energy Tour will return for the second event of the 2018 season on May 12 starting at 7:00 p.m ET in Ottawa, Ontario at Richcraft Live at Canadian Tire Centre.
Tickets for the one-day are on sale now and can be purchased by visiting www.Ticketmaster.ca, www.canadiantirecentre.com, by phone at 1-877-788-FANS; in person at each of the 10 participating Canadian Tire stores in Ottawa as well as the store in Perth, The Sens Store at Carlingwood Mall, Place d'Orléans and in the ByWard Market, Algonquin College, Superior Photo and at the Canadian Tire Centre box office.
PBR Canada's Touring Pro Division resumes action on April 7 at 7:00 p.m. MT in Marwayne, Alberta for the Garnier Custom Silage Marwayne PBR inside the Marwayne Multiplex.
Be sure to stay tuned to PBRCanada.com and follow the tour on Facebook (PBR Canada), Twitter (@PBRCanada), and Instagram (@PBRCanada)