Hansen Ready to Ride for Team Canada at Global Cup
By: Kacie Albert Tuesday, March 6, 2018 @ 9:27 AM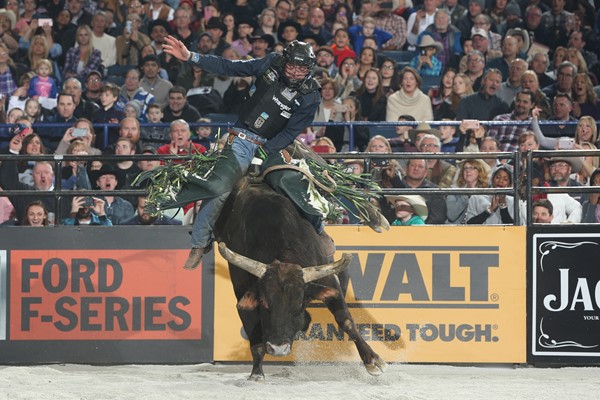 NEW YORK CITY – When the PBR held it's first-ever Global Cup on Nov. 9-11, 2017 in Edmonton, Alberta, the 14-rider, home-nation contingent was absent one notable Canadian – Jordan Hansen.
However, when the five-nation, team-style event heads Down Under for the event in Sydney, Australia on June 9-10, the Okotoks, Alberta rider will be front-and-center inside Qudos Bank Arena, one of three competitors already named to Team Canada.
RELATED: PBR Announces Qualifiers and Coaches for Second Global Cup Event
"I think it is going to be a really good team this year," Hansen said of Team Canada, which at present also includes Dakota Buttar and Brock Radford. 
Initially selected to compete at the first installment of the event, Hansen declined his slot in order to compete at the overlapping Canadian Finals Rodeo (CFR).
RELATED: Hansen Looks Forward to 2018 on Heels of Historic Season
"It's an unfortunate thing the way dates worked out last year," Hansen said.  "It was kind of hard, being a little bit bummed out last year, not being able to represent the country, so this year it will be pretty cool to be able to go to Australia and do that."
"But to get the exact team that we want this year, I think is going to make a big difference. Hopefully all of us are just going to go there and ride all of our bulls, and things will work out for us."
And while Hansen made history when he competed at the 2017 National Finals Rodeo (NFR), becoming the first Canadian bull rider since 2001 to qualify for and ride at the event, he is also attuned to the significance that will come with competing at the Global Cup.
"It was a pretty cool feeling, definitely, in Vegas," Hansen said of the NFR. "But, at the end of the day, I was basically going there with my name on my shirt kind of feeling, where I was there for myself."
"This whole Global Cup thing, I think it's a little bit different. You have your country on your back instead. It's not really a selfish kind of a deal where you're winning for yourself. No, you're trying to get points for your entire team."
"In Vegas, obviously, I'm wanting myself to win more than anybody, but if I've got all my buddies sitting right next to me in Australia, I'm going to want them to win just as bad if not more than me." 
Returning to lead the Canuck riders is three-time PBR Canada Champion, and eight-time PBR World Finals qualifier Aaron Roy.
RELATED: Roy Honored to Coach Team Canada at PBR Global Cup
"Jordan, I understood why he didn't come last year," Roy said of his first new rider on Team Canada. "He was going after a title and went to the NFR, so he wanted to be fresh for that."
"But he's been riding better than anybody lately, or last time I seen him. Coming off his first NFR and a good year in rodeo he'll be hungry to do good in PBR. And I see he's been on the [25th PBR: Unleash The Beast] and done good there."
Thus far at PBR events in 2018, Hansen is 4-for-10 competing on both the Real Time Pain Relief Velocity Tour, and elite 25th PBR: Unleash The Beast stateside, as well as last weekend's PBR Canada season-launch event for the Touring Pro Division in Lethbridge, Alberta.
Notably, the 24-year-old was selected as an alternate for two of the nine events held this season, finishing a year-best eleventh at January's Chicago Invitational.
Most recently, at an event where he swept the top two positions in 2017, Hansen was twelfth at the two-day event in Lethbridge.
RELATED: Hansen Sweeps First and Second in Lethbridge
Matching Roy's excitement for Hansen's status on Team Canada, is the seven-year pro's admiration for his new coach's talent and breadth of knowledge for the sport of bull riding. 
"By the sounds of it, everything went really good there in Edmonton last year, and it sounds like he's a great coach," Hansen said. "So I don't see why anything will be any different here in Australia."
"Aaron and I get along pretty damn good that's for sure, and I definitely grew up with a few guys that are a little closer to my house, but Aaron represented Canada outstanding there for a lot of years so I think he'll definitely be a great coach."
"It just goes to show the love for the sport and the passion he has for it," Hansen added after seeing Roy make his return to PBR Competition in Lethbridge for the first time since breaking his femur during Round 1 of the 2016 PBR World Finals.
RELATED: Aaron Roy to Return in Lethbridge
"That no matter what happens he's going to keep getting on and I think that's pretty cool."
While Roy has yet to select Hansen's remaining four teammates, the 2016 CPRA Champion has his ideas for who should fill the remaining slots.
"If it was up to me, I'm thinking Lonnie [West], Tanner [Byrne], Zane [Lambert] and Jared [Parsonage]."
"I think those would be my four other picks. That's just me personally; I don't know what the other guys are thinking."
"If I wanted to pick a team that's going to represent our country the best, I think that's a pretty good group right there. "
And while the bull riding event will be the main focus for Hansen when he makes the more than 19-hour journey to Australia, he is excited to have the opportunity to compete against such an iconic backdrop in a city he has never been to prior.
"That's one of those places that I definitely want to go check out, so to be able to go there for this is pretty neat."
Be sure to stay tuned to PBRCanada.com and follow the tour on Facebook (PBR Canada), Twitter (@PBRCanada), and Instagram (@PBRCanada) for the latest results.