Hansen, Lambert Look for Top Prize at Calgary Stampede
By: Ted Stovin Tuesday, April 17, 2018 @ 10:12 AM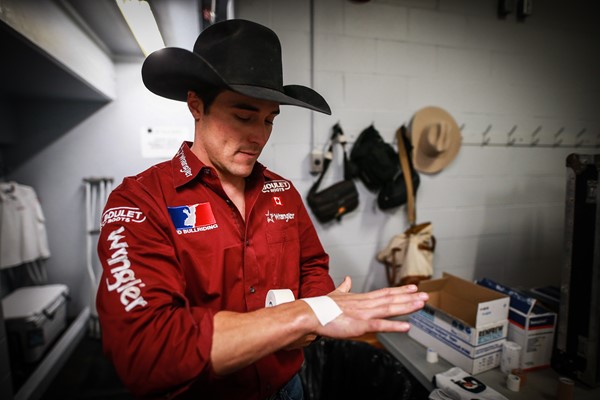 CALGARY – Last Wednesday, the Calgary Stampede released its list of contestants for the 2018 edition of what is dubbed the 'Greatest Outdoor Show on Earth.'
The field of 20 is highlighted by 10 invitees from the PBR, with the contingent also including riders from the PRCA and CPRA. The complete draw includes:
PBR World Standings - Eduardo Aparecido, Cooper Davis, Ramon de Lima, Luciano De Castro, Derek Kolbaba, Jess Lockwood, Chase Outlaw, Fabiano Vieira and Stormy Wing
2017 PBR Canada Champion - Zane Lambert
PRCA - Trey Benton III, Joe Frost, Sage Steele Kimzey, Garrett Smith, Cole Melancon and Ty Wallace
CPRA - Todd Chotowetz, Marcos Gloria, Jordan Hansen and Scott Schiffner
*Note: Invitees are subject to change.
Leading the roster selected via the PBR world standings are World Champions Cooper Davis (2016) and Jess Lockwood (2017), both past entrants in Calgary. Brazil's Ramon de Lima and Luciano De Castro were selected to the field thanks to their impressive performance thus far in 2018, currently ranked No. 1 and No. 3, respectively, in the world standings. 
Set to defend his title, four-time and reigning PRCA Champion Sage Kimzey will seek his third win at the legendary event. Rexburg, Idaho's Garrett Smith qualified twice, once through his CPRA title and second, compliments of his finish in the PRCA Standings. While qualifying via the CPRA, the same could nearly be said for Jordan Hansen's who finished eighth in the PRCA standings at the conclusion of 2017.
Two-time and reigning PBR Canada Champion Zane Lambert, is thankful to see his name officially on the list despite knowing he qualified at the end of the 2017 season.
RELATED: 2017 PBR Canada Champion Zane Lambert Sets High Goals for 2018
"It's pretty awesome to know that we've got a big event like that coming up in the summer," Lambert said. "I love getting into those big events that pay money."
This summer marks Lambert's fourth appearance at July's Calgary Stampede, having also competed in 2010, 2014 and 2016.
"It seems like every second year I've been able to make it back there," Lambert reflected. "I'm pretty excited about going back to Calgary."
His goal, however, isn't just to get there, but to win after falling just short in his past two appearances. In 2014, Lambert advanced to the final four and again in 2016 competed on Showdown Sunday.
"That's definitely a big goal set forth this year to try and get the title there," Lambert said. "It's something I've always wanted so it's pretty cool to have another opportunity."
With the unique and opportunistic landscape in the bull riding world in Canada, Hansen nearly qualified twice for this year's Stampede thanks to his eighth-place finish in the PRCA Standings and Reserve Championship in the CPRA.
In 2017, Hansen, the 2016 Canadian Pro Rodeo Champion made his Stampede debut.
"I made a little bit of money but I definitely didn't end up where I wanted to," Hansen said. "Coming back [to Wild Card] Saturday isn't exactly where a guy wants to be. I was in that spot last year and I happened to be a point out of making it back there on Sunday but this year we'll just count on not coming back on Saturday."
Many Canadian bull riders, like current world No. 21 Tanner Byrne, made their Calgary debut in the steer riding event between the ages of 11 and 14. That wasn't the case for Hansen.
 "I never rode steers good enough to even bother entering," Hansen said.
For him, the rodeo business didn't click until a few years later.
"I think basically as soon as I went from steer riding to bull riding and just riding one handed things seemed to go significantly better for me," Hansen said. "I wasn't a big kid by any means but when I was getting to be a little older I was getting to be a bit tall for the steer riding so having a bigger bull to get on and riding one handed made a big difference."
A few mentors close by also helped.
"Yeah that was also a big thing," Hansen said. "I used to live in Hinton, [Alberta], when I rode steers and there's no such thing as practicing living in Hinton. I was pretty young and didn't really have a whole lot for mentors I guess when I was at that age.
"I didn't have too many people helping me out to get on more and learn much. As soon as I moved down to Okotoks, there's Tyler [Thomson], Chad [Besplug] and Ty Elliott. All them guys were I bet a half hour away at the most, that definitely helped me out a ton."
Since the move at 15 with sister Jessica and mother Adel, who also qualified for the Canadian Finals Rodeo and competed at the Stampede, Hansen has gone on to become one of the top bull riders in the country.
Already on Team Canada for the PBR's next leg of the inaugural Global Cup event in Sydney, Australia on June 9-10, he, much like teammate Lambert, wants nothing less than to win the title.
RELATED: Hansen Ready to Ride for Team Canada at Global Cup
"I want to be back there," Hansen said. "Last year I was excited to be there but now I expect myself to be there every year and not just show up but show up and do good and make sure to be back there on Sunday. A $100,000 check in the bank account certainly wouldn't look bad either." 
That top prize would go a long way towards getting into a new home he has in mind.
"Yeah that's just it you know," Hansen said. "Definitely a down payment on a place. Definitely would help me out a lot."
In 2017 Hansen said himself he could have done better and looks to become the first Canadian bull rider to win Calgary's Championship since Scott Schiffner accomplished the feat in 2014.
"Other than that first one," Hansen said of his first bull last year. "I think I did draw some good bulls, I just didn't capitalize. If a guy can even just capitalize on them good draws that you get, there's always going to be a couple harder ones in each round. So even if you do get 'em you still have to stay on regardless. Guys just gotta go there, ride all his bulls and it'll work out for ya."
The 2018 Calgary Stampede runs from July 6-15.
Be sure to stay tuned to PBRCanada.com and follow the tour on Facebook (PBR Canada), Twitter (@PBRCanada), and Instagram (@PBRCanada) for the latest results.