Gloria Pursues Dream on Canadian Soil
By: Ted Stovin Tuesday, May 29, 2018 @ 12:09 PM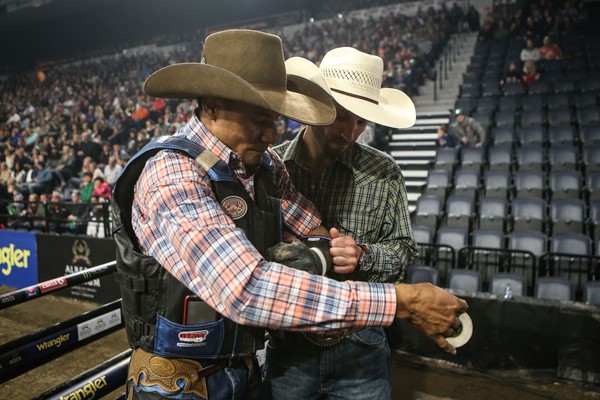 HALIFAX, Nova Scotia – Marcos Gloria is a long way from home.
But in the midst of his third PBR season, he rides for his family back in Brazil -- a seven-year-old daughter, his sister and mother.
"They all support me. That definitely is the best thing," Gloria said via friend and interpreter Andre Portes.
Today, Gloria will board a plane for Central de Minas, in the state of Minas Gerias, to see them all, meaning no three-peat for him on the Monster Energy Tour this weekend in Moncton.
Regardless, the past two weeks, and two event victories, coupled with a second-place finish at the first Monster Energy Tour event of the year in Calgary have him ranked No. 30 in the world, his highest career ranking yet.
"I'm very happy," Gloria said. "Every single bull rider, their dream is to one day ride at the finals in Vegas and I'm not different. That's what I want. I'm taking the opportunity that I have and I'm giving the 100% that I have to accomplish my dream."
That opportunity meant packing up and making the 10,000-kilometer trip from his home in Brazil to where he and Portes currently live in Edmonton.
"I always wanted to leave Brazil to go out and to come here," Gloria said.  
Portes had been living in Canada previously and invited Gloria.
"We're friends from back home," Portes said. "I'm from Sao Paulo."
"I love it here," Gloria said when asked what his thoughts were on Canada. "I'm very happy, I've been having the opportunity here than I haven't had back home. I'm very grateful for all the opportunities from everyone, the people are awesome and I'm grateful for all."
With the win in Halifax, Gloria overtook Brock Radford for the No. 1 spot in the PBR Canada standings, where he now leads the field by 132.5 points.
In Brazil he hadn't found this level of success.
"It's very competitive and I didn't really have the opportunities that I have here to be at this level there," Gloria said. "It's too competitive and it's hard, very hard. You have to be in the highest level and then eventually go to Sao Paulo and go the PBR and all that and it's just hard, it's difficult."
Having competed in Canada for the past three years, Gloria looks next to citizenship.
"My plan is to stay, I've got that already started. I want to stay here, I love it here," Gloria said. "From my point of view, it's very professional. I think they respect the contestant the way they should be respected. To me, it's awesome, it's perfect."
While the language barrier has been a challenge, only speaking Portuguese, Portes, however, makes every trip with Gloria no matter the place to help ease the transition.
"At first it was very difficult," Gloria said via Portes. "I had no idea whatsoever what anyone was saying. Now, I catch some things, I understand a little bit but this summer now I think I'm going to start taking some classes."
Now he can since he's won some serious money, $22,274.73 to be exact, in the last fourteen days.
"Yes, now I can," Gloria laughed.
While in Québec, Gloria gathered advice for his quest to qualify for the World Finals from three-time PBR World Champion Silvano Alves.
"I didn't know him from Brazil. I first met him at [RFD-TV's] THE AMERICAN this year," Gloria said. "I was talking to him here, I was just getting some advice about a guy that has all those titles like that, the best in the world. It was nice talking to him and I asked him some personal questions about bull riding and everything and it was awesome. It was nice talking to him."
Fellow Brazilian standouts Fabiano Vieira and Marco Eguchi were also in Québec for the PBR's second International Major, not to mention 2017 event winner Derek Kolbaba and reigning World Champion Jess Lockwood.
"That is very cool," Gloria said. "An example back in Brazil, just watching them on TV, I never got to know them in person and then here you get to complete along [with] them. Not just them, but all the other guys, Canadian and American, it's awesome."
Looking ahead, Gloria's third place finish last season in the CPRA Standings qualified him for the Calgary Stampede.
"They haven't been here yet," Gloria said of his mother, sister and daughter. "But I'm hoping they will come for the Calgary Stampede."
Be sure to stay tuned to PBRCanada.com and follow the tour on Facebook (PBR Canada), Twitter (@PBRCanada), and Instagram (@PBRCanada) for the latest results.