Gloria Heads North in Hopes of Punching Ticket to World Finals
By: Justin Felisko Thursday, October 18, 2018 @ 2:20 PM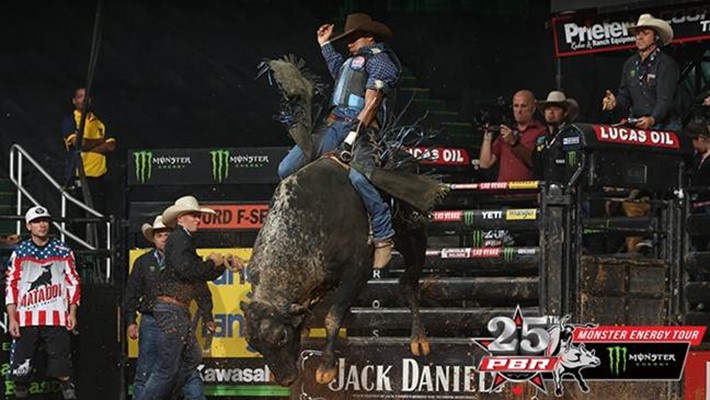 PUEBLO, Colo. – Marcos Gloria is in desperate need of world points, and he is returning to familiar stomping grounds to try to seal himself a trip to the 2018 PBR World Finals.
The No. 35-ranked bull rider in the world standings has opted to turn down a spot at the 25th PBR: Unleash The Beast regular-season finale in Nampa, Idaho, to try and instead earn 120 world points at the PBR Canada Monster Energy event in Edmonton on Saturday night.
Gloria has been hanging onto the No. 35 world ranking with 700 world points for the past five weeks and leads No. 36 Brock Radford by a mere five points.
He has bucked off 10 consecutive bulls on the premier series and is only 2-for-17 at the PBR's highest level since making his debut in Tulsa, Oklahoma, on Aug. 11.
In fact, Gloria has gone over three months without earning a single point toward the world standings since winning the 2018 Calgary Stampede on July 6.
"I am not getting any luck in the USA," Gloria said via Andres Portes translating. "I am struggling with the bulls there. Two months without coming home, I have been staying at friends' places in the U.S., so it has kind of been hard for me. I want to come back home to Edmonton and see what happens here.
"Hopefully, I get back on track."
Gloria has called Edmonton, Alberta, his home since May 2016 when Portes invited Gloria to join him in Canada and pursue bull riding professionally.
The two bull riders met 10 years ago, through Portes' father, and they have maintained a friendship to this day.
"I was really waiting for the opportunity and I got the opportunity in 2016," Gloria said via Paulo Crimber earlier this year. "I did really well and I figured I need to do the best I can and not waste it (and began competing in PBR Canada)."
Gloria became the first Brazilian-born bull rider since three-time World Champion Adriano Moraes (1994) to win the Calgary Stampede.
His Calgary Stampede bronze and $100,000 check sit above his fireplace in Edmonton.
It was the last time he earned any points toward the world standings, and the victory propelled him to a spot on the premier series in August.
Gloria's transition to the premier series has been rough, and his 11.76 riding percentage is a far cry from his 39.29 percent average in Canada. Gloria has won two PBR Canada Monster Energy Tour events, and has a second-place and third-place finish on his Canadian resume.
The 28-year-old earned 700 world points via nine qualified rides.
"I was preparing to do good, but everything happened like that and it was really a big surprise," Gloria said of his summer success. "It happened so quickly that I didn't have time to think about it."
Gloria may not be able to earn as many points as he could in Nampa, Idaho, this weekend, but a step down in bull power may help him earn a qualified ride or two, or possibly even an event win.
A win in Edmonton would give Gloria 120 world points and potentially move him up three spots in the standings to No. 32.
Gloria is also not entered in either PBR event scheduled for the weekend of Oct. 26-27 in Colorado Springs, Colorado, or Jackson, Tennessee, so there is even more pressure on him to make the 8 seconds this weekend at the Edmonton EXPO Centre.
The rookie has never ridden at the PBR World Finals.
He admits that his confidence has been rattled big time in the United States, and he also became homesick and fell out of his normal routine seeing as he was not returning to his home in Canada.
"I have definitely lost confidence," Gloria said. "I am hoping to make some points here and I have a lot of hope that I will make it to the Finals."
Competing alongside Gloria in Edmonton include No. 49 Juan Carlos Contreras, No. 51 Jared Parsonage and No. 52 Cody Coverchuk.
Gloria is still in contention for the PBR Canada championship as well, which will be decided at the PBR Canada Finals on Nov. 23-24 in Saskatoon, Saskatchewan.
The No. 6 PBR Canada rider is only 739.49 points behind PBR Canada leader Lachlan Richardson.
Edmonton would be a fitting place for Gloria to regain his mojo.
"The Canadian people are really good people," Gloria said. "They try really hard to understand what I am saying and they helped me out the best they could. I have been received and treated well up there."