Game Notes: Calgary
By: Kacie Albert Saturday, March 24, 2018 @ 12:17 PM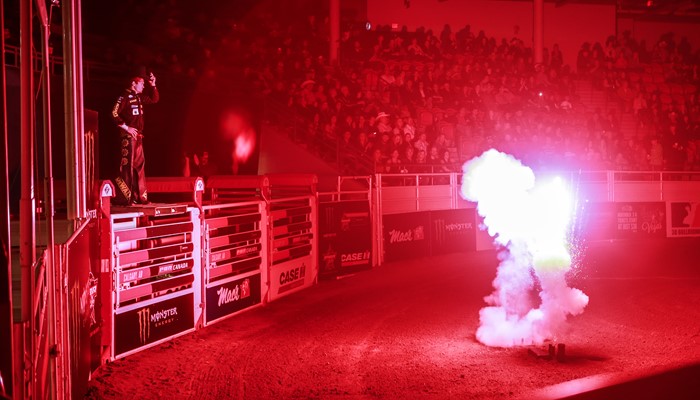 CALGARY GETS RANK – This weekend PBR Canada's Monster Energy Tour, presented locally by Mac's and Circle K stops in Calgary, Alberta at the Agrium Western Events Center on Stampede Park, for the season-launch of the nationally-televised, cross-nation tour. The event marks the second-time the tour has visited Alberta's largest city. Marking the first event of the series' third season, the Monster Energy Tour last visited Calgary in 2016, its inaugural year. 
SOLD OUT STATUS – Before the first bull bucked at this weekend's season-launch event, the 2018 stop in Calgary made history as the first event to sell-out inside the Agrium Western Events Centre on Stampede Park. Also marking the first sell-out in the tour's three-year history, not a single seat will be empty when action gets underway this evening.
2017 ENDS IN HISTORIC FASHION – The 2018 Monster Energy Tour is anticipated to pick-up right where last season's tour left off, with the fiercest battle for the PBR Canada Championship in league history coming down to the last outs of the Canadian Finals. After trailing No. 1 Brock Radford by more than 500 points coming into the final day of competition, Zane Lambert made a come-from-behind surge to surpass the young gun and claim both his second Canadian Finals event win and Canadian Championship. Lambert is now the second rider in history to hold multiple national titles, joining Aaron Roy (2008, 2010 and 2012), and first rider to win the Finals event in multiple seasons, let alone back-to-back years.
SO FAR THIS SEASON – While the Calgary event will mark the start of the 2018 Monster Energy Tour, the Canadian Touring Pro Division got underway at the start of March, holding events in Lethbridge and Teepee Creek. Meeting Creek, Alberta's Garrett Green won the first event in Lethbridge, propelled to victory by a perfect 2-for-2 performance. Taking the title the following weekend in Teepee Creek was Maple Creek, Saskatchewan's Jared Parsonage, also earned via a flawless 2-for-2 outing. Brock Radford, who was third and second at the events, respectively, leads the Canadian national standings heading into this weekend's event, 80.84 points ahead of No. 2 Parsonage, and 82.5 points in front of No. 3 Green.
LOCKWOOD MAKES PBR DEBUT – Fresh off celebrating his 18th birthday, Jake Lockwood, younger brother of reigning PBR World Champion Jess Lockwood, the youngest rider in league history to earn the title, will make his PBR debut in Calgary. The Volborg, Montana-native has drawn Rockstar Wishes of Wild Hoggs Bucking Bulls / D&L Edge in Round 1.  
PAST EVENT WINNERS – Missouri's Brady Sims won the inaugural event in 2016, delivering an 86.5-point ride on Shot of Whiskey in Round 1 and an 89-point trip aboard Heaven's Basement in Round 2. Saskatchewan's Cody Coverchuk, who concluded the 2017 season ranked No. 5 in the Canadian standings, finished fifth, while No.8 Jared Parsonage finished sixth.
2016    Brady Sims 
HOME-PROVINCE FAVORITES – Of the 19 Canadians set to ride inside the Agrium Western Events Centre, Calgary fans will have 12 home-province hopefuls to cheer for. Led by reigning and two-time PBR Canada Champion Zane Lambert, originally from Westbourne, Manitoba, but now calls Ponoka, Alberta, home, the remainder of the home province riders will all be looking to capture their first win on the nation's elite tour. The field includes: Logan Biever (Claresholm), Wacey Finkbeiner (Ponoka), Jordan Hansen (Okotoks), Ron Hunt (Nanton), Dayton Johnston (Milk River), Zane Lambert (Ponoka), Kale Marks (Sunnybrook), Tyler Pankewitz (Warburg), Brock Radford (De Winton), Dolon Wells (Blood River), Lonnie West (Cadogan), and Cole Young (Fairview).
ABBI CLASSIC ROUND – For the first time this season, the Monster Energy Tour will include an ABBI Classic round. To be eligible to compete in any ABBI produced or sanctioned Classic event, bulls must be at least three years of age, but no older than four. A total of 25 of the 30 bulls in Round 1 will compete.   
BULL PEN – Headlining this weekend's pen of bulls is former PBR Canada Bull of the Year Minion Stuart of Skori Bucking Bulls. Having bucked at the 2017 PBR World Finals, covered by Mason Lowe for 87.5 points in Round 1, the bovine athlete carries a four out buckoff streak into the event. Most recently, in Lethbridge, Alberta, Minion Stuart put up matching 43-point bull scores for dispatching Garrett Green at the 6.5-second mark and Dayton Johnston in 3.7 seconds. One of three bulls from the stock company, their contingent also includes Gunned Down and Snap Shot. Home province, as well as two-time and reigning PBR Canada Stock Contractor of the Year, Nansen Vold will have the most bulls bucking under the Vold Rodeo banner in Calgary. His pen of eight includes Whiskey Hand, Papa's Rockstar and The Silence. Finally, PBR World Finals bucking bull Happy Camper from Two Bit Bucking Bulls will compete in Round 1's ABBI Classic after a championship season as a three-year-old bull in 2017.
THIS WEEKEND'S FORMAT – The Monster Energy Tour will feature two rounds of bull riding. Each of the 30 competing riders will get on one bull in Round 1 on Saturday. The Top 10 ranked bull riders will then advance to the Championship Round later that evening. Riders will be competing for valuable points towards the PBR Canada national standings and PBR world standings, in addition to $15,000 in prize money. On the line this weekend are 550 Canadian and 120 world points.
INTERNATIONAL FLARE – This weekend, riders representing five countries, Australia, Brazil, Canada, Paraguay and the United States, are set to compete on the Monster Energy Tour. Replicating last season's events which featured similarly diverse fields, with the Winnipeg, Toronto and Quebec City events hosting riders from six nations, the Calgary event will feature six Americans, an Australian, three Brazilians, 19 Canadians, and a Paraguayan. 
NEXT UP – PBR Canada's Monster Energy tour will take more than a one month break before traveling to Ottawa, Ontario and the Canadian Tire Centre on Saturday, May 12 for the second event of the season. The event, set to begin at 7:00 p.m. ET.
PROVIDING PROTECTION – The bull fighters on hand for this weekend's event in Abbotsford are Ty Prescott, Brett Monea and Greg Loring Jr.
CALGARY COMPETITORS BY COUNTRY
Australia (1) –Kurt Shephard
Brazil (3) – Warlen Aquino, Marcos Gloria, Italo Aguilar Goncalves
Canada (19) – Logan Biever, Cody Coverchuk, Wacey Finkbeiner, Jake Gardner, Jordan Hansen, Ron Hunt, Dayton Johnston, Zane Lambert, Tim Lipsett, Justin Lloyd, Kale Marks, Tyler Pankewitz, Jared Parsonage, Brock Radford, Aaron Roy, Jackson Scott, Dolon Wells, Lonnie West, Cole Young
Paraguay (1) – Fabian Dueck 
United States (6) – Cody Casper, Wyatt Covington, Weston Hartman, Thor Hoefer II, Jake Lockwood, Dakota Louis
BREAKDOWN BY PROVINCE –
Alberta – Logan Biever, Wacey Finkbeiner, Jordan Hansen, Ron Hunt, Dayton Johnston, Zane Lambert, Kale Marks, Tyler Pankewitz, Brock Radford, Dolon Wells, Lonnie West & Cole Young; British Columbia – Jake Gardner & Jackson Scott; Saskatchewan – Cody Coverchuk, Tim Lipsett, Justin Lloyd, Jared Parsonage & Aaron Roy.