Frost Wins Pool A at Calgary Stampede; Davis and Vieira Advance
By: Justin Felisko Tuesday, July 10, 2018 @ 11:23 AM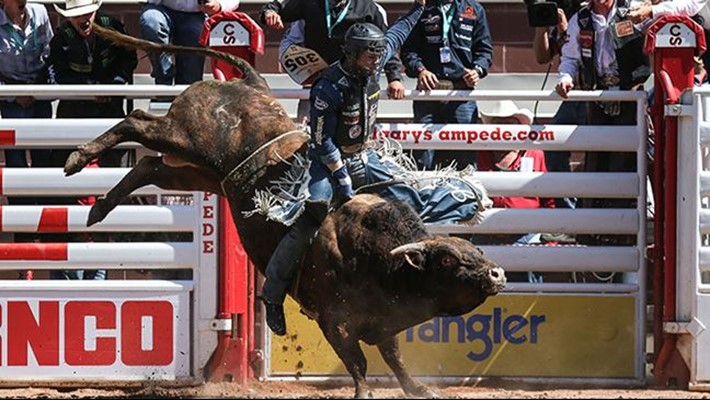 PUEBLO, Colo. – Joe Frost ended Pool A of the Calgary Stampede on Monday the same way he began the competition on Friday afternoon at the Greatest Outdoor Show on Earth.
Frost won his second round in four days by covering Big Dip for 87.5 points, clinching the Pool A victory and advancing to Showdown Sunday.
The Randlett, Utah, bull rider won Pool A with $15,000 CAN by going 3-for-4 in Calgary.
"It sure enough helps," Frost told PBR Canada's Ted Stovin. "That is the thing, you can win $100,000 here, but the money you win up to that point is good."
Frost is very happy to be padding his bank account this week after a terrible turn of events at the Calgary Stampede last year.
In his first trip to the Stampede, Frost wound up tearing his right groin on the third day of competition and had to sit out six weeks. 
"It went really bad," Frost recalled. "I got on in the fourth round and I had no business even getting on with that torn groin. I found on that first jump. 
"I made sure I was in good shape before I showed up this year. Last year, we had been rodeoing pretty hard and hadn't been staying in shape. I think I got a little soft. This year I really made sure to ride the exercise bike and do a lot of stretching and stuff. Making sure I am staying strong and hard out here."
Frost has won over $36,000 in the last two weeks in Canada. 
Prior to arriving at the Stampede, Frost won $21,000 at the Ponoka Stampede.
"Canada has been real good to me the last two weeks," Frost said. "It has been really good lately."
Frost – a four-time Wrangler National Finals Rodeo qualifier – won the first day of competition in Calgary alongside 2016 PBR World Champion Cooper Davis by riding Scorpion for 85.5 points. He followed that up with 86 points on Fridget Spinner Saturday.
"I don't spur them very often, but if you can tell one is really hooked up, I will go ahead and try to spur him a little bit," Frost said of his Round 1 ride. "It worked out. Shoot, sometimes had I not spurred I may have only finished second or third."
Davis, Fabiano Vieira and Ty Wallace rounded out the Top 4 in Pool A to also advance to Showdown Sunday.
The format for the Stampede, which has a combined $2 million worth of prize money up for grabs for the nine rodeo events, is different from a standard PBR event.
Riders battle it out for four days in hotly-contested pool play with the goal of advancing to Showdown Sunday as one of the pool's top-four money earners.  If they don't make it, they can then jockey with the remaining riders on Wild Card Saturday for the final two spots.
However, once Sunday arrives, the slates are wiped clean and the Calgary Stampede champion will be the rider who posts the single highest-marked ride in the championship round, featuring the top four riders following Sunday's long round.
The winner of each of the nine rodeo disciplines at the Calgary Stampede takes home $100,000. The bull riding victor earns 120 points toward the world standings.
Frost is a cousin of the late, legendary bull rider Lane Frost.
Joe is currently 25th in the PRCA bull riding standings, and he is hopeful to gain some ground this week before coming back for Showdown Sunday. He will either compete in Wyoming or Utah before heading to Colorado Springs, Colorado, for the Pikes Peak or Bust Rodeo with Wallace, who is 26th in the PRCA standings, on Friday night.
"Hopefully we are there for the short round on Saturday," Frost said. "We will fly back up here Sunday and hopefully be ready to ride some more."
Vieira was able to bounce Todd Chotowetz out of the Top 4 on Monday by riding Rhythm & Blues for 85.5 points and a second-place round finish.
Chotowetz couldn't clinch a spot in the Top 4 as he was bucked off by Red Pheasant.
Vieira was still able to advance despite beginning his Calgary Stampede with a disqualification inside the bucking chutes on Friday. He concluded Pool A 2-for-4 for $8,000 and a third-place finish.
The 35-year-old is attempting to become the first Brazilian-born Calgary Stampede bull riding champion since three-time PBR World Champion Adriano Moraes won the 1994 Calgary Stampede.
Vieira is 12th in the world standings and is 19-for-55 (34.55 percent) at all levels of competition.
Davis rode Bubadawubada for 78 points Monday to finish Pool A in second place with $10,000. The 24-year-old and Frost were the only two bull riders to go 3-for-4.
Chotowetz (2-for-4), Chase Outlaw (1-for-4), Jordan Hansen (1-for-4), Cole Melancon (1-for-4), Garrett Smith (1-for-4), and Scott Schiffner (1-for-4) will need to advance out of Wild Card Saturday if they hope to come-from-behind and win the Calgary Stampede.
Melancon was the only other rider to pick up a qualified score on Monday. He rode Just Ranchin for 80 points.
Pool B competition begins on Tuesday. The 10 riders competing in Pool B are reigning World Champion Jess Lockwood, two-time World Champion J.B. Mauney, four-time PRCA champion Sage Kimzey, No. 3 Ramon de Lima, No. 4 Cody Nance, No. 20 Derek Kolbaba, 2017 PBR Canada champion Zane Lambert, Stormy Wing, Marcos Gloria and Trey Benton III.
Fans can also re-live day four of the Calgary Stampede Tuesday morning at 10 a.m. ET on CBS Sports Network.