Finkbeiner to Replace Hansen on Team Canada
By: Kacie Albert Tuesday, May 15, 2018 @ 1:59 PM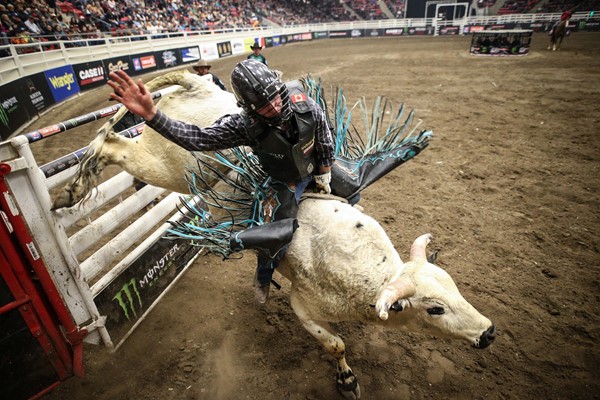 PUEBLO, Colo. – Like many Canadians, Wacey Finkbeiner struggled last season with the decision to compete at the qualifier for the inaugural Global Cup or attend the Canadian Finals Rodeo (CFR).
Both events were taking place in Edmonton, Alberta, on the same dates, and Finkbeiner ultimately decided to skip the first Global Cup event.
"That was pretty hard to miss," the Ponoka, Alberta-native said. "Like I was for damn sure cheering for those guys, but it's different when we're at two different arenas and two different crowds.
"I wish a guy could have done both, and I'm glad I still made the decision I did, but it was a pretty hard deal to pass up on, that's for sure."
And when the roster of those set to represent the Maple Leaf at the next installment of the Global Cup in Sydney, Australia was released, he was disappointed to not see his name.
"I was pretty disappointed," Finkbeiner said. "Well, my own showing at the PBR [Canada] Finals last year, I had a weak finals, and then made CFR, so I wasn't real surprised I wasn't on the team to begin with, but I was pretty disappointed in myself not being on it to begin with.
"So I think that's kind of what lit a fire under me here the last little while. "
Finkbeiner will now have the opportunity to ride for his home nation after all.
Team Canada head coach Aaron Roy named Finkbeiner to the team this week following the news that Jordan Hansen will be sidelined the next several months with a broken vertebrae and hip.
"When you get the Canada flag on your back and you're in a different country, and all of your buddies are there, I think it's going to be badass," Finkbeiner said.
"Yeah, it sucks seeing a buddy like Jordan get hurt, especially as bad as it sounds it is," Finkbeiner added. "But I feel pretty honored to get the invite for it. I hope he get backs soon. He's a tough son of a gun."
After concluding the 2017 season ranked No. 33 in the PBR Canada national standings, capped by a 0-for-2 effort in Saskatoon, Saskatchewan for the Finals, Finkbeiner has been electric in 2018.
Riding at six Canadian Touring Pro Division and Monster Energy Tour events, the 25-year-old has recorded five Top-10 efforts, highlighted by a second-place finish in early May in Prince Albert, Saskatchewan.
"I guess the recent success I've been having must have changed Aaron's mind," he added. "I'm looking forward to it."
"It's going to be probably a little bit more added pressure because it's your entire country.
"But I think it's going to be a pretty damn cool thing to be a part of being on a team and it being televised and everything so your friends and family and everyone back home can watch."
Finkbeiner will be joined in Sydney by fellow Team Canada riders Dakota Buttar, Tanner Byrne, Brock Radford, Zane Lambert, Lonnie West, Jared Parsonage and Justin Lloyd for the event on June 9-10 at Qudos Bank Arena.
"We've got a pretty serious shot at damn sure winning that deal," Finkbeiner said. "I think our consistency is pretty solid throughout, so look for a pretty damn good showing."
And while he was excited to receive the opportunity to compete on Team Canada, the call came with added significance as the message was coming from arguably one of the most accomplished bull riders in Canadian history – Roy.
"Well with the career he's had and what he's done for Team Canada over the years back when they used to have it all the time, the stuff he's done for Canada as far as Canadian bull riders is pretty big, so to get the call from him, that was pretty cool," Finkbeiner said.
Prior to making the near 12-hour flight to Australia, Finkbeiner plans to compete at the Canadian Touring Pro Division stop in Swift Current, Saskatchewan, and Monster Energy Tour event in Moncton, New Brunswick, with his schedule after to be decided.
"I'm just going to keep going to what makes sense to me and go from there."
Be sure to stay tuned to PBRCanada.com and follow the tour on Facebook (PBR Canada), Twitter (@PBRCanada), and Instagram (@PBRCanada).