Finkbeiner earns Canadian Pro Rodeo Title while Schiffner Retires at CFR
By: Ted Stovin Tuesday, November 6, 2018 @ 11:27 AM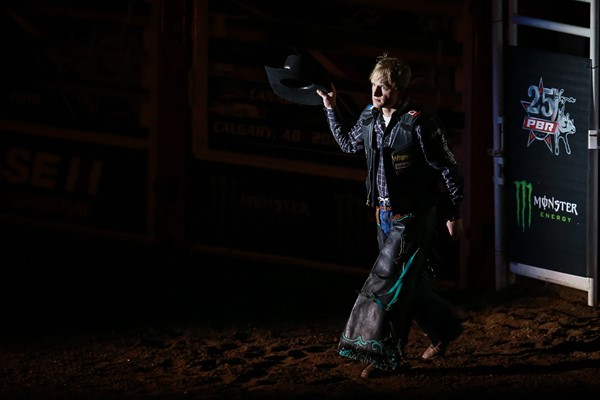 RED DEER, Alberta – Scott Schiffner will go down as one of the greatest Canadian bull riders to ever compete in the sport.
On Sunday afternoon at the Enmax Centrium, Schiffner faced his final mount, Anika's Pet from the Outlaw Buckers Rodeo Corp. and went down spurring.

He may not have made the 8-second whistle, but he went down fighting.
In his 18th and final Canadian Finals Rodeo (CFR) appearance, Schiffner finished fourth in the aggregate, going 3-for-6, taking home $21,735.
"It was an alright week. I stayed on some and accomplished some of what I wanted to do," Schiffner told Hall of Fame journalist Dianne Finstad post-retirement. "I'm really kinda stuck for words, because it's not set in yet really I don't think. I don't know that it will.
"My stuff is back there and I don't quite wanna pack my bag yet cause I think that means it's over."
While Schiffner's career in rodeo competition may be over, his involvement is not.
"Between trick riding and barrel racing and everything, it's going to be good," Schiffner, his voice cracking, said of his three daughters, Maysa, Hadley and Oaklyn.
"You're going to be like Jay Manning back there," Finstad added of another former Canadian Champion bull rider who's two children, Tristen and Taylor, both 14, competed at this past week's CFR.
"I know," Schiffner proclaimed. "My girls have got big shoes to fill if they are going to be running barrels that fast. But not it's great, I'm looking forward to the next chapter, it's just hard to close this one.
"It's… it's hard but… it's time for the next step."
But it's not like he's going anywhere.
"That's what I keep telling everyone, I'm just retiring I'm not dying," Schiffner chuckled. "It might have been better today if I would have got one jumped and then realized that I'm too old and not good enough to do this."
But that wasn't the case as the 38-year-old finished his final season in the No. 6 spot in the Canadian Pro Rodeo Association (CPRA) standings.
"It's time," Schiffner said. "It's just hard because, you know, I got to end my career at a place that's the greatest rodeo in Canada and that's a good thing."
While  fans were enamored by Schiffner's finals outs, they were also glued to Wacey Finkbeiner's stellar performance in Red Deer which earned him his first CPRA (Canadian Pro Rodeo Association) Championship.
Of the third Finkbeiner to qualify for the CFR in the bull riding event, Wacey is the first to claim the Canadian Championship. Previous family qualifiers included his father Jim and cousin Jason.
"I wish it would have went a little bit different," Finkbeiner said of the sixth and final round of competition where he was bucked off by Girletz Rodeo's Wild Child. "I wish I could have got my bull rode and won the round obviously, but to see those guys step up in the rank pen and make some really good bull rides. It all worked out in the end I guess. I wish I could have went 6-for-6 but that's bull riding, they get you on the ground every once and a while."
Throughout the six rounds, Finkbeiner went 5-for-6, winning Rounds 2 and 3 for his 87.25-point ride on Panda Haus and 87.75-point trip on Braham Boots Chrome, respectively.  
It's not often that a bull rider goes perfect at the CFR. PBR Canada No. 2 Cody Coverchuk was the only other man to ride five, finishing second in the aggregate and third in the CPRA year end rankings.
"One of my biggest faults would be my consistency," Finkbeiner reflected. "I'm kind of an up and down kind of rider. If I can keep it leveled off like I did this week and ride the bulls they run underneath me."
Despite feeling inconsistent, the week went the Ponoka man's way.
"I just came in with a clear mind, the same routine every day, a little workout, just kinda took it easy, came in here clear headed and just let it all hang out," Finkbeiner said.
The 26-year-old athlete essentially claimed the title with his fifth qualified ride of the week on Saturday night in Red Deer, a 74-point ride on Ivy League, but it wasn't pretty and flared up an old injury.
"I ended up tweaking my hip pretty good last night," Finkbeiner said. "I've been battling that throughout the summer. It didn't feel too good after last night but we've got the best sports med in the world and they had me in tip-top for shape today. I was ready to compete, that Girletz bull just got the best of me fair and square."   
Finkbeiner's spur got caught in the inside loop of his bull rope while the bovine spun away from his hand.
"I was actually trying to declare myself to get a re-ride, but at that point I was pretty-well stuck so it worked out in the end I guess," Finkbeiner said of the ride that won him the title.
For someone who grew up in a rodeo family, winning the CPRA Championship is very prestigious, the $50,895 in earnings goes a long way as well.
"It's pretty special, my dad's here today, my brother in law, my sister, my girlfriend. My mother watching above," Finkbeiner said of his late mother, Elaine. "It hasn't really sunk in yet. I'm sure if you ask me that same question here in a few weeks I'll have a different answer but it's pretty special moment for sure.
"My family means the world to me, I can't thank them enough. They are my rocks that's for sure."
PBR Canada No. 14 Jake Gardner was the lone All-Around contestant to compete in Red Deer.
"Ever since I started rodeoing I did quite a few different events and it's always been a dream," Gardner said. "And that dream came true this week."
To qualify for the All-Around award in the CPRA, athletes must compete at both ends of the arena, both in a roughstock and timed event. Not only must they compete, but win a minimum of three checks in both events and a minimum of $1,000. In addition to bull riding, Gardner is a steer wrestler.
"I think that's just about cowboying up and just having lots of heart and try and just trying to go as hard as you can at every one in steer wrestling and bull riding both," Gardner, of Fort St. John, British Columbia said.
For the week, he went 3-for-6 in the bull riding to earn $7,560.
"In high school rodeo I calf roped, steer wrestled and team roped. I tried to ride broncs, I rode bulls and then when I went to college, I ended up on John W. Jones Jr.'s Ranch for a few years I lived down there," Gardner said of learning the ropes of bulldogging from three-time PRCA World Steer Wrestling Champion Jones Jr.
"He was around the same weight as me when he was my age so he taught me his technique. It took a long time to get good at it but I didn't quit and eventually I started getting good at it and consistent with it. I still want to improve in it but that's how I got into it and got to be successful."
After winning arguably one of the most prestigious titles in the country in his rookie season, Gardner plans to recoup for a couple weeks.
"I wanna go back home and see my family, relax a little bit and do some hunting for a bit," Gardner said. "I've got the PBR Canada Finals coming up so I'm going to be in the gym and getting ready for that and try and do good there."
The PBR Canada Finals takes place on November 23- 24 at the SaskTel Centre in Saskatoon, Saskatchewan.