Eyes on the Prize – Lloyd Sets Sights on 2018 PBR Canada Championship
By: Kacie Albert Thursday, February 8, 2018 @ 5:18 PM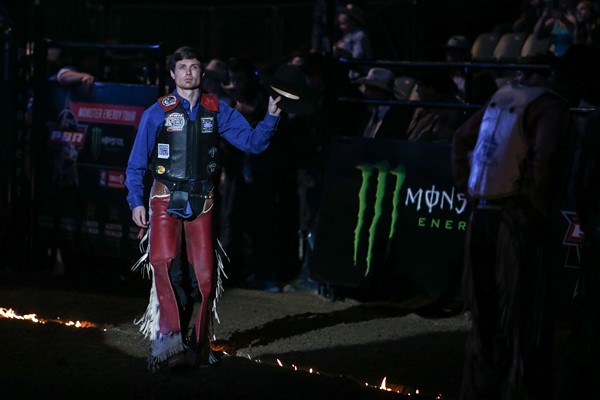 NEW YORK CITY – For Justin Lloyd, 2017 was a career-defining year.
He won his first event since 2013, victorious at the inaugural Monster Energy Tour event in Toronto, made his premier series debut in Colorado Springs, Colorado, and was named a member of Team Canada for the inaugural Global Cup.
RELATED: Lloyd Makes Elite Tour Debut in Colorado Springs
And while he accomplished many items on his goal list in 2017, he is ready to make even more progress in 2018, namely earning his first PBR Canada title.
"My first goal this year is just look for a Canadian championship, and I'm going to let whatever else come out of it, come out of it," Lloyd said.
"Last year I got to check off a few things off the list that I wanted to accomplish, but this year is going to be a lot different. I feel as though with the experience I am going to be a lot more prepared for the events that I'm going to be entering."
"Of course I'm going to be going down and competing in the states when I have the opportunity, but my focus is to win a Canadian title."
"I think in the past I've tried to skip steps and now I look at a lot of guys who get there, they get there by taking the proper steps," Lloyd said of his opinion of the significance of winning a PBR Canada title.
"It just seems like one of those things that you've got to be really close to doing or do before you're ready to make a stand and stay on tour. I know I have the experience and stuff to do it, and I do want to have my time on tour this year, so we'll just have to see how it turns out. In the end, it's just about riding bulls."
RELATED: Lloyd Victorious at Monster Energy Tour Event in Toronto
For Lloyd, with the PBR Canada season on the near horizon, he is entering the new slate of events with a fresh mindset.
"I have a different approach this year, a different mindset that I think takes out a lot of the, I guess you can call them fears, out of bull riding."
I think that's what a lot of guys maybe have to figure out before they do compete at the top of their potential. I've done a lot of work to get the personal goals working and that will be the propeller that pushes me to the next level this year. "
Despite the PBR Canada season yet to get underway, a large Canadian contingent, including reigning PBR Canada Champion Zane Lambert, runner-up Brock Radford and top contenders Lonnie West and Coy Robbins have been hard at work, making a push for points abroad both in Australia and the United States.
But Lloyd elected to take time following the Global Cup not only to spend time with his family, but to return to full health.
Thus far in 2018, he has competed in just one event, the Jan. 13 Real Time Pain Relief Velocity Tour Event in Portland Oregon, where he bucked off his Round 1 draw Lost and Found at the 5.01-second mark.
"I was looking at the schedule and I had talked with some other guys about maybe making a run out East, but that was on the premise that I was feeling 100%," Lloyd said.
"I've been fighting a hip problem, and it's not a hip problem, it's a back problem that resulted in my hip not working properly, and I've been fighting that since Pueblo, Colorado last year."
"As bad as I wanted to go, I'm over that going and just doing as good as I can in the condition that I'm in. I want to be 100%. I've gotten some stuff straightened out and it feels a lot better, but I know there's a little bit more to get fine-tuned, and so I'm just being patient. "
"I think that that's the best card that I can play at the moment," Lloyd elaborated.
"I look back at it, and you know maybe I should have taken some time to get this sorted out earlier, but I did so much learning last year, I got a taste of what I wanted and was able to do well at Global Cup and get quite a few rode there."
"So I got so much experience from last year to build on, now I want to be able to capitalize on it, and first thing I want to do is just get those nagging injuries out of the way so that my mind is clear when I go to the next one."
Amid his work on personal development, Lloyd also took the opportunity to spend quality time with his family, including wife Erinn and kids, Avery and Lynden.
"Avery just turned five, and Lynden is going to be four in February. They're just getting bigger, and they're so much fun," Lloyd said of his family. 
"They're hitting, I guess you look at them as milestones. They're making new friends and they're learning new sports and just all these sorts of things they're learning, it's a lot of fun to watch. "
At the conclusion of the year Lloyd and his entire family had the opportunity to travel to France to visit his wife's brother.
"We stayed in Honfleur and Paris from December 26 to January 7," Lloyd said of his trip.
"We visited The Louvre, Eiffel Tower and Arc de Triomphe, and we navigated the metro in Paris, but by far my most favorite trip was to visit Juno Beach."
"Although it may be just a beach, it brought me to tears," Lloyd continued.
"After an experience of a life time representing my country on home soil in Edmonton, I stood there with my son's hand in mine, in the wind and the rain soaking us to the bone, and I couldn't explain the feeling I got when I pondered the thought of what those men felt on June 6, 1944."
"I know my own personal path to become a more giving person, but there is no physical way to understand what those men did for us. This experience on Juno beach came full circle and allowed me an even more gratefulness for the experience Global Cup presented our team. "
When Lloyd returns to competition one of the events that awaits him is one that is closest to where he grew up in Tisdale, Saskatchewan, PBR Canada's Touring Pro Division event in Nipawin.
"They do such a great job there and it's nice to go home," he said.
"They pack that thing out every time, it's such a big draw."
Be sure to stay tuned to PBRCanada.com and follow the tour on Facebook (PBR Canada), Twitter (@PBRCanada), and Instagram (@PBRCanada) for the latest results.