Eleven Canadian Bulls Selected to 2018 PBR World Finals
By: Ted Stovin Sunday, November 4, 2018 @ 4:20 PM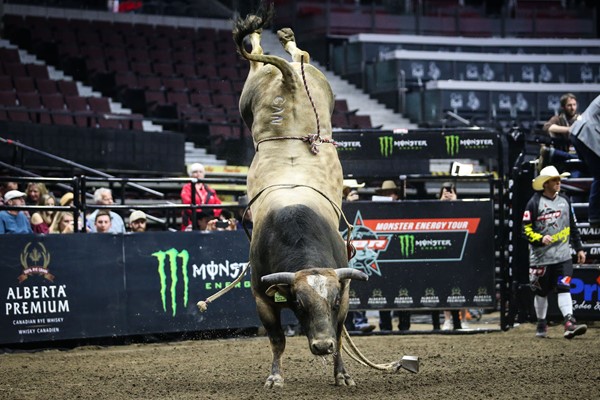 LAS VEGAS – While the roster of riders set to compete at the 25th PBR: Unleash The Beast world finals will feature two Canuck riders, the bull pen will feature and even deeper roster of Canadian talent, with 11 bulls from the nation set to buck, marking at minimum, an eight-year high.  
Those 11 bulls selected from Canada are:
Blue Stone – Flying High Rodeo Co.
VJV Whiskey Hand – Vold Rodeo
BAMF – Vold Rodeo
Wicked Dreams – Vold Rodeo
Milky Chance – Flying Four Bucking Bulls
Pound Sand – Wild Hoggs
Two Point Oh – Skori Bucking Bulls
Red Pheasant – Outlaw Buckers Rodeo Corp.
Nickel Package – Outlaw Buckers Rodeo Corp.
Brahma Boots Chrome – Outlaw Buckers Rodeo Corp.
Happy Camper – Two Bit Bucking Bulls
For Happy Camper of Magrath, Alberta's Two Bit Bucking Bulls, this marks his second-straight selection to the PBR World Finals, ridden by Dener Barbosa for 87 points during Round 3 of the 2017 event.
"I wanna finish what he started here, but I would still like to think that's where he belongs," Josh Berezay, leader of the Two Bit Nation, said. "I think on the premier series he's good enough to be there and I guess next week will tell the tale of that story."
For Happy Camper, finishing what he started would ideally be the PBR Canada Bull of the Year title, set to be awarded at the PBR Monster Energy Canadian Finals, presented by Mac's/Circle K and Dakota Dunes Casino on Nov. 23-24 in Saskatoon, Saskatchewan.
"We kinda had a goal in mind at the start of the season. I wanna finish that and see where it all shakes out in the end," Berezay said.
This is Berezay's third career bovine athlete to make the trip, but the first to make two-consecutive appearances. His previous World Finals qualifiers were Bucking Fantastic and Bringing Sexy Back.
 "He's a lot more mature this year and a little more size," Berezay explained of Happy this season compared to last. "I'm excited to see what he's going to do down there."
Happy Camper is just one of the 11 bulls that comprise what is arguably the strongest Canadian contingent to buck at the World Finals.
"It shows that the breeding programs are changing with the times and I think some of the best bulls in the world are from right up here," Berezay said. "It's pretty exciting to see them, even the ones that have been sold. As Canadians we all keep track of that, we watch that and cheer for them bulls. It's great to see them on the premier series and they are doing so well."
Numerically, both Outlaw Buckers Rodeo Corp. and Nansen Vold's Vold Rodeo will bring three bulls to T-Mobile arena, tied for the most of all Canadian outfits travelling to Las Vegas. 
"It's always a feat to get any number of bulls to the World Finals," Vold said. "It's a pretty proud deal to have three get there. That just proves what's happening and that the Canadian program is improving over the last five-ten years.
"It just goes to show you what's going on. Canada is stepping up to the plate and breeding some great animals. It's good to see."
In addition to these eleven bulls selected directly from Canada, an additional five bulls have been selected this year that were born and raised on Canadian soil.
Canadian Mist – TNT Bucking Bulls/Hart Cattle Co.
Bad Touch – K-C Bucking Bulls
Stuntman Ray – Broken Arrow Bucking Bulls
Black Rose – Broken Arrow Bucking Bulls
Seven Dust – Gene Owen/Jane Clark
For Vold, seeing animals he raised, such as World Bucking Bull of the Year contender Canadian Mist, is priceless.
"Nothing is better than watching your home-raised calf, brought up from a baby, on the biggest stage in the world, and doing well," Vold said. "It's one thing to be down there but to compete and stay competing at that level, it's not an easy feat."
Including the five Canadian-raised bulls that already make their home in the United States, over 10% of this year's World Finals selections come from Alberta alone.
"It's great to see lots more guys getting bulls down there and exposing what we are doing up here. There's no telling what's going to happen next year, maybe ten more bulls will make it," Vold said.
The numbers may be hard to match as a couple more bulls have been acquired by American contractors.
"I sold two bulls down there. Wicked Dreams and BAMF are staying," said Vold.
"I think after that all those guys are trying to market their bulls to the American contractors," Vold said. "There's good money in it and that's what makes this thing kind of work for us up here. I think there will be two, possibly up to five or six bulls that actually stay down across the line that we will get to see next year on the big show."
The 25th PBR World Finals begins on Wednesday, November 7th, 2018 at the T-Mobile Arena in Las Vegas. Performances will be streamed nightly at RidePass.com