Early Momentum Propels Radford to First Monster Energy Tour Win
By: Kacie Albert Thursday, March 29, 2018 @ 10:11 AM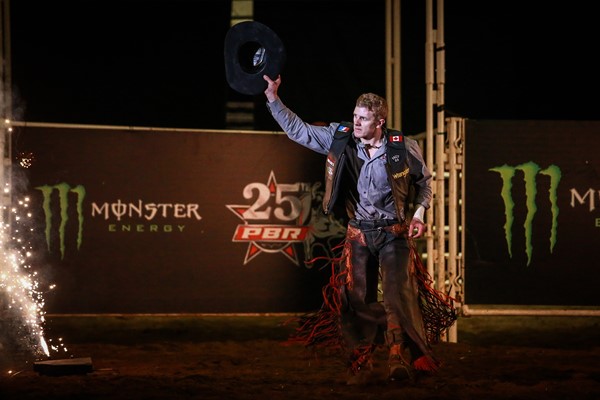 NEW YORK CITY – Last weekend's Canadian Monster Energy Tour event in Calgary, Alberta was one of many firsts.
First event for the nation's premier tour in 2018.
First time an event sold out inside the Stampede City's Nutrien Western Event Centre.
And for young-gun Brock Radford, the first Monster Energy Tour event win of his career.
RELATED: Flawless Radford Wins Season-Launch Monster Energy Tour Event in Calgary
"Definitely a good way to start 2018, that's for sure," Radford said of the win.
"It's good to get the ball rolling, just get the first one out of the way. And I'll just keep doing what I've been doing, one bull at a time and one event at a time, it seems to be working."
Adding to the significance of the win, from nearby De Winton, the 22-year-old was the hometown favorite for the more than 2,600 fans that packed the venue.
"That was rank, that was so cool," Radford said of the crowd. "I had so many friends from high school there, and family, it don't get much better than that.
"My motor was going a little bit more than it normally is, so it was really cool to get the win in front of the hometown fans and friends and family, it was awesome."
"We've been in that arena a couple times, and for whatever reason it hadn't come close to that," Radford said of the sold-out status. "It was electric.
"I think some of the guys were feeding off of it, so that was a great event. No better way to kickoff off a season than at a hometown event like that with a sold out crowd. It was awesome."
Radford began the night facing a previously unridden bull in Braithwaite Ranches' Liberty Tower. Prior to the duo's meeting, the bovine athlete had yet to be ridden in seven attempts dispatching the likes of Tanner Byrne (4.24 seconds) and Justin Lloyd (2.62 seconds) at the inaugural Global Cup, and three-time PBR Canada Champion Aaron Roy (3 seconds) three weeks prior in Lethbridge.  Also in Lethbridge, Chase Thielen took the bull closest to the buzzer, dispatched at the 6.5-second mark.
"He hadn't been ridden, I've been watching him," Radford recalled. "He's actually a bull that has been sticking out to me as of late. And I knew him, he had two really good trips up at the Global Cup, the other weekend he kind of had a little harder trip with Aaron, that wasn't his best trip, but still he's been putting guys to the ground a lot."
"I knew I had my hands full and if I did my job it would work out."
And work out it did. Radford proved to have the magic touch, making the 8 aboard the bull for 84.5 points, to finish third in Round 1.
"It worked out. I got him rode for 84.5, set me up to matchup with Minion for the sixth time."
In one of the more highly anticipated matchups of the Championship Round, Radford drew 2015 PBR Canada Bull of the Year Minion Stuart, a bull with whom he had squared off with five times prior.
The pair first met in April 2015 at the Marwayne Touring Pro Division (TPD) event, with the World Finals bucking bull sending Radford to the ground in 4.13 seconds. Their second meeting ended in a similar fashion for Radford, with the bull making quicker work of him, this time bucking him off in 2.5 seconds, in March 2016 during the Lethbridge TPD stop.
The surging Canadian, however, finally made the buzzer atop the famed bovine athlete in August 2016 at the London, Ontario Monster Energy Tour event, marked 88 points.
After Minion Stuart once again got the best of Radford at the 4.2-secodn mark during the July 2017 North Battleford, Sakatchewan TPD event, Radford covered the bull in their last meeting for 87.5 points to win Round 1 of the 2017 PBR Canada Finals.
"Half of the trick with him is the mind game," Radford told the Calgary Herald.
"He's mean, he's got the big horns, and he lets you know they're there. But every time you cover that bull, you won't be short of 87."
The second to last man out in Calgary, Radford was able to even the score against Minion Stuart, and much as he prophesized,  covered the Skori Bucking Bulls' bovine for 87.5 points.
"When I got off, I knew I had done my part," Radford said after.
"It's a love hate relationship. I love getting on that bull, he's a great bull, he has been for years, but he's scary."
"I've got to get on him one more to break 'er, we're 3-3 right now."
For his flawless effort, Radford earned $5,469.75, along with 500 points towards the Canadian national standings and 120 towards the broader PBR world standings.
Entering the event the No.1-ranked rider in the nation, Radford extended his lead atop the standings, now leading No. 2 Zane Lambert by 500.84 points.
He also now finds himself No. 45 in the world, 97.5 points behind No. 35 Juan Carlos Contreras and a berth onto the elite 25th PBR: Unleash The Beast, where not only has Radford competed twice this season, but also received advice from two-time PBR World Champion Justin McBride.
"I was in Chicago and Oklahoma City. In Chicago I took two bulls to six or seven seconds, but Justin McBride pointed out something about my riding.
"He said as I was getting closer to the whistle my free arm was dropping down by my waist and it was causing me to get to the outside on the bulls since I was a split second late.
"And I'd get to that six, seven second-mark, that free arm would drop to my hip and it would kind of pull me to the outside before I could make my move to get back.
"So I've just been making some adjustments and it's been going good, so I'm ready to get back on the Unleash The Beast tour and get hammering them."
With the numerous injuries currently plaguing the Top 35, Radford could easily get his chance at the tour's next stop, a three-day visit to Sioux Falls, South Dakota for the First PREMIER Bank/PREMIER Bankcard Invitational.
"I should be right on the bubble, there's lots of guys hurt. That's definitely a place you want to be, so you've just got to use it. Get out there and ride a couple of bulls, try not to let the big lights get to you, and not change my game plan and just have to do what I've been doing, one bull at a time."
 And while it was all business Saturday night, when the sun rose the following day Radford, and several other riders, made the near two-hour drive east to Banff for the 6th annual Back on Track Canadian Cowboy Ski Race benefiting the Canadian Pro Rodeo Sport Medicine Team.
"Definitely not going to think twice at the opportunity to go out after a bull riding and go raise money for a good cause, the Ty Pozzobon Foundation, and helping out with sports med," Radford said.
"Those guys need every cent of it, we can't be great without them. Especially every event I've been getting my knee taped, I know I wouldn't be holding together near as good without them and everything they do for all of us.
"Canada is definitely setting the pace. Out of all the places I've rode, I'd say we have the best sports med team in Canada. They're awesome."
Much the opposite of his performance in Calgary, Radford was fast to hit the snow on the ski slopes, winning the prize for Wreck of the Day.
"I didn't make it pass the first leg," Radford said while laughing.
"I must have been seeing three of them, and picked the middle one and it was the wrong one and I run right into it. Knocked the lens out of my glasses, knocked my hat off, I got whipped down by the flag on the first jump, didn't even make the corner. "
PBR Canada's Monster Energy Tour will return for the second event of the 2018 season on May 12 starting at 7:00 p.m ET in Ottawa, Ontario at Richcraft Live at Canadian Tire Centre.
Tickets for the one-day are on sale now and can be purchased by visiting www.Ticketmaster.ca, www.canadiantirecentre.com, by phone at 1-877-788-FANS; in person at each of the 10 participating Canadian Tire stores in Ottawa as well as the store in Perth, The Sens Store at Carlingwood Mall, Place d'Orléans and in the ByWard Market, Algonquin College, Superior Photo and at the Canadian Tire Centre box office.
PBR Canada's Touring Pro Division resumes action on April 7 at 7:00 p.m. MT in Marwayne, Alberta for the Garnier Custom Silage Marwayne PBR inside the Marwayne Multiplex.
Be sure to stay tuned to PBRCanada.com and follow the tour on Facebook (PBR Canada), Twitter (@PBRCanada), and Instagram (@PBRCanada) for the latest results.