Coverchuk Seeks History with CPRA and PBR Canada Titles
By: Kacie Albert Friday, November 2, 2018 @ 7:52 AM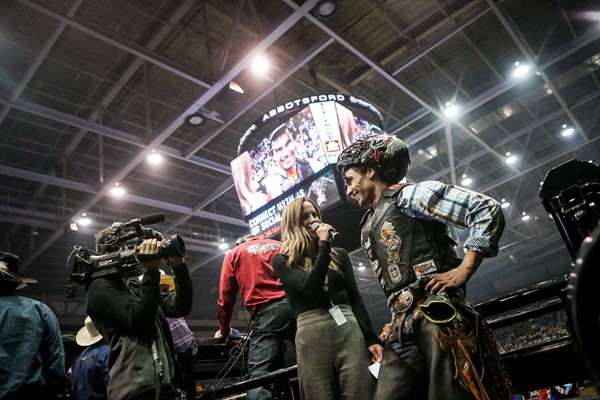 LAS VEGAS – With the Canadian Finals falling after the World Finals this season, the annual Canadian invite was selected via the national standings, with the top-ranked Canuck as of Oct. 29 earning the coveted berth.
While current No. 2 Cody Coverchuk was awarded the invite, he declined in favor of competing at the 2018 Canadian Finals Rodeo (CFR).
"I've mainly focused on Canada this year and I just wanted to make the CFR once," Coverchuk explained.  "Now that I've gotten the CFR, now I'm going to focus on the PBR.
"The PBR World Finals is my next goal for next year for sure. I'm going to start going down south way more."
In his place, No. 3 Brock Radford was awarded the invite, who is currently on the bubble of qualifying for the World Finals via a Top 35 ranking, presently No. 38 in the world and 52.5 points behind the cutline.
RELATED: Radford Skipping CFR to Pursue World Finals Dream
"I looked at how I was sitting in the world and I had dropped pretty low," Coverchuk continued. "Whereas Brock is like [38th] in the world so it makes more sense to let him go down there."
With his season earnings now totaling $34,798.72, Coverchuk is 3-for-3 at the CFR thus far.
In Round 1 he rode White Shadow for 79.5 points, followed by an 81.5-point trip on Rockin Out in Round 2, and 84.25 points on Rays Last Jump in the third round.
"It was pretty cool," Coverchuk said of his first out inside the ENMAX Centrium. "A new building, new town so it was pretty awesome.
"I think that it did help that I rode in the PBR and I rode at all the big events," Coverchuk credited his success. "So it wasn't as big of a change as it is for some people. It was good."
Via his flawless performance, in the event aggregate, Coverchuk, who was also awarded the 2018 CPRA Rookie of the Year honor, is second, while he is sixth in the overall title race.
"It's going to take some big scores," Coverchuk said of his chances to win, presently trailing No. 1 Wacey Finkbeiner by $16,925.3 "I'm going to have to win some rounds, but it's just whatever, ride each and every bull for as much as I can so I can get as much money won as I can and see how it plays out."
By electing to compete at the CFR, and currently one of the top title contenders for the 2018 PBR Canada Championship, Coverchuk is poised to potentially become the first rider in history to win the CPRA and PBR Canada Championship in the same season.
"That's something that's never been done, so that would be pretty cool," he said. "But at the same time I'm trying not to think about that. All a guy can do is ride each and every bull he gets on and the chips are going to fall how they are going to fall.
"You've just got to focus on one bull at a time and see how it goes."
In the PBR Canada standings, Coverchuk trails No. 1 Richardson by 83.33 points with one Touring Pro Division event remaining on the schedule, Nov. 9-10 in Yorkton, Saskatchewan, prior to the PBR Monster Energy Canadian Finals, presented by Mac's/Circle K and Dakota Dunes Casino on Nov. 23-24 in Saskatoon.
With 2,250 points, however, available at the Finals, anything can happen.
"We left Edmonton and I moved up one spot," Coverchuk detailed. "I didn't move up to No. 1, I didn't capitalize in the short round, which is whatever, but I'm only like 83 points [behind] or something going into Saskatoon so anything can happen."
With the CPRA and PBR Canada titles imminently being awarded, longer term, Coverchuk has his eyes on a selection to Team Canada for the WinStar World Casino and Resort Global Cup USA in February.
After competing for his nation in Edmonton, Coverchuk was not selected for the Sydney contingent, leaving him eager to once again have the opportunity to represent the Maple Leaf.
"That's the biggest thing," Coverchuk said of the event. "When I didn't make the team last year it kind of lit a fire under me and makes me want to get back on the team.
"I'm not too sure how they're doing it, but either way a guy always wants to wear the maple leaf and represent his country."