Coverchuk Aims for No. 1 in Abbotsford
By: Ted Stovin Thursday, October 11, 2018 @ 6:15 PM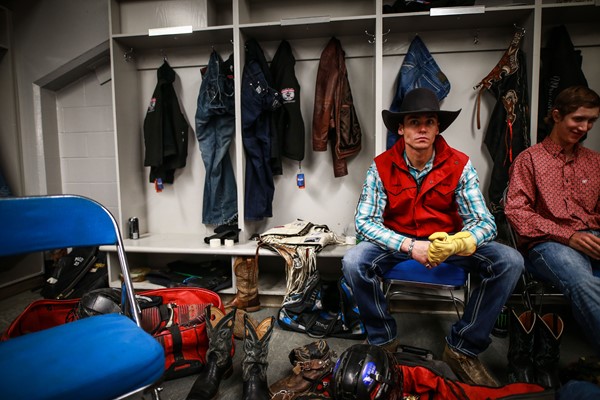 CALGARY, Alberta – The door is open for Cody Coverchuk in 2018 -- a situation he knows all too well.
The question this year, however, is will he step through it to earn the top spot in the nation, and his first PBR Canada Championship?
Since 2016, Coverchuk has been a contender. That first year, he finished in the No. 3 spot in Canada and in 2017, he ended competition in the No. 5 spot.

Heading into the final four events of the 2018 season the Saskatchewan-native ranks No. 3, however, the No. 1 and No. 2-ranked riders in Canada, Lachlan Richardson and Brock Radford, won't likely be competing again until the Monster Energy PBR Canadian Finals in Saskatoon on November 23-23 due to 25th PBR: Unleash The Beast event conflicts.
"I like where I'm sitting right now, it gives me a shot anyway," Coverchuk said. "I've just gotta capitalize at these next few."
In the second half of the 2017 season, he went 3-for-18 (16.66%) at 10 events after starting 11-for-25 (44.00%) at 12 events in the first half. In 2016, a buck-off streak of eight in a row in July diminished his chances after riding his way to the No. 1 spot in the country.
"I try not to think about that," Coverchuk said of the pressure of contending for the title. "Just keep it simple, one bull at a time and have fun."
Today, Coverchuk trails No. 1 Richardson by 138.33 points, a gap which could be erased with either a Top-5 finish in Abbotsford or Edmonton.
Adding to the intrigue is that No. 4 Lonnie West and No. 5 Marcos Gloria won't be in Abbotsford either. The next closest competitor is two-time, and reigning, Canadian Champion Zane Lambert, currently No. 6 and 1,058.33 points back of No. 1. 
One advantage is the break in the fall in Canada.
"It went from four a weekend to maybe one now so it's definitely a big change there, but it's nice too, gives the body time to heal up," Coverchuk said.
But, it can also be a disadvantage mentally.
"When you're getting on five, six bulls a weekend you don't even think about it," Coverchuk added, when a three-bull buck-off streak in the winter could last three weeks rather than two days.
Regardless, after a long season it gives time to heal up, recharge and refocus.
"I've just been laying low," Coverchuk confessed. "I've been out at my sponsor's cabin just hanging out. We've been baiting a lot of deer for them because hunting season is coming up so I'm just helping them out."
With a Canadian Finals Rodeo (CFR) qualification to his name, the Meadow Lake, Saskatchewan man is ready to contend for a pair of Canadian titles in the next two months.
"I feel great, my body feels great, I'm just going at it with an open mindset," Coverchuk said. "One bull at a time, it doesn't matter where it is, what it is, it's all the same, just ride the bull for eight seconds. Just try as hard as I can and that's really all I can do."
The PBR's Monster Energy Tour returns this weekend in Abbotsford, British Columbia at the Abbotsford Centre. Tickets are still available at Ticketmaster.ca