Consistent Coverchuk Aims High in 2018
By: Kacie Albert Friday, June 15, 2018 @ 12:48 PM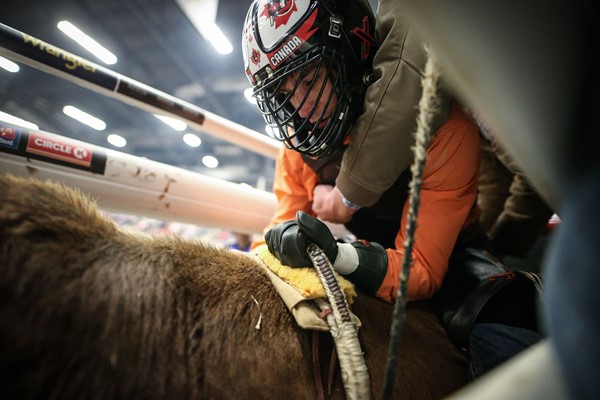 NEW YORK CITY – For Meadow Lake, Saskatchewan's Cody Coverchuk, the annual Touring Pro Division event in Swift Current has always paid dividends.
Prior to this season's Cody Snyder PBR Invitational in late May, the 24-year-old had ridden to a win in 2014, while logging a second and fourth place finish in 2016 and 2017, respectively.
At the most recent installment of the event, his success continued, propelling Coverchuk to the winner's circle for the first time in 2018, going 2-for-2 inside the Swift Current iPlex.
RELATED: Coverchuk Wins Cody Snyder PBR Invitational
Led to the win by his Round 1 winning, 85.5-point trip on Ray's Last Jump, Coverchuk collected a check for $4,953.37 in addition to 275 Canadian and 60 world points.
While the victory was his first of the year, it came amidst on the most consistent seasons for the annual title contender.
To date, Coverchuk has ridden to six Top-5 efforts at nine entered events, notably covering 50% of his draws (10-for-20) in Canadian competition.
"Honestly this year feels like I've been riding a lot more bulls than I have in the last few years," Coverchuk reflected. "This year it's kind of picking away, and I've been going to lots of CPRA rodeos too, so I've been getting on more bulls, which is confidence when I'm getting on.
"I feel really good right now and I'm just going to keep moving forward from there."
Coverchuk is currently ranked No. 4 in the Canadian national standings, 807.5 points behind No. 1 Brock Radford, and No. 66 in the world standings, 252.5 points behind No. 35 Fraser Babbington and a berth onto the elite 25th PBR: Unleash The Beast.
Despite the success, one missing accolade still nags at Coverchuk – not making the most recent Team Canada that travelled to Sydney, Australia for the second leg of the inaugural PBR Global Cup.
RELATED: Team Canada Third at PBR Global Cup in Sydney
"Brutal," Coverchuk said of his failure to make the eight-man squad. "But it makes the fire burn underneath me a little but more. It makes me want to go out there and prove myself little bit more, get back on the team.
"The guys that went are all really good bull riders, all really well rounded and everybody was riding really good at the time.
With the five-nation showdown now in the rearview mirror, Coverchuk has a plan to regain his spot.
"Honestly, I just need to keep my head down, like my dad always told me, and let me riding do the talking for me," he explained. 
"Doing what I'm doing and hopefully ride a few more bulls or show out more than somebody else. Just do my best, that's all I can really do."
Apart from Global Cup, Coverchuk also has grand plans for the remainder of the 2018 season, with his eyes on qualifying for the Canadian Finals Rodeo (CFR) and earning a spot for the 2019 Calgary Stampede, with his sights also set on a potential run in the United States.
"I'm really going to put my head down and ride it out until I make Calgary next year and take my CFR spot," Coverchuk said. "I've always chased the PBRs a lot, but I'm kind of waiting for Shay Marks, he got his [shoulder] surgery done now, and we were talking here recently and when he comes back we're going to go head down south as soon as he's good to go and start hitting those PBRs later this fall for next year."
In the immediate future, next on the docket for Coverchuk is a rodeo in Innisfail, Alberta, followed by the Touring Pro Division stop in Falher on Saturday, June 16. Then comes the five-day stretch where a PBR event will be held each night from July2-6 making a stop in Cluny, before three nights of action at Ranchman's in Calgary, followed by the Edgerton PBR Bullarama, sixth Monster Energy Tour event of 2018 in Kelowna, capped by a trip to Edgerton.
"That's usually a pretty good run for me, so I can't wait for that."
Another major life milestone, Coverchuk is an expecting father, set to welcome a baby boy later this summer with girlfriend Tiegan.
"I try to stay by my phone all the time here right now," he said. "I lost my dad last year, so with the baby it's going to be good."
Be sure to stay tuned to PBRCanada.com and follow the tour on Facebook (PBR Canada), Twitter (@PBRCanada), and Instagram (@PBRCanada) for the latest results.