Consistency Key For Parsonage
By: Kacie Albert Tuesday, March 13, 2018 @ 10:20 AM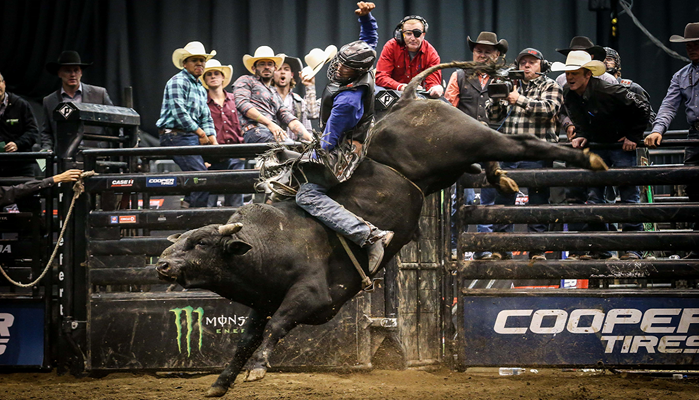 NEW YORK CITY – In 2017, Maple Creek, Saskatchewan's Jared Parsonage boasted one of the top riding percentages at PBR Canada events, covering 68% of his draws (17-for-25).
Just two events into the 2018 season, and Parsonage is once again a leader of the Canadian contingent (60%, 3-for-5), fresh of an event win at last weekend's Teepee Creek PBR Classic, presented by Lyon's Production Services.
RELATED: Parsonage Wins Teepee Creek
"It was good," Parsonage said. "I drew two good bulls. A good young bull of Girletz's there, Ray's Last Jump, and then [OLS Tubs] Anika's Pet of Outlaw Buckers. He's a really good bull, just getting his name out there. He's going to be a really good bull for a long time. "
Besting runner-up Brock Radford by one point in the aggregate, Parsonage first covered Ray's Last Jump for 84 points in Round 1, then made the 8 aboard OLS Tubs Anika's Pet for 87 points in the Championship Round.
"Those were two good bulls," Parsonage reiterated.  "I made good rides, and that's what a guy is supposed to do is ride them, and it worked out. "
"Just try and stay on, get good scores is the name of the game. The guy with the most scores is probably going to win the most money, so I just like to keep it simple like that.
"I'm probably not going to go beat them with 90-point round wins by no means, but I just stay on and keep getting them rode; A big tall guy just riding them. And then the most scores is probably going to win the most."
While the matchup against Anika's Pet was a new one, it was a bull with whom he was familiar. At last season's Monster Energy Tour event in Abbotsford, British Columbia, Lonnie West covered the bovine athlete for 89 points in the Championship Round to take a 3.5-point lead over Parsonage in the event aggregate and ultimately claim the event win.
"A big blue muley that kind of pushes back, kicks and spins around to the left. He's a good one," Parsonage said of the bull.  
The 6-foot-1 rider left Teepee Creek with a paycheck for $6,868.30, including the $3,500 Lyon's Production Services' event bonus, along with 276.66 Canadian and 60 world points.
He now finds himself ranked No. 74 in the world, 165 points behind No. 35 Juan Carlos Contreras and a berth onto the premier 25th PBR: Unleash the Beast, and No. 2 in the Canadian standings, 80.84 points behind No. 1 Radford.
"I may not get big scores all the time, but I seem to ride quite a few of them pretty regular," Parsonage said of his riding percentage.
"It's been like that this year too, I haven't hardly bucked off very many at all. I'd probably have had a higher percentage if I hadn't screwed up a couple at the PBR Canada Finals. That's probably only really the place where I bummed up."
While Parsonage went 0-for-2 at the Canadian Finals, landing him No. 8 in the year-end national standings, he recorded an impressive two event wins, first in Nipawin and then in Stavely, in addition to seven Top-10 finishes.
RELATED: A Prestigious Win for Parsonage
Looking forward to this season, Parsonage has his sights set high for both Canadian and stateside events.
"Heck I don't know, I would take both of them," Parsonage said of winning both the year-end CPRA and PBR Canada titles. "If you're going to go, you mind as well win them both.
"And I've got bigger goals than that. Obviously, the World Finals would be cool and the NFR. A guy can come back to Canada when he's a little older."
Parsonage also hopes that this season he doesn't succumb to a season-halting injury, much like the broken jaw he suffered last year at the first-ever International Major in Quebec City, Quebec.
"Jeez, knock on wood that would be nice," Parsonage remarked. 
"The last few years have been hell. The first weekend in June has been a killer. The last two years in a row it's gotten me and I've missed until about the end of July.
"It would be nice to stay healthy because I've had pretty successful years even being hurt in that time, the most busy time of year. "
Despite the injuries limiting the number of events he's been able to enter, Parsonage is still pleased by the trajectory his career has taken thus far.
"I've definitely gotten better," the fifth-year pro said. "I feel like I get better every year, and that's the idea of it, you want to progress and keep getting better. And if you're not going to keep getting better, you're kind of defeating the purpose in my opinion.
"And I feel like the last three years I've been going, I always rode lots of bulls when I started, but dang sure not as many as I do now. 
"It's a work in progress, it never ends until you retire. "
Next up on the 2018 PBR Canada schedule of events is the season-launch event for the Monster Energy Tour on March 24 in Calgary Alberta. The tour's third season will get underway at 7:00p.m. MT inside the Agrium Events Centre. Tickets are on sale now at Ticketmaster.com
Be sure to stay tuned to PBRCanada.com and follow the tour on Facebook (PBR Canada), Twitter (@PBRCanada), and Instagram (@PBRCanada) for the latest results.