Canadian Success Propels Riders Into Top 35
By: Justin Felisko Monday, August 6, 2018 @ 6:49 PM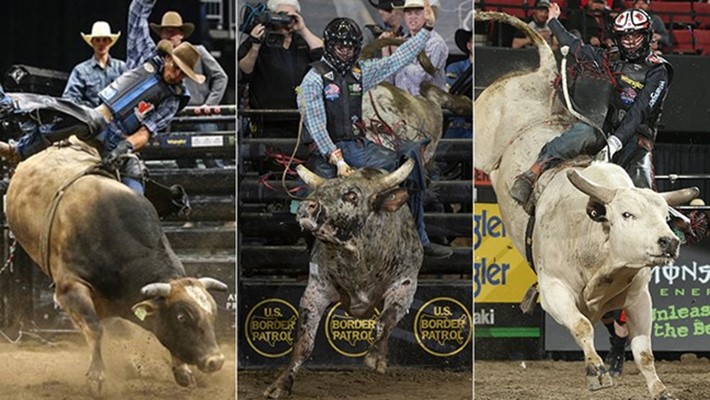 PUEBLO, Colo. – The 25th PBR: Unleash The Beast resumes on Saturday night at 7:45 p.m. ET with the Express Employment Professionals Classic, presented by Osage Casino and Hotel, in Tulsa, Oklahoma. It will be the first time since Last Cowboy Standing in May that the Top 35 bull riders in the world will compete in the same event. Some riders continued to hit the summer grind full steam ahead, while others took some time off to recover from the first 17 premier series events of the season.
Here is a look at the Top 5 standout performers from the summer.
1. Glorious summer pushes Gloria into Top 35
The newest face of the Top 35 is Marcos Gloria.
The relatively unknown 28-year-old bull rider won the largest event of the summer – the PBR Canada Iron Cowboy – and one of the most historic events – the 2018 Calgary Stampede.
Gloria earned a PBR-best 630 points this summer to move from 94th in the world standings to No. 27. Gloria moved up 67 spots in the world standings by coming through with various clutch, and at times lucky, performances.
The 630 points is a new PBR summer record for the current points system, breaking Chase Outlaw's 2016 performance of 512.5 points.
The Central de Minas, Brazil, bull rider earned 370 world points by going 2-for-4 to win the PBR Canada Iron Cowboy. Gloria lasted 6.26 seconds on Happy Camper in the championship round to defeat Brock Radford for the PBR International Major victory. Gloria also knocked out reigning World Champion Jess Lockwood from the bracket event in Quebec.
Gloria followed that victory up by winning the PBR Canada Monster Energy Tour event in Halifax, Nova Scotia, with an 86.5-point ride on Ulterra's Night Vision. It was his only ride in three rounds, but it was still enough to earn the victory and 120 world points.
The Alberta, Canada, resident then became the first Brazilian bull rider since Adriano Moraes (1994) to win the Calgary Stampede by riding Rattler for 76 points in the Final Four Round on Showdown Sunday.
Gloria's victory did not come without suspense either. Gloria, Fabiano Vieira, Joe Frost and Ty Wallace had all bucked off their first four bulls of the Final Four Round prior to Gloria being the only rider to reach the 8 seconds on the group's second go around.
Gloria was the last rider to advance out of Pool B to qualify for Showdown Sunday after edging out two-time World Champion J.B. Mauney and Lockwood on a tiebreaker. Gloria earned the final spot via a career-high 90.5-point ride on Whiskey Hand, which won him the final round of Pool B and $5,500. The tiebreaker at the Calgary Stampede pool play was the most money earned in a single-day of competition.
The Brazilian's victory in Calgary was symbolic in many ways of how his summer has gone. Gloria came through with a qualified ride when necessary, but he also got some lucky breaks along the way.
Yes, Gloria, earned 630 world points fair and square, but he was far from the most consistent rider this summer. Gloria went 9-for-22 (40.91 percent) in seven events.
However, just how important was Gloria's summer performance?
Considering Troy Wilkinson earned the last World Finals qualification spot last season with 543.75 world points, Gloria is very much on his way to his first World Finals qualification with 700 world points.
Gloria heads into Tulsa with a 251.67-point cushion over No. 36 Cody Campbell.
2. Richardson's summer has him back in the hunt for seventh straight World Finals
Lachlan Richardson has never missed the PBR World Finals, and the 25-year-old has used an impressive summer surge to make sure that streak continues this season.
Richardson has jumped up 49 spots in the world standings after earning 497.5 world points since May 12. The No. 31-ranked rider in the world standings roared back from the No. 80 ranking by winning three events and posting 15 Top-5 finishes.
RELATED: Richardson heads to Big Sky riding summer surge
The Gresford, Australia, native most recently won the Santa Barbara, California, Touring Pro Division event with an 87-point ride on Hillbilly Rocklast week.
Richardson went 25-for-46 (54.35 percent) this summer.
The seventh-year pro has historically relied upon non-premier series events to earn his way to the World Finals.
Outside of 20 qualified rides in 2016, Richardson has still made the World Finals by posting 11 qualified rides or less on the premier series in each of his other five seasons.
3. PBR Canada leader Radford goes international
Brock Radford went a combined 21-for-45 (46.67 percent) across PBR events in Canada, Australia and the United States this summer to earn him a spot on the premier series after appearing in six UTB events in the first half.
Radford picked up 425 world points via a victory at the PBR Canada TPD event in Czar, Alberta, plus three second-place finishes and eight Top-5s.
The 23-year-old had recently dropped into a slump with eight consecutive buckoffs before going 1-for-2 at the Frog Lake, Alberta, PBR Canada Touring Pro Division for a fourth-place finish this past weekend. 
Radford has a 177.51-point lead atop the PBR Canada standings over No. 2 Richardson.
4. Young Canadian West has eyes on UTB
Fellow Canadian young gun Lonnie West has joined Radford in the Top 35 by earning 340 world points. West, who also competed in the U.S., Canada and Australia, is ranked No. 33 in the standings after finishing the Livingston, Montana, TPD event in second place on Saturday night with an 89.5-point ride on Cooper Tire's Semper Fi.
The second-place showing was West's fifth Top-5 finish and third runner-up placement. West also picked up victories in Kinsella, Alberta, and Moncton, New Brunswick.
The 22-year-old went 13-for-32 (40.63 percent) in 17 events.
West made his premier series debut in Billings, Montana, back in April, and now he can try to build off his summer performance and make a push at his first career PBR World Finals qualification. 
4. Triplett making up for lost time
Matt Triplett still has six injury exemptions remaining as he continues his comeback from off season reconstructive left shoulder surgery. However, the 27-year-old may not need to use all of those exemptions if his summer success translates over to the UTB.
Triplett, who made his season debut on April 28, tied with West for the fourth-most summer points earned (340) and now sits at No. 35 in the world standings.
The Columbia Falls, Montana, native is coming off a third-place finish in Livingston, Montana, where he rode Redneck for 87 points. Triplett wasn't able to win a summer event, but he earned world points in 12 of the 16 events he competed in (not including the Global Cup).
Triplett was 21-for-36 (58.33 percent) with 11 Top-5 finishes.
Welcome to the Top 35 / Saying Goodbye to the Top 35
Since the conclusion of Last Cowboy Standing, six riders have joined the Top 35.
The new additions are Gloria, Radford, Richardson, West, Koal Livingston, and Triplett.
No. 37 Campbell, No. 39 Mauney, No. 40 Tye Chandler, No. 41 Fraser Babbington and No. 46 Lucas Divino are looking to work their way back into the Top 35.
Mauney, though, is still eligible for UTB events via injury exemption.