Canada's 'Bull Guy' – Jake Wilson
By: Kacie Albert Wednesday, June 20, 2018 @ 11:46 AM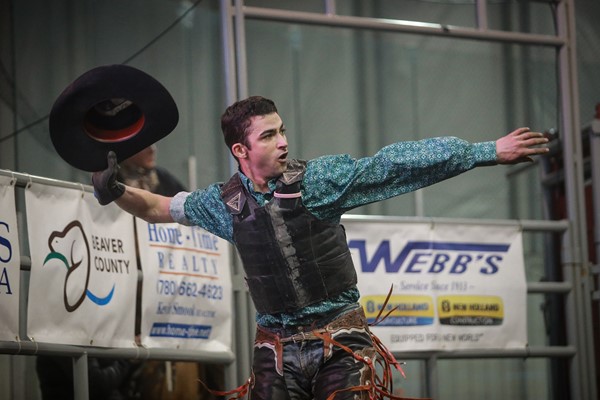 NEW YORK CITY – In every out there are two athletes – rider and bull.
So when the Monster Energy Tour announced four events in Canada's Eastern provinces, it was only logical to bring the nation's rankest bulls cross-country for the events, to face off against top cowboys from around the globe.
However, it was no small feat to make that possible.
"It was a full month," Jake Wilson said of the journey which began just after the Prince Albert Touring Pro Division event on Saturday, May 5.
With 36 bulls aboard the trailer, hailing from Vold Rodeo, Wild Hoggs Bucking Bulls, Two Bit Bucking Bulls and the Thompson Rodeo Co., Wilson, along with the Wild Hoggs' Lon Streeter, set out for the tour's first stop in Ottawa, Ontario.
"It was a fair few," Wilson said of the precious cargo entrusted to him. "The biggest part with taking any bulls is one contractor's trust in you and doing the best job you can do. Like knowing the bulls and knowing what to look for."
"A lot to do with it is just knowing the bulls because every bull's got their own personality."
The first stop on the contingent's journey was Saint-Tite, Québec, the site of bull housing for the first two tour stops in Ottawa and Québec. 
"Canada is huge," Wilson laughed of the drive. "It is a long way to go from West coast to East. It was cool, you see a lot of country, like the country changes a lot.
"Where I live on the edge of [British Columbia], you go from the Rocky Mountains to the East coast. You see the country go pretty much flat and bare where you could see a dog run away for three days, to trees and scrub and lakes, and end at the beach, it's pretty insane."
Once settled, it was important for Wilson to ensure the bulls remained on their strict diet regiments.
"You like to keep everything on a 12-hour rotation," Wilson explained. "Most events start at 7:00, 7:30, that's when the PBRs start and the bulls are going to be bucking and performing, so I would get up in the morning, and I would feed them about 7 o'clock."
After a prompt morning feeding of hay, the bovine athletes would next eat at 7 p.m. in the evening, this time a 12-pound ration of a specially blended grain, composed of corn, oats and molasses, made fresh in the eastern provinces as opposed to having the feed make the cross-country journey. 
 "We've narrowed it down, and figured it out and made a recipe that is beneficial for the bulls, that is healthy and for an athlete," West detailed of the feed plan. "It's an athlete food.
"And we figured out if you give them 12 pounds a day it's keeping them energized, like it's not too much and it's not too less."
Adding to the feed schedule, Wilson also choreographed getting all 36 bulls exercised, daily.
"They were like school kids that had been stuck in the car for so long," Wilson said of the routine that took place just after noon. "You'd let them outside, they'd run around, buck around and just enjoy being outside."
After a two-event stay in Saint-Tite, Wilson then transported the bulls to Nova Scotia, where they stayed an hour outside of Halifax city limits for the two maritime province events.
"That's my sort of job now is just bucking bulls," he said. "And I like it too.
"I don't have a young family, because when we left, it was Lon's little girl's birthday too. And this is just my job now after riding bulls."
And his resume expanded on the four-event stretch, stepping in to flank some of the bulls bucking under the Wild Hoggs' banner in Streeter's absence at the tour stops in Québec and Halifax.
"Every bull is different, but you're not going to make a bull buck," Wilson said of the often misperceived flank strap. 
"A lot of people say you just got to tie the flank better, tie them really tight, and they're going to buck. No, that ain't right.
"Every bull is different and all it is, is knowing the bull and watching him buck over time, knowing what sort of flank that bull likes.
"Obviously some bulls like the flank a little bit tighter than others, but other bulls like the flank just a bit hanging there pretty much you could say."
Wilson elaborated on the flank, likening the soft, cotton rope, much like a human's belt, to a "tool" for the bulls.
"When you tie a flank on them it's pretty much the same as saying it's time for your job. Every bull bucks, and you can tell if they want to buck of if they don't want to buck, but you can't make a bull buck.
"So just as [the rider is] doing they're wrap, that's when you tie a flank and it's letting those bulls know, okay it's time for my job. So then they can come out and buck and then when they're done, the flank comes off.
"It's no different from you and me getting up in the morning, putting work clothes on and going okay, it's time to go to work. And no different to a horse; you've got to put a saddle on a horse and then tighten the cinch up on the saddle. You're letting the horse know, okay you're going to get rode."
With several of the stock contractors singing the praises of Wilson, now home in Western Canada, he can now take solace in a job well done.
"I'm a bull guy, so wherever I've got to go, or haul bulls, I go."
Be sure to stay tuned to PBRCanada.com and follow the tour on Facebook (PBR Canada), Twitter (@PBRCanada), and Instagram (@PBRCanada) for the latest results.