Calgary Stampede: Ty Pozzobon Foundation Night
By: Kacie Albert Wednesday, July 11, 2018 @ 4:58 PM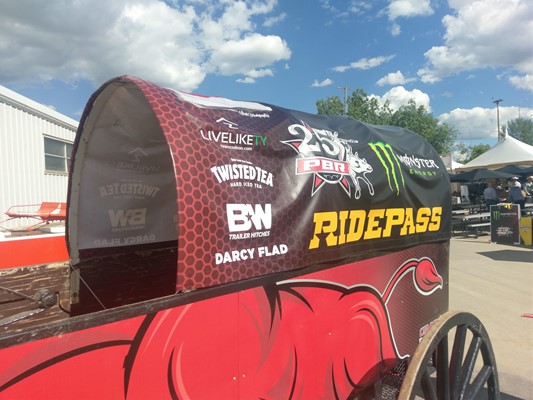 NEW YORK CITY – For the late Ty Pozzobon, the Calgary Stampede were two weeks he looked forward to every year.
"The Calgary Stampede was always very special to Ty," friend and fellow rider Tanner Byrne said. "He always had a lot of success at the Stampede, and loved being a part of the Calgary Stampede."
And while Pozzobon's name may no longer be on the draw, the Ty Pozzobon Foundation will continue to leave his mark on the Greatest Outdoor Show on Earth – this time leaving the bull riding arena and taking to the chuckwagon track.
"A couple of weeks ago Sean Gleason, PBR CEO, gave me a call and they bought a tarp for the Calgary Stampede for the ten days with Darcy Flad," Byrne recalled. "He phoned to see if we would be interested in flying the Ty Pozzobon Foundation logo on the wagon tarp.
"And as everybody knows, that costs a lot of money, and Sean said that the PBR wanted to show us its support and help us in any way that they can and let us do that without the cost of having to pay for the advertising on the wagon."
As a result of the donation, the thousands of fans who have packed the grandstands nightly, and hundreds of thousands more who have tuned in on television and RidePass, have seen the Ty Pozzobon Foundation logo speeding by as Darcy Flad guided the PBR wagon to numerous heat victories.
"So they obviously stepped up to the plate really big, and we're very appreciative of what they've done," Byrne reiterated.
However, the Foundation's imprint at the legendary Calgary-event isn't limited to the logo's position on the PBR tarp, this year hosting a one-of-a-kind benefit night amidst Thursday's chuckwagon races.  
"We're selling tickets to a big supper that goes along with it beforehand," Byrne detailed. "The people get to come and meet Darcy and meet the PBR bull riders and then see the behind-the-scenes action that nobody gets to see."
Tickets, which are still available, start at $1,023 CAD for single entry, with pairs starting at $1,723 CAD and a four pack at $3,223 CAD.
RELATED: Click here for more information on the Ty Pozzobon Foundation Night.
"You get to see the horses, and we get to go watch the wagons and have a whole night of VIP experience for the Ty Pozzobon Foundation, made way by the PBR."
With Lammle's Western Wear and Tack also selling Ty Pozzobon Foundation merchandise in the big tent behind the grandstand, foundation co-founder Byrne can't help but be struck but the impact the organization is having.
"In his passing, to see the t-shirts of the Foundation, the hats and people wearing his name, his legacy and his logo all across the Calgary Stampede, is pretty cool for me to see," Byrne detailed. "I know that he would love that, be happy with that.
"And then for the PBR to give us the opportunity to put the logo and fly that banner around the track in the chuckwagon race on a chuckwagon tarp is pretty cool. It's one of those deals that millions of people watch the chuckwagon races at the Calgary Stampede, whether it be live or on TV, and to see that logo, I know that makes me happy, and makes me know that the cause is working and people are supporting it."
Founded in February 2017 with the blessing and support of Pozzobon's family, the Foundation's mission is to protect and support the health and well-being of rodeo competitors inside and outside the arena.
Their positive impact can already be felt in Canada, providing funding for the Canadian ProRodeo Sports Medicine Team to be onsite at PBR Canada events.
"People are getting behind it and we're making changes and we're doing better for the athletes in our sport," Byrne said. "So it just kind of goes to show that all the hard work that everyone has been putting into it, all the support that the community, and then everybody has shown by supporting us, is working.
"It's all for the betterment of the athletes and I feel like it's doing great things. When you get people like the PBR and companies such as that that are wanting to show their support to you, that just shows that you are on the right track and things are moving forward, and things are working the way that we wanted them to work."
Following the Calgary Stampede, the Ty Pozzobon Foundation will soon release a set of videos that will function as an educational tool for Western sports athletes.
"What we're doing is we've signed up with the Sports Medicine Team to make some educational videos for our athletes, for schools, for our youth coming up into the sport, just kind of talking about concussions to start with," Byrne explained of what they plan to turn into a 10-part series.  
"From what I've seen so far, it looks like they're coming out great, and they've done a phenomenal job of moving forward and trying to make a difference in a positive way.
"We all know the story with Ty, and we all know what happened," Byrne reflected. "Now it's time as we all know to make a difference so that it won't happen to somebody else.
"Through the videos, I think that we're going to accomplish that in a way where our youngsters and the people coming up are going to understand what happened to Ty and what we can do different when this happens to one of their friends, or their son or daughter, or somebody close to them.
"We want to share, we want to educate and we want to talk about this stuff so that we can make a difference for the people coming up in our sport, and through these videos I think that's what's coming about."
To purchase tickets to Thursday's Ty Pozzobon Foundation Night call (306) 961-8922.
International fans living outside of Canada can watch the Calgary Stampede on RidePass beginning at 3:15 p.m. ET every day. Fans can relive all the action from the seventh night at the Greatest Outdoor Show on Earth, Friday at 10 a.m. ET.
Be sure to stay tuned to PBRCanada.com and follow the tour on Facebook (PBR Canada), Twitter (@PBRCanada), and Instagram (@PBRCanada) for the latest results.