Calgary Stampede: Pool B Preview
By: Justin Felisko Tuesday, July 10, 2018 @ 5:44 PM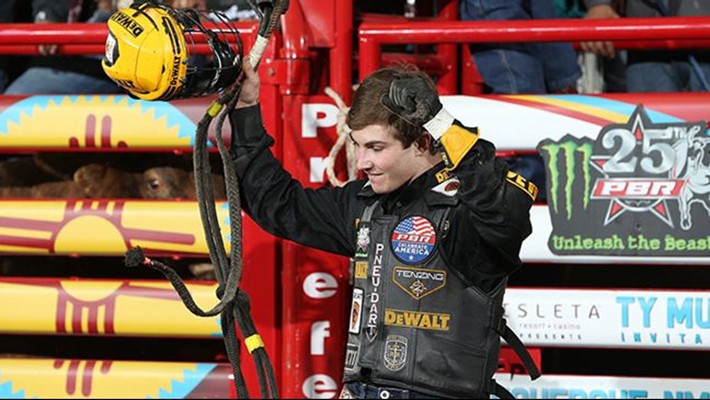 PUEBLO, Colo. – Reigning PBR World Champion Jess Lockwood has been taking in the sights and sounds of the Calgary Stampede this week, but once he climbs into the bucking chute on Tuesday afternoon, Lockwood's second trip to the Greatest Show on Earth will be far from fun and games.
Lockwood has the opportunity this week in Calgary to add another historical victory to his resume when he begins his pursuit of Calgary Stampede's $100,000 paycheck with the beginning of Pool B competition.
International fans living outside of Canada can watch the Calgary Stampede on RidePass beginning at 3:15 p.m. ET every day.
Lockwood has had an up-and-down season as the defending World Champion, but he has also won two of the most prestigious non-premier series events on the calendar with RFD-TV's THE AMERICAN and Chad Berger's $100,000 Match of Champions.
"If I can win Calgary, that would be a lifelong dream," Lockwood said last month. "That is on my goals. If I retire from the PBR and I still haven't won, I will keep going if I am invited until I am 30."
The third-year pro has won the second-most money in the PBR this season with over $278,000 – $175,000 coming from his two victories at THE AMERICAN and Berger's Bismarck, North Dakota event.
The format for the Stampede, which has a combined $2 million worth of prize money up for grabs for the nine rodeo events, is different from a standard PBR event.
Riders battle it out for four days in highly-contested pool play with the goal of advancing to Showdown Sunday as one of the pool's top-four money earners.  If they don't make it, they can then jockey with the remaining riders on Wild Card Saturday for the final two spots.
However, once Sunday arrives, the slates are wiped clean and the Calgary Stampede champion will be the rider who posts the single highest-marked ride in the championship round, featuring the top four riders following Sunday's long round.
"I like it," Lockwood said. "You can't just ride your bulls and expect to move on. You have to get round wins and stuff. It is kind of like making a bull riding event, not just a staying on event."
The winner of each of the nine rodeo disciplines at the Calgary Stampede takes home $100,000. The bull riding victor earns 120 points toward the world standings.
Joining Lockwood in Pool B Tuesday is two-time World Champion J.B. Mauney, four-time PRCA champion Sage Kimzey, No. 3 Ramon de Lima, No. 4 Cody Nance, No. 20 Derek Kolbaba, 2017 PBR Canada champion Zane Lambert, Stormy Wing, Marcos Gloria and Jared Parsonage.
Parsonage has replaced Trey Benton III in Pool B.
Mauney and Kimzey are both attempting to become the first bull rider to win three Calgary Stampede titles.
Lockwood nearly beat out Kimzey for the title last year, but wound up bucking off Johnny Ringo in the final round.
The Volborg, Montana, bull rider was 4-for-6 at his first appearance at the Calgary Stampede and averaged 89 points per ride.
"It is just an old cowboy event," Lockwood said. "If you win that, it is pretty prestigious and you are a pretty damn good cowboy. Not just a bull rider. It is one of the coolest, biggest rodeo events in the entire world."
Lockwood heads into Calgary having won two of his last three events – none bigger than his $75,000 payday at Chad Berger's $100,000 Match of Champions on June 15-16.
The 20-year-old then built off that win by going 2-for-2 to win the Sheridan, Wyoming, Touring Pro Division event.
Lockwood has taken the last two weeks off to rest his injured riding hand, which has been an on-again, off-again nuisance this year for the third-year pro.
He is 24-for-56 (42.86 percent) at all levels of competition.
Whether it was the PBR World Finals last year when Lockwood began with a PBR-record three consecutive round wins, his PBR Major victory in New York City last year or his two massive paydays this season, Lockwood has seemingly thrived in primetime.
"When the stakes are higher, and there is more pressure on you, it motivates me," Lockwood said. "This past year, the better (the stakes), the better I ride."
Lockwood has been rushed into the limelight from the moment he debuted as an 18-year-old in Sioux Falls, South Dakota, two years ago.
Instead of cowering away from the cameras, he has learned how to thrive in front of them.  
"When the cameras and spotlight is on you, you are the last to go, and you are the last to ride. All you have to do is ride. Stuff like that. The more pressure that is on you. All the money. The harder the bulls. I love that stuff.
"It just motivates me. It fires me up."