Calgary Stampede: Nance Wins Pool B
By: Justin Felisko Saturday, July 14, 2018 @ 9:47 AM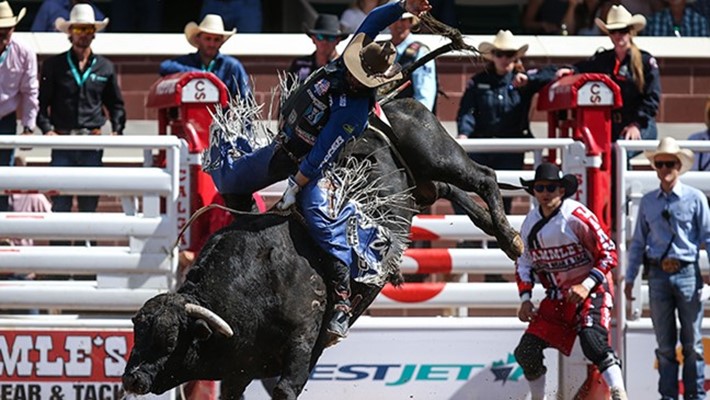 PUEBLO, Colo. – The highest-ranking American in the PBR world standings is now the top American PBR rider at the Calgary Stampede.
No. 4 Cody Nance rode his third consecutive bull at the Calgary Stampede on Friday afternoon, covering the 2,100-pound bull Walk Away for 87 points.
Nance was able to hang onto his bull rope by the edge of the fingers on his left hand despite starting to lose his grip at 5 seconds.
The 30-year-old benefitted from Walk Away turning into his riding hand as well.
"He was so big," Nance told PBR Canada's Ted Stovin. "They may need to make the chutes bigger for him, but nah he was good. Zane Lambert said that is one you really want. He said, 'He was going to really buck.'
"A lot of Canadians up here really, really love him, but not a lot of people get by him a whole lot. He bucked Chase (Outlaw) off the other day and went right. He stepped ahead of him and pulled the rope out of his hand. That happens sometimes. Fortunately I was able to hang on to my rope. At about 5 seconds it was starting to slip on me. It is so hot, and my rosin was getting gooey. I managed to hang on to him. He turned back to the left today and went into my hand. That was pretty nice. It wasn't expected, but it worked out thankfully."
The second-place finish in the final round of competition helped earn Nance the Pool B victory overall.
Nance won Pool B by going 3-for-4 for $10,500.
"So far I am 3-1," Nance said. "I am a little disappointed because I bucked off that first one. I can't hang my head. I did what I said I was going to do. I said I was going to come back and ride all of my bulls through. So far so good. We have Sunday. Praise God. I am thankful for that and I am ready."
International fans living outside of Canada can watch the 2018 Calgary Stampede on RidePass every day beginning at 3:15 p.m. ET.
The format for the Stampede, which has a combined $2 million worth of prize money up for grabs for the nine rodeo events, is different from a standard PBR event.
Riders battle it out for four days in hotly-contested pool play with the goal of advancing to Showdown Sunday as one of the pool's top-four money earners.  If they don't make it, they can then jockey with the remaining riders on Wild Card Saturday for the final two spots.
However, once Sunday arrives, the slates are wiped clean and the Calgary Stampede champion will be the rider who posts the single highest-marked ride in the championship round, featuring the top four riders following Sunday's long round.
The winner of each of the nine rodeo disciplines at the Calgary Stampede takes home $100,000. The bull riding victor earns 120 points toward the world standings.
"It is really fun," Nance said. "I got to bring my family with me. My kids are out there, and they are enjoying it. My wife. Just to be able to hang out and watch all of these great competitors from all different walks of life and backgrounds. To get to meet them and know who they are because we don't get to see a lot of the saddle bronc and bareback riders and all that in the PBR. It is really cool to watch the bucking horses and all the other events."
Nance has been surging up the standings all week in Calgary after bucking off Canadian Outlaw on Tuesday.
The Paris, Tennessee, native rode Gangster's Paradise for 75.5 points on Wednesday and Lil Shorty for 87.5 points on Thursday.
Nance beat out four-time PRCA champion Sage Kimzey by $500 for the Pool B victory.
Kimzey was a perfect 4-for-4 in pool play, but he only earned $10,000 based on his round finishes.
Also advancing out of Pool B to Showdown Sunday was Ramon de Lima (3-for-4, $9,500) and Marcos Gloria (2-for-4, $8,000).
Gloria earned the final draw spot for Showdown Sunday over PBR World Champions J.B. Mauney (2-for-4, $8,000) and Jess Lockwood (2-for-4, $8,000) thanks to his career-high 90.5-point ride on Whiskey Hand on Friday afternoon.
The No. 30 man in the PBR world standings won the round and $5,500 with the ride.
The tiebreaker at the Calgary Stampede pool play was the most-money earned in a single-day of competition.
Joe Frost was the winner of Pool A at the Calgary Stampede.
Also advancing out of Pool A was 2016 PBR World Champion Cooper Davis, seven-time PBR World Finals qualifier Fabiano Vieira and Ty Wallace.
11 riders will battle for the final two draw spots for Showdown Sunday during Wild Card Saturday.
Mauney (2-for-4), Lockwood (2-for-4), Todd Chotowetz (2-for-4), Derek Kolbaba (1-for-4), Zane Lambert (1-for-4), Outlaw (1-for-4), Jordan Hansen (1-for-4), Cole Melancon (1-for-4), Garrett Smith (1-for-4), Stormy Wing (0-for-4) and Scott Schiffner (0-for-4) will need to advance out of Wild Card Saturday if they hope to come-from-behind and win the Calgary Stampede.
Jared Parsonage did not compete on Friday because of an injury.
Nance is 33-for-65 (50.77 percent) at all levels of PBR competition this season. The 2009 Rookie of the Year is 26-for-51 (50.98 percent) on the 25th PBR: Unleash The Beast and trails world leader Kaique Pacheco by 789.17 points.
His 26 qualified rides on the premier series is tops in the PBR.
Nance would have liked to win a round during Pool B, but he is thinking about the $100,000 prize that is available on Sunday afternoon at the Greatest Outdoor Show on Earth.
"I didn't get one of them bronzes, but I am looking for the long-term win," Nance said. "Any chance you get to ride at any bull riding or rodeo for $100,000, it makes you step your game up a little bit because it is such a big prize to win. It is cool rodeo has gotten to that level where we can make a living. So we just bear down and try like we can. This is what we do and try to make our job happen."
Fans can re-live highlights from Friday's competition on CBS Sports Network Saturday at 10:30 a.m. ET.